Zusammenfassung
Um Komplikationen nach zahnärztlich-chirurgischen Eingriffen zu vermeiden, wird Patienten traditionell im deutschen Sprachraum heute noch häufig die Empfehlung ausgesprochen, Milch und Milchprodukte nach solchen Eingriffen zu meiden. Seitens der Arbeitsgemeinschaft der Wissenschaftlichen Medizinischen Fachgesellschaften (AWMF) und auch im englischsprachigen Raum werden Milch und Milchprodukte nach dentoalveolär-chirurgischen Eingriffen in den Leitlinien nicht thematisiert. Ziel dieser Untersuchung war es daher, die Gründe und die Evidenz des Ablehnungsverhaltens zu untersuchen. Im Rahmen einer Pilotstudie wurde eine Fragebogenaktion mit insgesamt 150 Zahnärzten, Fachzahnärzten für Oralchirurgie und MKG-Chirurgen im Raum Marburg-Biedenkopf, Aschaffenburg und Wiesbaden durchgeführt. Zusätzlich wurden durch eine Literaturrecherche die Hintergründe zu dieser Empfehlung erforscht. Insgesamt 76 % der Befragten nahmen an der Studie teil; 56 % aller Behandler gaben an, dass sie – insbesondere auf Nachfrage ihrer Patienten – zum Verzicht auf Milch und Milchprodukte nach dentoalveolär-chirurgischen Eingriffen raten. Zwischen den Zahnärzten und den MKG-Chirurgen bzw. Fachzahnärzten für Oralchirurgie zeigte sich ein deutlicher Unterschied im Empfehlungsverhalten. Von den Zahnärzten rieten 65 % von Milch und Milchprodukten ab, nur 42 % der MKG-Chirurgen und Fachzahnärzte für Oralchirurgie teilen diese Empfehlung. Die Analyse der Fragebögen zeigte, dass keine klar vorherrschende Meinung hinsichtlich des Empfehlungsverhaltens unter den Behandlern vorliegt. Die Auffassung, dass Milch und Milchprodukte nach einem dentoalveolär-chirurgischen Eingriff schädlich wären, lässt sich weder evidenzbasiert belegen noch hält sie einer genaueren Überprüfung der Grundlagen stand.
Abstract
To prevent wound healing complications after dental surgery, patients in German-speaking countries are often advised to avoid milk and dairy products. Official guidelines from the Association of the Scientific Medical Societies in Germany as well as those from English-speaking countries do not contain any references to milk and dairy products. The aim of the present study was to investigate the reasons and scientific evidence for the abstinence recommendation. In a pilot study, a questionnaire was designed and sent to a total of 150 dentists, oral surgeons, and oral and maxillofacial (OMF) surgeons in the areas of Marburg-Biedenkopf, Aschaffenburg, and Wiesbaden. In addition, a literature review was performed to explore the scientific evidence behind the recommendation. A total of 114 replies (response rate 76%) were received; 56% of all participants advise their patients not to consume milk and dairy products after oral surgery, particularly if patients specifically ask about this. There was a clear difference in recommendation behavior between oral/OMF surgeons and general dentists. Whereas 65% of the general dentists recommend avoiding milk and dairy products, only 42% of the surgeons share this opinion. The results of the current study show that there is no clear prevailing opinion regarding recommendation behavior. Furthermore, the hypothesis that milk and dairy products would be harmful after a dentoalveolar surgical procedure could not be confirmed by the available evidence.
This is a preview of subscription content, log in to check access.
Access options
Buy single article
Instant access to the full article PDF.
US$ 39.95
Price includes VAT for USA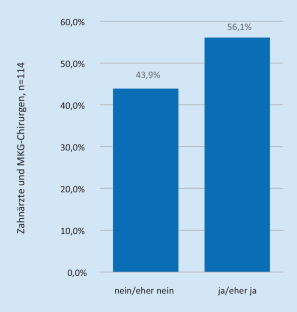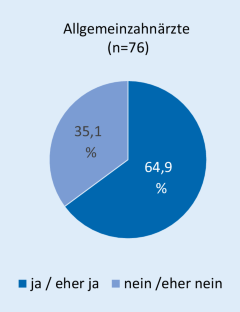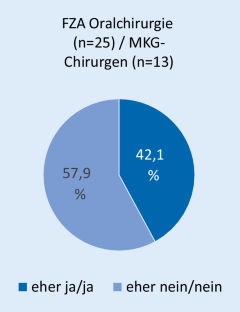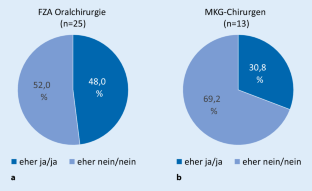 Literatur
1.

KZBV (2019) Jahrbuch 2018. https://www.kzbv.de/jahrbuch-2018.768.de.html. Zugegriffen: 21. Juni 2019

2.

Buch R, Walter C, Moralis A, Reichert T (2005) Dolor post extractionem: Die lokale Therapie der Alveolitis mit medikamentösen Einlagen. zm, Bd. 20

3.

Techniker Krankenkasse (2019) Nach der Zahnentfernung. https://www.tk.de/techniker/gesundheit-und-medizin/behandlungen-und-medizin/zaehne-und-kieferorthopaedie/nach-der-zahnentfernung-2021592. Zugegriffen: 5. Nov. 2019

4.

Watzl B (2015) Milch und Milchprodukte – "gesund" oder schädlich?

5.

Verordnung (EG) NR. 853/2004 des europäischen Parlaments und des Rates

6.

Belitz H‑D, Grosch W (2013) Lehrbuch der Lebensmittelchemie. Springer, Heidelberg, Berlin, New York

7.

Strahm W, Eberhard P (2019) Trinkmilchtechnologien – Eine Übersicht. www.agroscope.admin.ch. Zugegriffen: 24. Juni 2019

8.

Avoxa – Mediengruppe Deutscher Apotheker GmbH (2008) Interaktionen: Tetracycline und polyvalente Kationen. https://www.pharmazeutische-zeitung.de/ausgabe-112008/tetracycline-und-polyvalente-kationen/. Zugegriffen: 2. Juli 2019

9.

Halling F (2014) Antibiotika in der Zahnmedizin. Zahnmed Up2date 8(01):67–82. https://doi.org/10.1055/s-0033-1346918

10.

World Health Organization (2018) Global tuberculosis report 2018

11.

Buchwald G (2002) Der Rückgang der Schwindsucht trotz "Schutzimpfung". F. Hirthammer, München

12.

RKI (2017) Epidemiologisches Bulletin: Zoonotische Infektionen mit Mycobacterium tuberculosis in deutschen Nutztierbeständen(20). https://www.rki.de/DE/Content/Infekt/EpidBull/Archiv/2017/Ausgaben/20_17.pdf?__blob=publicationFile. Zugegriffen: 24. Juni 2019

13.

Mack DR (2005) Probiotics: Mixed messages. Can Fam Physician 51(11):1455–1457

14.

Sood A, Midha V, Makharia GK et al (2009) The Probiotic preparation, VSL#3 induces remission in patients with mild-to-moderately active ulcerative colitis. Clin Gastroenterol Hepatol 7(11):1202–1209.e1. https://doi.org/10.1016/j.cgh.2009.07.016

15.

Stamatova I, Meurman JH (2009) Probiotics and periodontal disease. Periodontol 2000 51:141–151. https://doi.org/10.1111/j.1600-0757.2009.00305.x

16.

Shimauchi H, Mayanagi G, Nakaya S et al (2008) Improvement of periodontal condition by probiotics with Lactobacillus salivarius WB21: a randomized, double-blind, placebo-controlled study. J Clin Periodontol 35(10):897–905. https://doi.org/10.1111/j.1600-051X.2008.01306.x

17.

Haukioja A (2010) Probiotics and oral health. Eur J Dent 4(3):348

18.

Meurman JH, Stamatova I (2007) Probiotics: contributions to oral health. Oral Dis 13(5):443–451. https://doi.org/10.1111/j.1601-0825.2007.01386.x

19.

Schutt CA, Neubauer P, Paskhover B et al (2014) The impact of dairy consumption on salivary inoculum. Dysphagia 29(2):277–282. https://doi.org/10.1007/s00455-013-9508-3

20.

Lilly GE (1968) Reaction of oral tissues to suture materials. Oral Surg Oral Med Oral Pathol 26(1):128–133. https://doi.org/10.1016/0030-4220(68)90232-6

21.

Macht SD, Krizek TJ (1978) Sutures and suturing—current concepts. J Oral Surg 36(9):710–712

22.

Chu CC, Moncrief G (1983) An in vitro evaluation of the stability of mechanical properties of surgical suture materials in various pH conditions. Ann Surg 198(2):223–228. https://doi.org/10.1097/00000658-198308000-00019
Ethics declarations
Interessenkonflikt
S. Seyedi Moghaddam und A. Neff geben an, dass kein Interessenkonflikt besteht.
Die Studie zu diesem Beitrag erhielt ein positives Ethikvotum durch die Ethikkommission der Philipps-Universität Marburg (Studie 118/19).
About this article
Cite this article
Seyedi Moghaddam, S., Neff, A. Wie halten Sie es mit Milchprodukten nach dentoalveolär-chirurgischen Eingriffen: Erlaubt oder nicht?. MKG-Chirurg 13, 55–60 (2020). https://doi.org/10.1007/s12285-019-00238-1
Schlüsselwörter
Milch

Wundheilung

Bakterien

Mundhygiene

Antibiotika
Keywords
Milk

Wound healing

Bacteria

Oral hygiene

Antibiotics