Abstract
In this work, Raman measurements of 1–5-layer WSe2 supported on SiO2/Si in the temperature range of 133 to 533 K are reported. A physical model including both volume effect and temperature effect is used to quantitatively understand the nonlinear temperature dependence of E2g1 Raman mode. It is found this nonlinear dependence of Raman mode mainly originates from thermal expansion effect and three-phonon scattering. The former effect increases with an increase in number of layers, which is inverse for the latter effect. The temperature-dependent thermal expansion coefficients of 1–5-layer WSe2 are also obtained from Raman spectra. The full width at half maximum (FWHM) of E2g1 mode is also systematically studied both experimentally and theoretically in the temperature range of 133 to 413 K. It is found that the increase in FWHM of E2g1 mode originates from decaying of E2g1 phonon. This work will promote the understanding of anharmonic behaviors of phonons in WSe2 flakes with different thicknesses.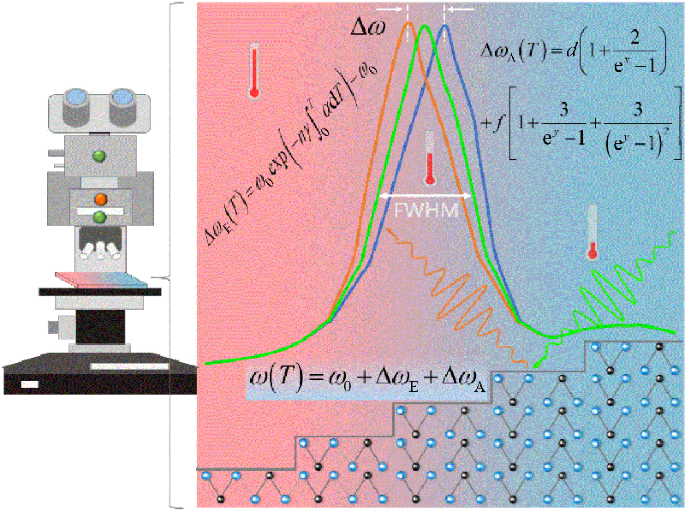 This is a preview of subscription content, log in to check access.
Access options
Buy single article
Instant access to the full article PDF.
US$ 39.95
Price includes VAT for USA
References
[1]

Fang, H.; Chuang, S.; Chang, T. C.; Takei, K.; Takahashi, T.; Javey, A. High-performance single layered WSe2 p-FETs with chemically doped contacts. Nano Lett.2012, 12, 3788–3792.

[2]

Baugher, B. W. H.; Churchill, H. O. H.; Yang, Y. F.; Jarillo-Herrero, P. Optoelectronic devices based on electrically tunable p-n diodes in a monolayer dichalcogenide. Nat. Nanotechnol.2014, 9, 262–267.

[3]

Ross, J. S.; Klement, P.; Jones, A. M.; Ghimire, N. J.; Yan, J. Q.; Mandrus, D. G.; Taniguchi, T.; Watanabe, K.; Kitamura, K.; Yao, W. et al. Electrically tunable excitonic light-emitting diodes based on monolayer WSe2 p-n junctions. Nat. Nanotechnol.2014, 9, 268–272.

[4]

Jones, A. M.; Yu, H. Y.; Ghimire, N. J.; Wu, S. F.; Aivazian, G.; Ross, J. S.; Zhao, B.; Yan, J. Q.; Mandrus, D. G.; Xiao, D. et al. Optical generation of excitonic valley coherence in monolayer WSe2. Nat. Nanotechnol.2013, 8, 634–638.

[5]

He, K. L.; Kumar, N.; Zhao, L.; Wang, Z. F.; Mak, K. F.; Zhao, H.; Shan, J. Tightly bound excitons in monolayer WSe2. Phys. Rev. Lett.2014, 113, 026803.

[6]

Wang, Q. H.; Kalantar-Zadeh, K.; Kis, A.; Coleman, J. N.; Strano, M. S. Electronics and optoelectronics of two-dimensional transition metal dichalcogenides. Nat. Nanotechnol.2012, 7, 699–712.

[7]

Mak, K. F.; Shan, J. Photonics and optoelectronics of 2D semiconductor transition metal dichalcogenides. Nat. Photonics2016, 10, 216–226.

[8]

Zhu, Z. Y.; Cheng, Y. C.; Schwingenschlögl, U. Giant spin-orbit-induced spin splitting in two-dimensional transition-metal dichalcogenide semiconductors. Phys. Rev. B2011, 84, 153402.

[9]

Kaasbjerg, K.; Thygesen, K. S.; Jacobsen, K. W. Phonon-limited mobility in n-type single-layer MoS2 from first principles. Phys. Rev. B2012, 85, 115317.

[10]

Sahoo, S.; Gaur, A. P. S.; Ahmadi, M.; Guinel, M. J. F.; Katiyar, R. S. Temperature-dependent raman studies and thermal conductivity of few-layer MoS2. J. Phys. Chem. C2013, 117, 9042–9047.

[11]

Balandin, A. A.; Ghosh, S.; Bao, W. Z.; Calizo, I.; Teweldebrhan, D.; Miao, F.; Lau, C. N. Superior thermal conductivity of single-layer graphene. Nano Lett.2008, 8, 902–907.

[12]

Late, D. J.; Shirodkar, S. N.; Waghmare, U. V.; Dravid, V. P.; Rao, C. N. R. Thermal expansion, anharmonicity and temperature-dependent Raman spectra of single- and few-layer MoSe2 and WSe2. ChemPhysChem2014, 15, 1592–1598.

[13]

Najmaei, S.; Ajayan, P. M.; Lou, J. Quantitative analysis of the temperature dependency in Raman active vibrational modes of molybdenum disulfide atomic layers. Nanoscale2013, 5, 9758–9763.

[14]

Huang, X. T.; Gao, Y.; Yang, T. Q.; Ren, W. C.; Cheng, H. M.; Lai, T. S. Quantitative analysis of temperature dependence of Raman shift of monolayer WS2. Sci. Rep.2016, 6, 32236.

[15]

Zhao, W. J.; Ghorannevis, Z.; Chu, L. Q.; Toh, M.; Kloc, C.; Tan, P. H.; Eda, G. Evolution of electronic structure in atomically thin sheets of WS2 and WSe2. Acs Nano2013, 7, 791–797.

[16]

Yun, W. S.; Han, S. W.; Hong, S. C.; Kim, I. G.; Lee, J. D. Thickness and strain effects on electronic structures of transition metal dichalcogenides: 2H-MX2 semiconductors (M = Mo, W; X = S, Se, Te). Phys. Rev. B2012, 85, 033305.

[17]

Sahin, H.; Tongay, S.; Horzum, S.; Fan, W.; Zhou, J.; Li, J.; Wu, J.; Peeters, F. M. Anomalous Raman spectra and thickness-dependent electronic properties of WSe2. Phys. Rev. B2013, 87, 165409.

[18]

Zhang, X.; Qiao, X. F.; Shi, W.; Wu, J. B.; Jiang, D. S.; Tan, P. H. Phonon and Raman scattering of two-dimensional transition metal dichalcogenides from monolayer, multilayer to bulk material. Chem. Soc. Rev.2015, 44, 2757–2785.

[19]

Tonndorf, P.; Schmidt, R.; Bottger, P.; Zhang, X.; Börner, J.; Liebig, A.; Albrecht, M.; Kloc, C.; Gordan, O.; Zahn, D. R. T. et al. Photoluminescence emission and Raman response of monolayer MoS2, MoSe2, and WSe2. Opt. Express2013, 21, 4908–4916.

[20]

Zhao, W. J.; Ghorannevis, Z.; Amara, K. K.; Pang, J. R.; Toh, M.; Zhang, X.; Kloc, C.; Tan, P. H.; Eda, G. Lattice dynamics in mono-and few-layer sheets of WS2 and WSe2. Nanoscale2013, 5, 9677–9683.

[21]

Yan, R. S.; Simpson, J. R.; Bertolazzi, S.; Brivio, J.; Watson, M.; Wu, X. F.; Kis, A.; Luo, T. F.; Walker, A. R. H.; Xing, H. G. Thermal conductivity of monolayer molybdenum disulfide obtained from temperature-dependent raman spectroscopy. Acs Nano2014, 8, 986–993.

[22]

Lanzillo, N. A.; Birdwell, A. G.; Amani, M.; Crowne, F. J.; Shah, P. B.; Najmaei, S.; Liu, Z.; Ajayan, P. M.; Lou, J.; Dubey, M. et al. Temperature-dependent phonon shifts in monolayer MoS2. Appl. Phys. Lett.2013, 103, 093102.

[23]

Pawbake, A. S.; Pawar, M. S.; Jadkar, S. R.; Late, D. J. Large area chemical vapor deposition of monolayer transition metal dichalcogenides and their temperature dependent Raman spectroscopy studies. Nanoscale2016, 8, 3008–3018.

[24]

Bhatt, S. V.; Deshpande, M. P.; Sathe, V.; Rao, R.; Chaki, S. H. Raman spectroscopic investigations on transition-metal dichalcogenides MX2 (M = Mo, W; X = S, Se) at high pressures and low temperature. J. Raman Spectrosc.2014, 45, 971–979.

[25]

Hu, X.; Yasaei, P.; Jokisaari, J.; Öğüt, S.; Salehi-Khojin, A.; Klie, R. F. Mapping thermal expansion coefficients in freestanding 2D materials at the nanometer scale. Phys. Rev. Lett.2018, 120, 055902.

[26]

Wang, Z. Y.; Zhou, Y. L.; Wang, X. Q.; Wang, F.; Sun, Q.; Guo, Z. X.; Jia, Y. Effects of in-plane stiffness and charge transfer on thermal expansion of monolayer transition metal dichalcogenide. Chin. Phys. B2015, 24, 026501.

[27]

Çakır, D.; Peeters, F. M.; Sevik, C. Mechanical and thermal properties of h-MX2 (M = Cr, Mo, W; X = O, S, Se, Te) monolayers: A comparative study. Appl. Phys. Lett.2014, 104, 203110.

[28]

Gasanly, N. M.; Aydınlı, A.; Özkan, H.; Kocabaş, C. Temperature-dependent Raman scattering spectra of ε-GaSe layered crystal. Mater. Res. Bull.2002, 37, 169–176.

[29]

Terrones, H.; López-Urias, F.; Terrones, M. Novel hetero-layered materials with tunable direct band gaps by sandwiching different metal disulfides and diselenides. Sci. Rep.2013, 3, 1549.
Acknowledgements
This work was supported the National Key R&D Program of China (Nos. 2017YFF0108900, 2016YFF0203802, and 2017YFD080120203), the Dalian Youth Science and Technology Star Project (No. 2017RQ138), the project from Liaoning Education Department (No. JDL2019015), the National Natural Science Foundation of China (Nos. 51872058 and 21904029) and the Fundamental Research Funds for Central Universities (No. HIT. NSRIF. 2019071).
Electronic Supplementary Material
About this article
Cite this article
Li, Z., Wang, Y., Jiang, J. et al. Temperature-dependent Raman spectroscopy studies of 1–5-layer WSe2. Nano Res. (2020). https://doi.org/10.1007/s12274-020-2669-0
Received:

Revised:

Accepted:

Published:
Keywords
WSe2

thermal expansion coefficients

temperature-dependent Raman spectroscopy