Phosphorus-doping activates carbon nanotubes for efficient electroreduction of nitrogen to ammonia
Abstract
The electrochemical nitrogen reduction reaction (NRR) as an energy-efficient approach for ammonia synthesis is hampered by the low ammonia yield and ambiguous reaction mechanism. Herein, phosphorus-doped carbon nanotube (P-CNTs) is developed as an efficient metal-free electrocatalyst for NRR with a remarkable NH
3
yield of 24.4 μg·h
−1
·mg
−1
cat
. and partial current density of 0.61 mA·cm
−2
. Such superior activity is found to be from P doping and highly conjugated CNTs substrate. Experimental and theoretical investigations discover that the electron-deficient phosphorus sites with Lewis acidity should be genuine active sites and NRR on P-CNTs follows the distal pathway. These findings provide insightful understanding on NRR processes on P-CNTs, opening up opportunities for the rational design of highly-active cost-effective metal-free catalysts for electrochemical ammonia synthesis.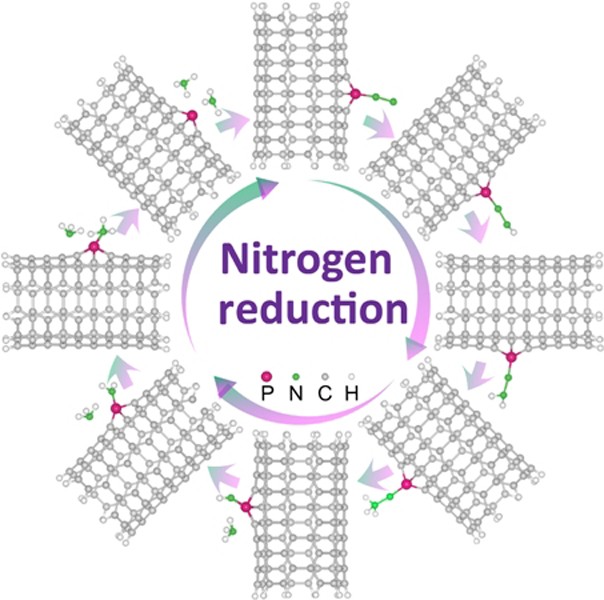 Keywords
P-doped carbon nanotubes 
nitrogen reduction reaction 
active sites 
reaction pathway 
electrocatalysis 
Notes
Acknowledgements
We acknowledge the financial supports are from the National Key Research and Development Program of China (No. 2016YFB0101202), the National Natural Science Foundation of China (Nos. 91645123 and 21773263).
Copyright information
© Tsinghua University Press and Springer-Verlag GmbH Germany, part of Springer Nature 2020