Highly effective H2/D2 separation in a stable Cu-based metal-organic framework
Abstract
A three-dimensional copper metal—organic framework with the rare chabazite (CHA) topology namely FJI-Y11 has been constructed with flexibly carboxylic ligand 5,5′-[(1,4-phenylenebis(methylene))bis(oxy)]diisophthalic acid (H
4
L). FJI-Y11 exhibits high water stability with the pH range from 2 to 12 at temperature as high as 373 K. Importantly, FJI-Y11 also shows high efficiency of hydrogen isotope separation using dynamic column breakthrough experiments under atmospheric pressure at 77 K. Attributed to its excellent structural stability, FJI-Y11 possesses good regenerated performance and maintains high separation efficiency after three cycles of breakthrough experiments.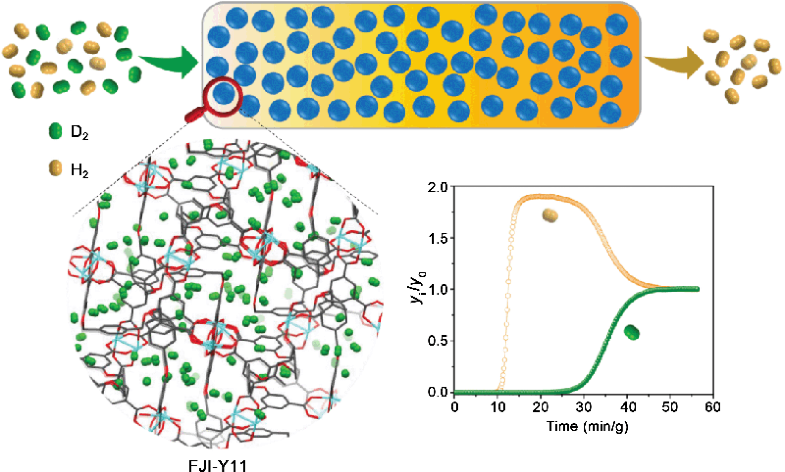 Keywords
metal—organic framework (MOFs) 
hydrogen isotope 
separation 
breakthrough experiments 
Notes
Acknowledgements
This work was financially supported by the Strategic Priority Research Program of CAS (No. XDB20000000), the Key Research Program of Frontier Sciences, CAS (No. QYZDB-SSW-SLH019), and the Natural Nature Science Foundation of China (Nos. 21771177, 51603206 and 21203117).
Copyright information
© Tsinghua University Press and Springer-Verlag GmbH Germany, part of Springer Nature 2019