Magnetically recyclable Sm2Co17/Cu catalyst to chemoselectively reduce the 3-nitrostyrene into 3-vinylaniline under room temperature
Abstract
Using non-noble metal catalysts to chemoselectively reduce the 3-nitrostyrene into 3-vinylaniline is extremely attractive due to the important applications of aromatic amines. However, the separation and recycle of catalytic particles to sustainably catalyze are still challenging on account of their small size. In this communication, we report a novel magnetically recyclable catalyst of Sm2Co17/Cu to chemoselectively reduce 3-nitrostyrene into 3-vinylaniline by activating ammonia borane (AB) to yield hydrogen. The Sm2Co17/Cu, composited of 180 nm Sm2Co17 nanomagnet and 10 nm Cu catalyst nanoparticles, shows a high conversion (98%) and a high selectivity (99%) for 3-nitrostyrene under ultrasonic concussion. More importantly, they are easily collected by self-separation method without any magnetic field. As a consequence, the excellent recyclable feature is acquired even underwent 10 cycles. Our approach provides a green strategy to synthesize magnetically recyclable catalysts.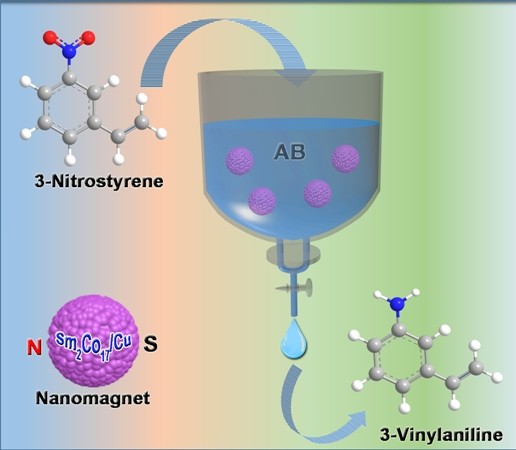 Keywords
Sm2Co17/Cu 
chemoselective catalysis 
3-nitrostyrene 
magnetic recycle 
Notes
Acknowledgements
The work was supported by the National Natural Science Foundation of China (Nos. 51701109 and 51806115), Natural Science Foundation of Beijing Municipality, China (No. 2192007), the China Postdoctoral Science Foundation (No. 2018M641132), International S&T Cooperation Program of China (No. 2015DFG52020), Key Program of National Natural Science Foundation of China (51331003), and Program of Disciplines Construction in Beijing (No. PXM2019_014204_500031).
Copyright information
© Tsinghua University Press and Springer-Verlag GmbH Germany, part of Springer Nature 2019