One-step synthesis of thermally stable artificial multienzyme cascade system for efficient enzymatic electrochemical detection
Abstract
Recently, metal-organic framework (MOF)-based multienzyme systems integrating different functional natural enzymes and/or nanomaterial-based artificial enzymes are attracting increasing attention due to their high catalytic efficiency and promising application in sensing. Simple and controllable integration of enzymes or nanozymes within MOFs is crucial for achieving efficient cascade catalysis and high stability. Here, we report a facile electrochemical assisted biomimetic mineralization strategy to prepare an artificial multienzyme system for efficient electrochemical detection of biomolecules. By using the GOx@Cu-MOF/copper foam (GOx@Cu-MOF/CF) architecture as a proof of concept, efficient enzyme immobilization and cascade catalysis were achieved by in situ encapsulation of glucose oxidase (GOx) within MOFs layer grown on three-dimensional (3D) porous conducting CF via a facile one-step electrochemical assisted biomimetic mineralization strategy. Due to the bio-electrocatalytic cascade reaction mechanism, this well-designed GOx@Cu-MOF modified electrode exhibited superior catalytic activity and thermal stability for glucose sensing. Notably, the activity of GOx@Cu-MOF/CF still remained at ca. 80% after being incubated at 80 °C. In sharp contrast, the activity of the unprotected electrode was reduced to the original 10% after the same treatment. The design strategy presented here may be useful in fabricating highly stable enzyme@MOF composites applied for efficient photothermal therapy and other platform under high temperature.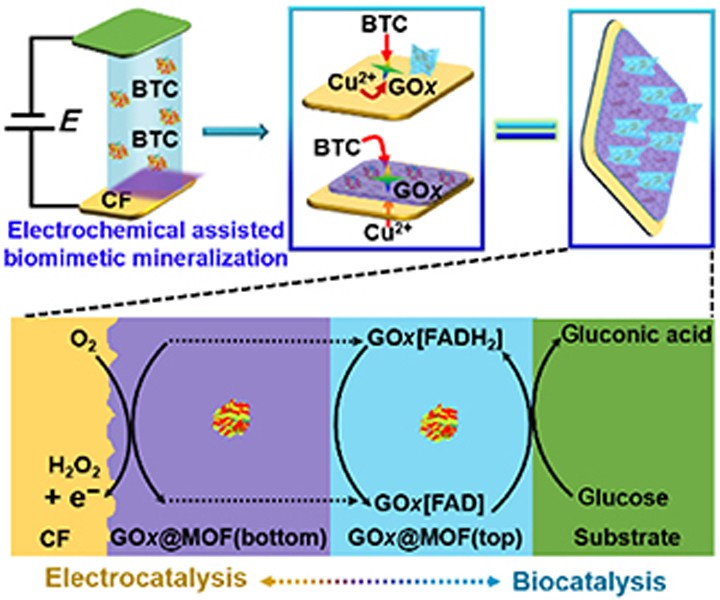 Keywords
metal-organic frameworks 
artificial multienzyme 
electrochemical assisted biomimetic mineralization 
glucose detection 
thermal stability 
Notes
Acknowledgements
This work was supported by the National Key Research and Development Program of China (Nos. 2017YFA0206500 and 2017YFA0206801), the National Basic Research Program of China (No. 2015CB932301), and the National Natural Science Foundation of China (Nos. 21671163, 21721001, and J1310024).
Copyright information
© Tsinghua University Press and Springer-Verlag GmbH Germany, part of Springer Nature 2019