Carbon confinement synthesis of interlayer-expanded and sulfur-enriched MoS2+x nanocoating on hollow carbon spheres for advanced Li-S batteries
Abstract
High energy density and low-cost lithium-sulfur batteries have been considered as one of the most promising candidates for next-generation energy storage systems. However, the intrinsic problems of the sulfur cathode severely restrict their further practical application. Here, a unique double-shell architecture composed of hollow carbon spheres@interlayer-expanded and sulfur-enriched MoS2+x nanocoating composite has been developed as an efficient sulfur host. A uniform precursor coating derived from heteropolyanions-induced polymerization of pyrrole leads to space confinement effect during the in-situ sulfurization process, which generates the interlayer-expanded and sulfur-enriched MoS2+x nanosheets on amorphous carbon hollow spheres. This new sulfur host possesses multifarious merits including sufficient voids for loading sulfur active materials, high electronic conductivity, and fast lithium-ion diffusive pathways. In addition, additional active edge sites of MoS2+x accompanied by the nitrogen-doped carbon species endow the sulfur host with immobilizing and catalyzing effects on the soluble polysulfide species, dramatically accelerating their conversion kinetics and re-utilization. The detailed defect-induced interface catalytic reaction mechanism is firstly proposed. As expected, the delicately-designed sulfur host exhibits an outstanding initial discharge capacity of 1,249 mAh·g−1 at 0.2 C and a desirable rate performance (593 mAh·g−1 at 5.0 C), implying its great prospects in achieving superior electrochemical performances for advanced lithium sulfur batteries.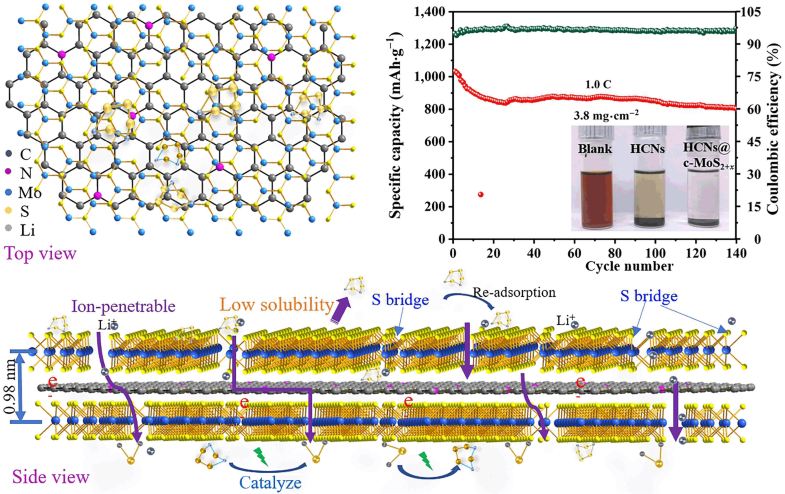 Keywords
Few-layered MoS2+x 
double-shell architecture 
sulfur enriched MoS2+x nanocoating 
lithium-sulfur batteries 
Notes
Acknowledgements
The work was financially supported by the National Natural Science Foundation of China (Nos. 51672146 and 21805157) and the Natural Science Foundation of Shandong Province (No. ZR2018BEM011).
Copyright information
© Tsinghua University Press and Springer-Verlag GmbH Germany, part of Springer Nature 2019