Surface depletion field in 2D perovskite microplates: Structural phase transition, quantum confinement and Stark effect
Abstract
Surface depletion field would introduce the depletion region near surface and thus could significantly alter the optical, electronic and optoelectronic properties of the materials, especially low-dimensional materials. Two-dimensional (2D) organic—inorganic hybrid perovskites with van der Waals bonds in the out-of-plane direction are expected to have less influence from the surface depletion field; nevertheless, studies on this remain elusive. Here we report on how the surface depletion field affects the structural phase transition, quantum confinement and Stark effect in 2D (BA)2PbI4 perovskite microplates by the thickness-, temperature- and power-dependent photoluminescence (PL) spectroscopy. Power dependent PL studies suggest that high-temperature phase (HTP) and low-temperature phase (LTP) can coexist in a wider temperature range depending on the thickness of the 2D perovskite microplates. With the decrease of the microplate thickness, the structural phase transition temperature first gradually decreases and then increases below 25 nm, in striking contrast to the conventional size dependent structural phase transition. Based on the thickness evolution of the emission peaks for both high-temperature phase and low-temperature phase, the anomalous size dependent phase transition could probably be ascribed to the surface depletion field and the surface energy difference between polymorphs. This explanation was further supported by the temperature dependent PL studies of the suspended microplates and encapsulated microplates with graphene and boron nitride flakes. Along with the thickness dependent phase transition, the emission energies of free excitons for both HTP and LTP with thickness can be ascribed to the surface depletion induced confinement and Stark effect.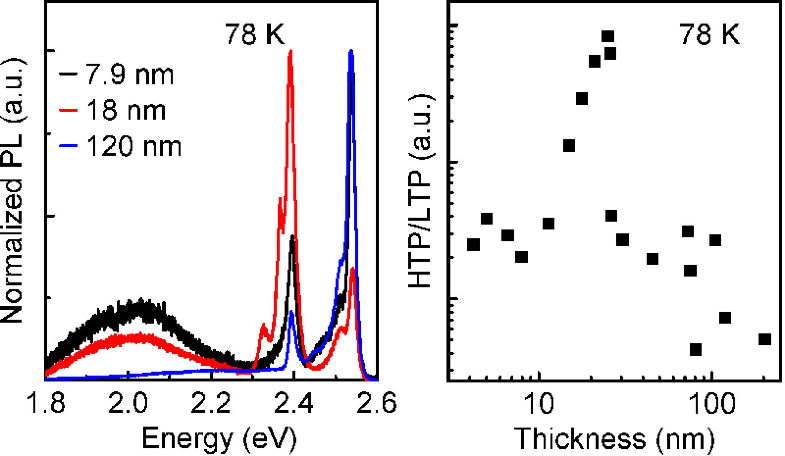 Keywords
two-dimensional (2D) perovskite 
thickness 
surface depletion field 
structural phase transition 
quantum confinement 
Stark effect 
Notes
Acknowledgements
D. H. L. acknowledges support from the National Natural Science Foundation of China (No. 61674060), Innovation Fund of WNLO and the Fundamental Research Funds for the Central Universities, HUST (Nos. 2017KFYXJJ030, 2017KFXKJC003, 2017KFXKJC002, and 2018KFYXKJC016); H. M. L. is grateful for support from New Mexico EPSCoR with NSF-1301346. We thank Testing Center of Huazhong University of Science and Technology for the support in inductively coupled plasma etching.
Copyright information
© Tsinghua University Press and Springer-Verlag GmbH Germany, part of Springer Nature 2019