Graphene quantum dots rescue protein dysregulation of pancreatic β-cells exposed to human islet amyloid polypeptide
Abstract
The amyloid aggregation of peptides and proteins is a hallmark of neurological disorders and type 2 diabetes. Human islet amyloid polypeptide (IAPP), co-secreted with insulin by pancreatic β-cells, plays dual roles in both glycemic control and the pathology of type 2 diabetes. While IAPP can activate the NLRP3 inflammasome and modulate cellular autophagy, apoptosis and extracellular matrix metabolism, no data is available concerning intracellular protein expression upon exposure to the polypeptide. More surprisingly, how intracellular protein expression is modulated by nanoparticle inhibitors of protein aggregation remains entirely unknown. In this study, we first examined the changing proteomes of βTC6, a pancreatic β-cell line, upon exposure to monomeric, oligomeric and fibrillar IAPP, and detailed cellular protein expression rescued by graphene quantum dots (GQDs), an IAPP inhibitor. We found that 29 proteins were significantly dysregulated by the IAPP species, while majority of these proteins were nucleotide-binding proteins. Collectively, our liquid chromatography tandem-mass spectrometry, fluorescence quenching, helium ion microscopy, cytotoxicity and discreet molecular dynamics simulations data revealed a remarkable capacity of GQDs in regulating aberrant protein expression through H-bonding and hydrophobic interactions, pointing to nanomedicine as a new frontier against human amyloid diseases.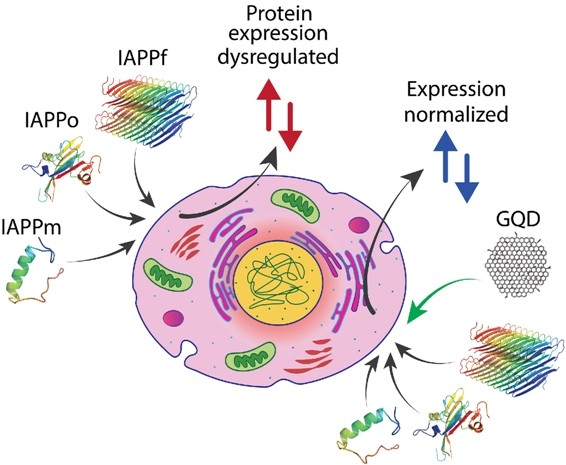 Keywords
islet amyloid polypeptide (IAPP) 
oligomer 
amyloid 
protein expression 
graphene quantum dot 
Notes
Acknowledgements
This work was conceived by PCK, and was by supported by ARC Project No. CE140100036 (Davis), NSF CAREER CBET-1553945 (Ding), NIH MIRA R35GM119691 (Ding), AFTAM Research Collaboration Award (Davis and Ke), the National Natural Science Foundation of China (No. 11904189) (Sun), and the Juvenile Diabetes Research Foundation (Purcell and Faridi). A.W. P. is supported by a Principal Research Fellowship from the Australian NHMRC. TEM imaging was performed at Bio21 Advanced Microscopy Facility, University of Melbourne. HIM imaging was performed at the MCFP platform, University of Melbourne by Dr. Anders Barlow.
Copyright information
© Tsinghua University Press and Springer-Verlag GmbH Germany, part of Springer Nature 2019