Butterfly-wing hierarchical metallic glassy nanostructure for surface enhanced Raman scattering
Abstract
The surface-enhanced Raman spectroscopy (SERS) is a technique for the detection of analytes on the surface with an ultrahigh sensitivity down to the atomic-scale, yet the fabrication of SERS materials such as nanoparticles or arrays of coinage metals often involve multiple complex steps with the high cost and pollution, largely limiting the application of SERS. Here, we report a complex hierarchical metallic glassy (MG) nanostructure by simply replicating the surface microstructure of butterfly wings through vapor deposition technique. The MG nanostructure displays an excellent SERS effect and moreover, a superhydrophobicity and self-cleaning behavior. The SERS effect of the MG nanostructure is attributed to the intrinsic nanoscale structural heterogeneities on the MG surface, which provides a large number of hotspots for the localized electromagnetic field enhancement affirmed by the finite-difference time-domain (FDTD) simulation. Our works show that the MG could be a new potential SERS material with low cost and good durability, well extending the functional application of this kind of material.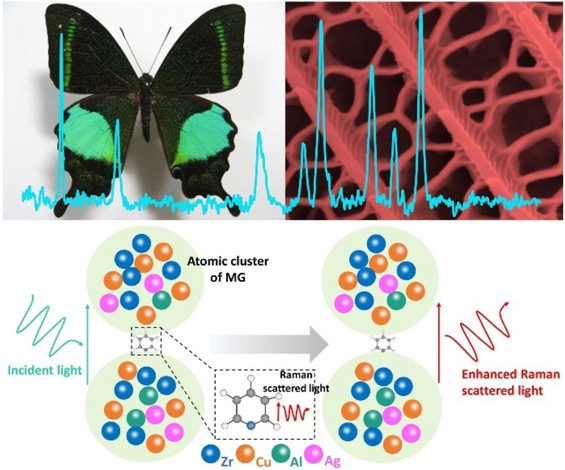 Keywords
metallic glassy 
structural heterogeneities 
surface enhanced Raman scattering 
superhydrophobicity 
butterfly wing 
Notes
Acknowledgements
The authors would like to thank the support of the National Natural Science Foundation of China (Nos. 51822107, 51671121, 51761135125, and 61888102), the National Key Research and Development Program (No. 2018YFA0703603) and the Strategic Priority Research Program of the Chinese Academy of Sciences (Nos. XDB07030200 and XDB30000000). We appreciate Professor Di Zhang's deep discussions on the usage of bio-templates. The authors also thank Ruhao Pan and Xianzhong Yang for discussions on collecting Raman spectra, Mo Han Wang for the measurement of UV–vis absorption spectra and Kun Chen for the dielectric coefficient measurement.
Copyright information
© Tsinghua University Press and Springer-Verlag GmbH Germany, part of Springer Nature 2019