High-throughput droplet microfluidic synthesis of hierarchical metal-organic framework nanosheet microcapsules
Abstract
Using two-dimensional (2D) metal-organic framework (MOF) nanosheets as new building blocks to create more complex architectures at the mesoscopic/macroscopic scale has attracted extensive interest in recent years. Nevertheless, it remains a great challenge to assemble MOF nanosheets into hierarchical hollow structures so far. In this paper, we describe a successful example of hierarchical MOF nanosheet microcapsules, with precisely controlled sizes, produced on large scale within minutes with a continuous droplet microfluidic strategy. Following a reaction/diffusion growth mechanism, the microcapsule shells feature a continuous smooth inner layer and a porous outer layer. Such hierarchical structure enables the encapsulation of magnetite nanoparticles inside and loading of dense gold nanoparticles outside the microcapsules, which exhibit highly efficient heterogeneous catalytic activity and easy recyclability. The present microfluidic assembly method offers a new pathway for preparing hierarchical MOF nanosheet structures, with the potential for extension to the formation of other 2D nanosheets in general.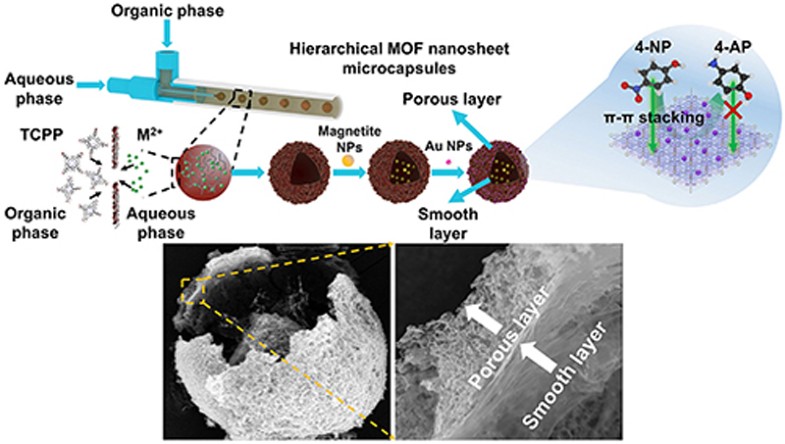 Keywords
metal-organic framework nanosheet 
droplet microfluidics 
microcapsule 
hierarchical structure 
Notes
Acknowledgements
We gratefully acknowledge the financial support from the National Natural Science Foundation of China (Nos. 51873035, 21604024, and 21878089). This work was also sponsored by the Shanghai Municipal Natural Science Foundation (No. 17ZR1440400), "Qimingxing Plan" (No. 19QA1400200), "Chenguang Program" supported by the Shanghai Education Development Foundation and the Shanghai Municipal Education Commission (No. 16CG32), and the Fundamental Research Funds for the Central Universities.
Copyright information
© Tsinghua University Press and Springer-Verlag GmbH Germany, part of Springer Nature 2019