A review on synthesis of graphene, h-BN and MoS2 for energy storage applications: Recent progress and perspectives
Abstract
The significance of graphene and its two-dimensional (2D) analogous inorganic layered materials especially as hexagonal boron nitride (h-BN) and molybdenum disulphide (MoS2) for "clean energy" applications became apparent over the last few years due to their extraordinary properties. In this review article we study the current progress and selected challenges in the syntheses of graphene, h-BN and MoS2 including energy storage applications as supercapacitors and batteries. Various substrates/catalysts (metals/insulator/semiconducting) have been used to obtain graphene, h-BN and MoS2 using different kinds of precursors. The most widespread methods for synthesis of graphene, h-BN and MoS2 layers are chemical vapor deposition (CVD), plasma-enhanced CVD, hydro/solvothermal methods, liquid phase exfoliation, physical methods etc. Current research has shown that graphene, h-BN and MoS2 layered materials modified with metal oxide can have an insightful influence on the performance of energy storage devices as supercapacitors and batteries. This review article also contains the discussion on the opportunities and perspectives of these materials (graphene, h-BN and MoS2) in the energy storage fields. We expect that this written review article including recent research on energy storage will help in generating new insights for further development and practical applications of graphene, h-BN and MoS2 layers based materials.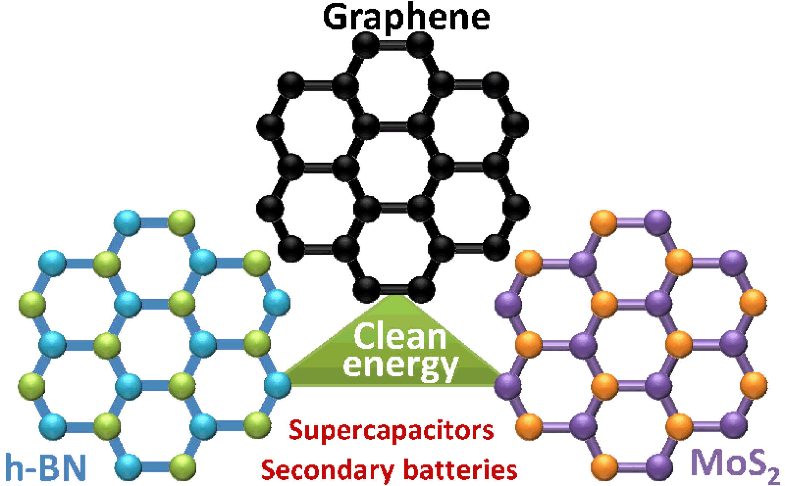 Keywords
graphene 
inorganic layered materials 
hierarchical structures 
energy storage 
supercapacitor 
battery 
Notes
Acknowledgements
R. K. acknowledges Japan Society for the Promotion of Science (JSPS; Standard) for international postdoctoral fellowship (P18063) and this research work was supported by JSPS KAKENHI Grant No. 18F18063. A. M. acknowledges the financial support from JSPS KAKENHI Grant JP-18H03841 and JSPS KAKENHI Grant JP-17K18985. R. K. and A. M. would like to thanks Toyohashi University of Technology, Toyohashi, Aichi, Japan for providing the necessarily support and facilities to complete this work. S. S. acknowledges DST-SERB, India for the national postdoctoral fellowship (NPDF File No. PDF/2017/000328). D. P. S. acknowledges with gratitude the financial support from Millennium Institute for Research in Optics (MIRO), CHILE. R. K. would like to dedicate this work to the memory of late Prof. Yoshiyuki Suda.
Copyright information
© Tsinghua University Press and Springer-Verlag GmbH Germany, part of Springer Nature 2019