Growth of 12-inch uniform monolayer graphene film on molten glass and its application in PbI2-based photodetector
Abstract
Direct growth of large area uniform graphene on functional insulating materials is essential for engineering versatile applications of graphene. However, the existing synthesis approaches can hardly avoid the generation of non-uniform multilayer graphene along the gas flow direction, affording huge challenges for further scaling up. Herein, by exploiting the molten state of soda-lime glass, we have accomplished the direct growth of large area uniform (up to 30 cm × 6 cm) graphene via a facile chemical vapor deposition route on low cost soda-lime glass. The use of molten glass eliminates the chemically active sites (surface corrugations, scratches, defects), and improves the mobility of carbon precursors, affording uniform nucleation and growth of monolayer graphene. Intriguingly, thus-obtained graphene acts as an ideal coating layer for the surface crystallographic modification of soda-lime glass, making it epitaxy substrates for synthesizing high-quality PbI2 nanoplates and continues films. Accordingly, a prototype photodetector was fabricated to present excellent photoelectrical properties of high responsivity (∼ 600 on/off current ratio) and fast response speed (18 µs). This work hereby paves ways for the batch production and the direct applications of graphene glass as platforms for constructing high performance electronic and optoelectronic devices.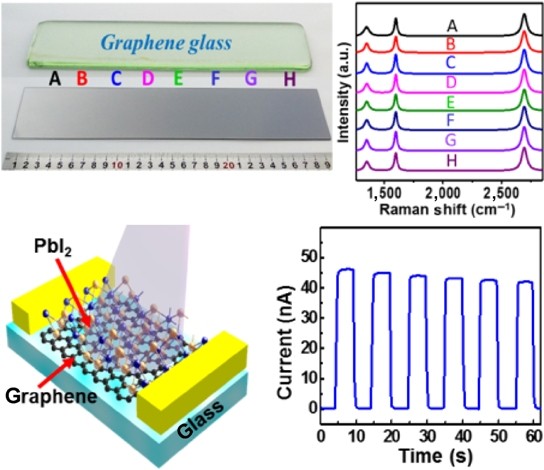 Keywords
graphene 
chemical vapor deposition 
dielectric substrate 
lead iodide 
photodetector 
Notes
Acknowledgements
The authors acknowledge Electron Microscopy Laboratory in Peking University for the use of Cs corrected electron microscope. This work was financially supported by the National Basic Research Program of China (No. 2016YFA0200103), the National Natural Science Foundation of China (Nos. 51432002 and 51290272), and the Beijing Municipal Science and Technology Planning Project (No. Z161100002116020).
Copyright information
© Tsinghua University Press and Springer-Verlag GmbH Germany, part of Springer Nature 2019