Meso-porous amorphous Ge: Synthesis and mechanism of an anode material for Na and K storage
Abstract
Crystalline Ge is a highly active anode material for Li storage but inactive for Na storage because of high diffusion barrier. By
in-situ
Raman spectrum, we explore that the Na could reversibly alloy/dealloy with the amorphous Ge, but does not with the crystalline Ge. Herein, the amorphous Ge is fabricated by an acid-etching Zintl phase Mg
2
Ge route at room temperature, which shows a mesoporous architecture with a Brunauer–Emmett–Teller (BET) surface area of 29.9 m
2
·g
−1
and a Barrett–Joyner–Halenda (BJH) average pore diameter of 7.6 nm. This mesoporous architecture would enhance the Na-ion/electron diffusion rate and buffer the volume expansion. As a result, the as-prepared amorphous Ge shows superior Na-ion storage performance including high reversible capacity over 550 mA·h·g
−1
at 0.2 C after 50 cycles, good rate capability with a capacity of 273 mA·h·g
−1
maintained at 5.0 C, and long-term cycling stability with capacities of 450 mA·h·g
−1
at 0.4 C after 200 cycles. For the K-ion storage, the amorphous Ge is also more active than the crystalline counter and maintains a capacity of 210 mA·h·g
−1
after 100 cycles at 0.2 C.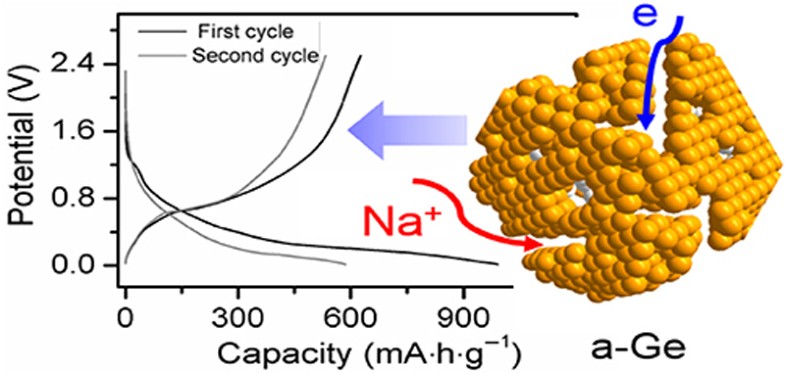 Keywords
amorphous Ge 
sodium-ion batteries 
K storage 
in-situ Raman spectrum 
Notes
Acknowledgements
This work is financially supported by the National Natural Science Foundation of China (Nos. 21701163, 21671181, and 21831006), and Anhui Provincial Natural Science Foundation (No. 1808085QB25).
Electronic Supplementary Material: Supplementary material (additional figures and tables) is available in the online version of this article at https://doi.org/10.1007/s12274-019-2442-4.
Copyright information
© Tsinghua University Press and Springer-Verlag GmbH Germany, part of Springer Nature 2019