Speeding up carbon nanotube integrated circuits through three-dimensional architecture
Abstract
Semiconducting carbon nanotube (CNT) field effect transistor (FET) is attractive for constructing three-dimensional (3D) integrated circuits (ICs) because of its low-temperature processes and low power dissipation. However, CNT based 3D ICs reported usually suffered from lower performance than that of monolayer CNT ICs. In this work, we develop a 3D IC technology through integrating multi-layer high performance CNT film FETs into one chip, and show that it promotes the operation speed of CNT based 3D ICs considerably. We also explore the advantage on ICs of 3D architecture, which brings 38% improvement on speed over two-dimensional (2D) one. Specially, we demonstrate the fabrication of 3D five-stage ring-oscillator circuits with an oscillation frequency of up to 680 MHz and stage delay of 0.15 ns, which represents the highest speed of 3D CNT-based ICs.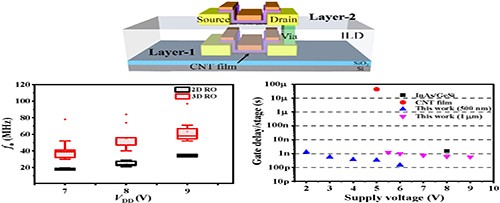 Keywords
carbon nanotube 
nanoelectronics 
field-effect transistors 
3D integrated circuits 
ring oscillator 
Notes
Acknowledgements
This work was supported by the National Key Research & Development Program (No. 2016YFA0201901), the National Natural Science Foundation of China (Nos. 61621061, 61427901 and 61888102) and the Beijing Municipal Science and Technology Commission (No. D171100006617002 1-2).
Copyright information
© Tsinghua University Press and Springer-Verlag GmbH Germany, part of Springer Nature 2019