Two-photon AIE probe conjugated theranostic nanoparticles for tumor bioimaging and pH-sensitive drug delivery
Abstract
Nanoparticles armed with chemotherapy drug and fluorescence probe have become an effective anticancer strategy for their advantages in cancer diagnosis and treatment. However, fluorophore for diagnostic medicine with deep penetration depth and high resolution are still very rare, while rational designs are also required to improve the tumor retention and target-site drug delivery. Herein, a two-photon fluorophore with aggregation-induced emission and large two-photon absorption cross-section has been designed for two-photon bioimaging, and a novel theranostic nanoplatform is also constructed based on doxorubicin and the two-photon fluorophore conjugated copolymer, P(TPMA-co-AEMA)-PEI(DA)-Blink-PEG (PAEE
Blink
-DA). The micelles maintain a "stealth" property during blood circulation and is activated in the acidic tumor microenvironment, which triggers the charge-conversion and results in enhanced micellar internalization. Meanwhile, PAEMA chains can convert from hydrophobicity to hydrophilicity with accelerated drug release and particle size expansion. The enlarged particle size would potentially extend the retention time of these micelles. Moreover, a great AIE active two-photon bioimaging with tissue penetration depth up to 150 µm is observed and the
in vivo
biodistribution of nanoparticles can be traced. The
in vivo
antitumor results further indicate the obvious reduction of adverse effect and enhanced treatment effect of these micelles, proving that these PAEE
Blink
-DA micelles would be a potential candidate for tumor theranostic applications.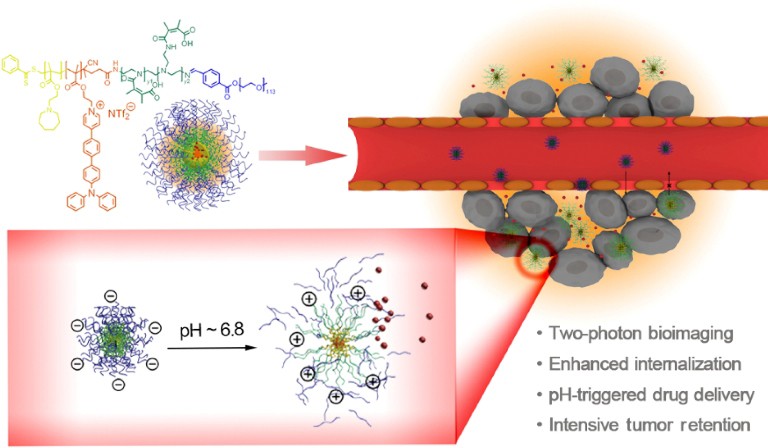 Keywords
polymeric micelle 
two-photon 
aggregation-induced emission 
pH-sensitive 
charge conversion 
tumor retention 
Notes
Acknowledgements
This research was financially supported by the National Natural Science Foundation of China (No. 21502129), the National 111 Project of Introducing Talents of Discipline to Universities (No. B16033), China Postdoctoral Science Foundation Funded Project (Nos. 2017M612956 and 2018T110969), the Key Technology Support Program of Sichuan Province (No. 2016SZ0004), and the State Key Laboratory of Polymer Materials Engineering (No. sklpme2018-3-05). We are grateful for the help of Mr. Chenghui Li (Analytical & Testing Center, Sichuan University) taking laser scanning confocal images.
Copyright information
© Tsinghua University Press and Springer-Verlag GmbH Germany, part of Springer Nature 2019