Stress-induced CsPbBr3 nanocrystallization on glass surface: Unexpected mechanoluminescence and applications
Abstract
In this work, we discovered an unexpected mechanoluminescence (ML) phenomena occurring when transforming amorphous into crystalline, due to the stress-induced precipitation of CsPbBr3 perovskite nanocrystals on glass surface. It is revealed that, unlike the conventional thermal-induced phase transformation mechanism, the breakage of bonding of glass network provides the energy for nucleation and growth, and the shear stress avoids the long-range migration of structural units for crystallization. Such unique ML phenomenon enables the visualization of dynamical force that is inaccessible by common strategy, and so, opens up some novel applications, such as the pressuresensitive "glassy pencil" to learn people's writing habits, and the Pb2+-detection with good sensitivity and selectivity. These findings not only demonstrate an effective route for the preparation of perovskite materials in a green, time-saving, low cost, and scalable way, enrich the knowledge of glass crystallization mechanism, but also exploit a useful avenue to quantitatively visualize the dynamical force.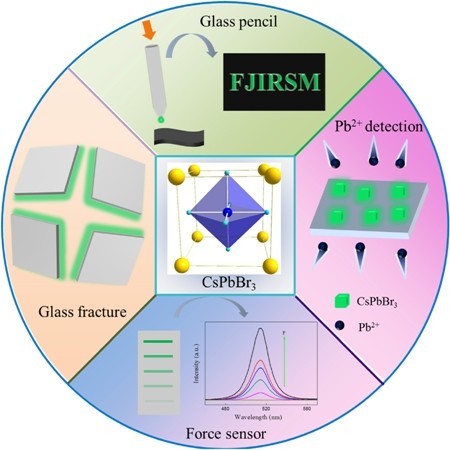 Keywords
perovskite nanocrystals 
CsPbBr3 
mechanoluminescence 
glass ceramics 
nanocrystallization 
Notes
Acknowledgements
This work is supported by the National Natural Science Foundation of China (Nos. 11674318, 11774346, 51872288, and 51472242), the National Key R&D Program of China (No. 2016YFB0701003) and the Chunmiao Project of the Haixi Institute of the Chinese Academy of Sciences (No. CMZX-2017-002).
Supplementary material
Supplementary material, approximately 2.43 MB.
Supplementary material, approximately 15.5 MB.
Copyright information
© Tsinghua University Press and Springer-Verlag GmbH Germany, part of Springer Nature 2019