Chemotherapy drugs derived nanoparticles encapsulating mRNA encoding tumor suppressor proteins to treat triple-negative breast cancer
Abstract
Triple-negative breast cancer (TNBC) is one type of the most aggressive breast cancers with poor prognosis. It is of great urgency to develop new therapeutics for treating TNBC. Based on current treatment guideline and genetic information of TNBC, a combinational therapy platform integrating chemotherapy drugs and mRNA encoding tumor suppressor proteins may become an efficacious strategy. In this study, we developed paclitaxel amino lipid (PAL) derived nanoparticles (NPs) to incorporate both chemotherapy drugs and P53 mRNA. The PAL P53 mRNA NPs showed superior properties compared to Abraxane® and Lipusu® used in the clinic including high paclitaxel loading capacity (24 wt.%, calculated by paclitaxel in PAL), PAL encapsulation efficiency (94.7% ± 6.8%) and mRNA encapsulation efficiency (88.7% ± 0.7%). Meanwhile, these NPs displayed synergetic cytotoxicity of paclitaxel and P53 mRNA in cultured TNBC cells. More importantly, we demonstrated in vivo anti-tumor efficacy of PAL P53 mRNA NPs in an orthotopic TNBC mouse model. Overall, these chemotherapy drugs derived mRNA NPs provide a new platform to integrate chemotherapy and personalized medicine using tumor genetic information, and therefore represent a promising approach for TNBC treatment.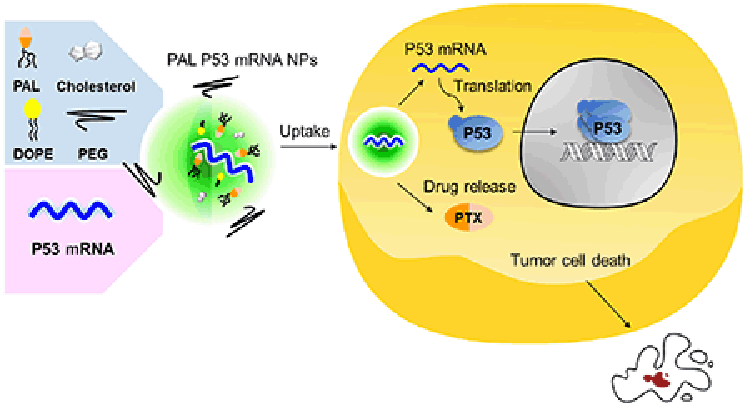 Keywords
paclitaxel amino lipid derived nanoparticles 
mRNA therapeutics 
combination therapy 
triple-negative breast cancer 
Notes
Acknowledgements
This work was supported by the Maximizing Investigators' Research Award R35GM119679 from the National Institute of General Medical Sciences as well as the start-up fund from the College of Pharmacy at The Ohio State University. C. X. Z. acknowledges the support from the Professor Sylvan G. Frank Graduate Fellowship.
Copyright information
© Tsinghua University Press and Springer-Verlag GmbH Germany, part of Springer Nature 2019