Black phosphorus nanoflakes as morphology modifier for efficient fullerene-free organic solar cells with high fill-factor and better morphological stability
Abstract
Morphology of the donor:acceptor blend plays a critical role in the photovoltaic performance of the organic solar cells (OSCs). Herein, liquid-phase-exfoliated black phosphorus nanoflakes (BPNFs), for their outstanding electronic property and good compatibility to solution process, were applied to fullerene-free OSCs as morphology modifier. Revealed by X-ray scattering measurements, the PTB7-Th:IEICO-4F blends incorporated with BPNFs exhibit more ordered π-π stacking and promoted domain purity, contributing to lower charge transport resistance and suppressed charge recombination within the bulk heterojunction (BHJ). As a result, a high fill factor (FF) of 0.73 and a best power conversion efficiency (PCE) of 12.2% were obtained for fullerene-free OSCs based on PTB7-Th:IEICO-4F blends incorporating with BPNFs, which is among the highest FF of the as-cast fullerene-free OSCs with PCE over 12%. More importantly, the embedded BPNFs help to improve the morphological stability of the devices probably by retarding the phase mixing in the BHJ during the aging period. Besides, analogous enhancements were observed in another fullerene-free OSCs based on PBDB-T:ITIC. In a word, this work provides a new strategy of using two-dimentional nanoflakes as facile and universal morphology modifier for efficient fullerene-free OSCs.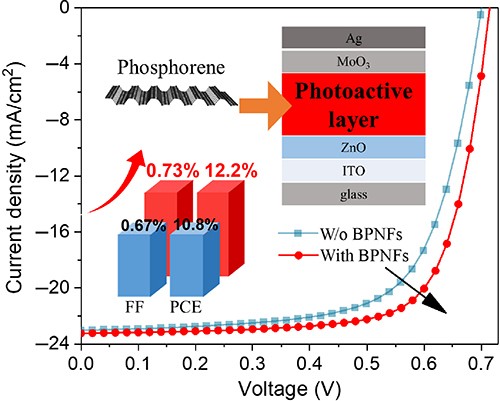 Keywords
fullerene-free organic solar cells 
black phosphorus nanoflakes 
morphology tuning 
device stability 
Notes
Acknowledgements
This work is supported by the National Natural Science Foundation of China (Nos. 21734008, 51473142, and 61721005) and Zhejiang Province Science and Technology Plan (No. 2018C01047). L. Ye and H. Ade gratefully acknowledge the support by the U.S. Office of Naval Research (ONR, No. N000141712204). X-ray data were acquired at beamlines 11.0.1.2 and 7.3.3 at the ALS, which is a user facility of the U.S. Department of Energy under contract no. DE-AC02-05CH11231. C. Zhu, E. Schaible, A. Hexemer, and C. Wang of the ALS (DOE) are acknowledged for assisting with the experimental setup and providing instrument maintenance.
Copyright information
© Tsinghua University Press and Springer-Verlag GmbH Germany, part of Springer Nature 2019