Fabrication of NiFe layered double hydroxide with well-defined laminar superstructure as highly efficient oxygen evolution electrocatalysts
Abstract
Structure–activity relationship (SAR) is the key problem of nanoscience, thus to fabricate novel and well-defined nanostructure will provide a new insight on catalyst preparation method. Highly active and low cost electrocatalysts for oxygen evolution reaction (OER) are of great importance for future renewable energy conversion and storage. Herein, NiFe-based layered double hydroxides with laminar structure (NFLS) were successfully fabricated via a one-step hydrothermal approach by using sodium dodecyl sulfate as surfactant. The as-fabricated NFLS showed a well-defined periodic layered-stacking geometry with a scale down to 1-nm. Benefitting from the unique structure, NFLS exhibited an excellent catalytic activity towards OER with current densities of 10 mA·cm−2 at overpotential of 197 mV. The synergistic effect of Ni and Fe plays a key role in electrode reactions. The present work provides a new insight to improve the OER performance by rational design of electrocatalysts with unique structures.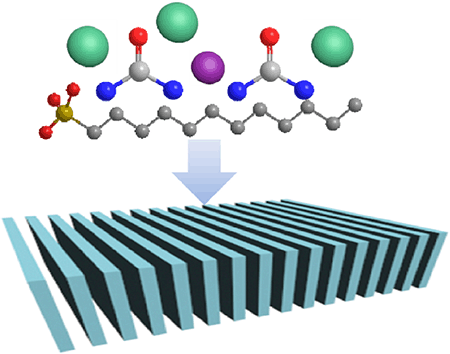 Keywords
layered double hydroxide 
structure–activity relationship 
ultrathin nanostructure 
electrocatalysis 
oxygen evolution reaction 
Notes
Acknowledgements
This work was supported by the National Natural Science Foundation of China (Nos. 21431003 and 21521091) and the National Key Technology R&D Program of China (No. 2016YFA0202801).
Copyright information
© Tsinghua University Press and Springer-Verlag GmbH Germany, part of Springer Nature 2019