Glutathione-capped quantum dots for plasma membrane labeling and membrane potential imaging
Abstract
The plasma membrane of cells is a crucial biological membrane that involved in a variety of cellular processes including cell signaling transduction through membrane electrical activity. Recently, monitoring membrane electrical activity using fluorescence imaging has attracted numerous attentions for its potential applications in evaluating how the nervous system works. However, the development of ideal fluorescent voltage-sensitive probes with both high membrane labeling efficiency and voltage sensitivity is still retain a big challenge. Herein, glutathione-capped CdSe@ZnS quantum dots (CdSe@ZnS-GSH QDs) with a size of 2.5 nm and an emission peak at 520 nm are synthesized using a facile ligand exchange method for plasma membrane labeling and membrane potential imaging. The as-synthesized CdSe@ZnS-GSH QDs can effectively label cell membrane at neutral pH within 30 min and exhibit excellent optical stability in continuous imaging for up to 60 min. With the test concentration up to 200 nM, CdSe@ZnS-GSH QDs show high biocompatibility to cells and do not affect cell proliferation, disturb cell membrane integrity or cause apoptosis and necrosis of cells. Then, a two-component voltage sensor strategy based on fluorescence resonance energy transfer (FRET) between CdSe@ZnS-GSH QDs and the dipicrylamine (DPA) is successfully developed to monitor the membrane potential by the fluorescence of CdSe@ZnS-GSH QDs. This study offers a facile strategy for labeling plasma membrane and monitoring the membrane potential of cells and will hold great potential in the research of signaling within intact neuronal circuits.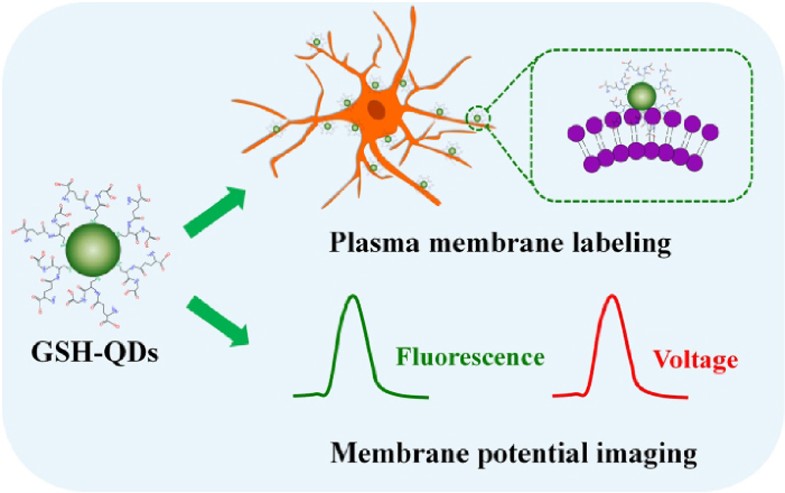 Keywords
quantum dots 
membrane labeling 
membrane potential imaging 
fluorescence imaging 
neuron 
Notes
Acknowledgements
We thank Prof. Jiulin Du and Dr. Rongwei Zhang at Institute of Neuroscience, Chinese Academy of Sciences for their general help and valuable suggestion in the patch clamp study. This work was financially supported by the Strategic Priority Research Program (No. XDB32030200) and Youth Innovation Promotion Association Program from Chinese Academy of Sciences, the National Key Research and Development Program (Nos. 2016YFA0101503 and 2017YFA0205503), the National Natural Science Foundation of China (Nos. 21778070, 21671198, 21425103, and 21501192), and the National Natural Science Foundation of Jiangsu Province (Nos. BK20170066 and BE2016682).
Copyright information
© Tsinghua University Press and Springer-Verlag GmbH Germany, part of Springer Nature 2019