Novel highly active carbon supported ternary PdNiBi nanoparticles as anode catalyst for the alkaline direct ethanol fuel cell
Open Access
Research Article
Abstract
The study focuses on the influence of Ni and Bi on alkaline ethanol oxidation reaction (EOR) activities, stabilities and structure characteristics of carbon supported Pd-based nanocatalysts (Pd/C, Pd
60
Ni
40
/C, Pd
60
Bi
40
/C, Pd
60
Ni
20
Bi
20
/C) by cyclic voltammetry/chronoamperometry using rotating disk electrode and various physico-chemical methods such as X-ray powder diffraction, X-ray photoelectron spectroscopy, transmission electron microscopy coupled with energy dispersive X-ray spectroscopy and inductively coupled plasma optical emission spectrometry. Nickel generates more adsorbed OH on the Pd catalyst surface than Bi and promotes the oxidation of adsorbed ethanol species. This results in a low onset potential toward ethanol oxidation with high current density. The presence of Bi facilitates high tolerance toward various reaction intermediates resulting from the incomplete ethanol oxidation, but might also initiate the agglomeration of Pd nanoparticles. The novel Pd
60
Ni
20
Bi
20
/C nanocatalyst displays exceptional byproduct tolerance, but only satisfying catalytic activity toward ethanol oxidation in an alkaline medium. Therefore, the EOR performance of the novel carbon supported ternary Pd
x
Ni
y
Bi
z
anode catalyst with various atomic variations (Pd
70
Ni
25
Bi
5
/C, Pd
70
Ni
20
Bi
10
/C, Pd
80
Ni
10
Bi
10
/C and Pd
40
Ni
20
Bi
40
/C) using the common instant reduction synthesis method was further optimized for the alkaline direct ethanol fuel cell. The carbon supported Pd:Ni:Bi nanocatalyst with atomic ratio of 70:20:10 displays outstanding catalytic activity for the alkaline EOR compared to the other Pd
x
Ni
y
Bi
z
/C nanocatalysts as well as to the benchmarks Pd/C, Pd
60
Ni
40
/C and Pd
60
Bi
40
/C. The synergy and the optimal content in consideration of the oxide species of Pd, Ni and Bi are crucial for the EOR kinetic enhancement in alkaline medium.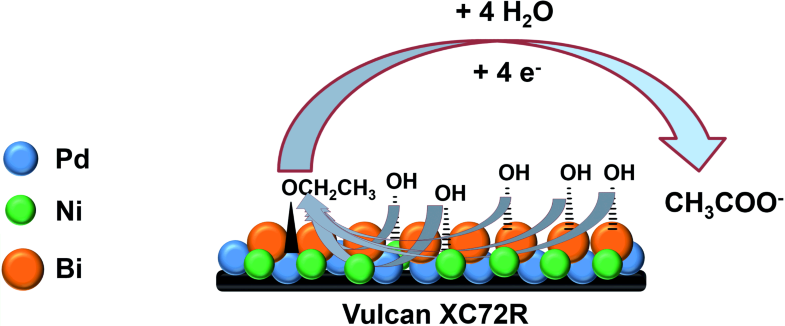 Keywords
alkaline direct ethanol fuel cell 
catalytic activity 
ethanol oxidation reaction 
ternary PdNiBi nanocatalysts 
structure characteristics 
Notes
Acknowledgements
Financial support from the Austrian Climate Energy Fund, Austrian Federal Ministry of Transport, Innovation and Technology (BMVIT), The Austrian Research Promotion Agency (FFG) through the program "Energy Mission Austria" and the IEA research cooperation are gratefully acknowledged. We thank Dr. Christian Palfinger for performing of the XPS analysis.
Copyright information
© The Author(s) 2019
Open Access: This article is licensed under a Creative Commons Attribution 4.0 International License, which permits use, sharing, adaptation, distribution and reproduction in any medium or format, as long as you give appropriate credit to the original author(s) and the source, provide a link to the Creative Commons licence, and indicate if changes were made
The images or other third party material in this article are included in the article's Creative Commons licence, unless indicated otherwise in a credit line to the material. If material is not included in the article's Creative Commons licence and your intended use is not permitted by statutory regulation or exceeds the permitted use, you will need to obtain permission directly from the copyright holder.
To view a copy of this licence, visit http://creativecommons.org/licenses/by/4.0/.