Efficient and targeted drug/siRNA co-delivery mediated by reversibly crosslinked polymersomes toward anti-inflammatory treatment of ulcerative colitis (UC)
Abstract
Co-delivery of anti-inflammatory siRNA and hydrophilic drug provides a promising approach for the treatment of ulcerative colitis (UC). However, lack of a suitable and efficient co-delivery carrier poses critical challenge against their utilization. We herein developed macrophage-targeting, reversibly crosslinked polymersomes (TKPR-RCP) based on the TKPR-modified, poly(ethylene glycol)-b-poly(trimethylene carbonate-co-dithiolane trimethylene carbonate)-b-polyethylenimine (PEG-P(TMC-DTC)-PEI) triblock copolymer, which could efficiently encapsulate TNF-α siRNA and dexamethasone sodium phosphate (DSP) in their hydrophilic core. The cationic PEI segments provided additional electrostatic interactions with cargo molecules to promote the encapsulation, and disulfide crosslinking of the polymersome membrane endowed the TKPR-RCP with high colloidal stability. Because the cationic PEI was embedded in the hydrophilic core, the polymersomes displayed neutral surface charge and thus possessed high serum stability. The TKPR-RCP co-encapsulating TNF-α siRNA and DSP could be efficiently internalized by macrophages (∼ 98%) and undergo redox-responsive membrane de-crosslinking to accelerate cargo release in the cytoplasm, thus inducing efficient gene silencing and anti-inflammatory effect. Intravenous injection of the co-delivery TKPR-RCP mediated potent and cooperative anti-inflammatory effect in inflamed colons of UC mice, and significantly prevented animals from colonic injury. This study therefore provides a promising approach for the co-delivery of hydrophilic drug/siRNA toward the treatment of inflammatory bowel diseases.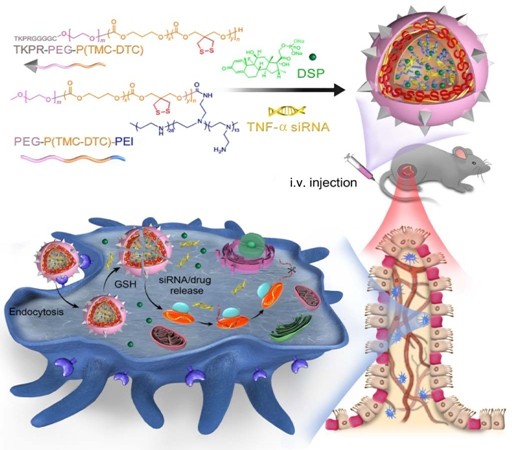 Keywords
ulcerative colitis (UC) 
anti-inflammatory therapy 
polymersomes 
reversible crosslinking 
siRNA/drug co-delivery 
macrophage targeting 
Notes
Acknowledgements
This study was supported by the National Natural Science Foundation of China (Nos. 51573123, 51722305, and 51633005), the Ministry of Science and Technology of China (No. 2016YFA0201200), 111 project, and Priority Academic Program Development of Jiangsu Higher Education Institutions (PAPD).
Copyright information
© Tsinghua University Press and Springer-Verlag GmbH Germany, part of Springer Nature 2019