Advances in atomic force microscopy for single-cell analysis
Abstract
Single-cell analysis has been considered as a promising way to uncover the underlying mechanisms guiding the mysteries of life activities, which considerably complements traditional ensemble assays and yields novel insights into cell biology. The advent of atomic force microscopy (AFM) provides a potent tool for investigating the structures and properties of native biological samples at the micro/nanoscale under near-physiological conditions, which promotes the studies of single-cell behaviors. In the past decades, AFM has achieved great success in single-cell observation and manipulation for biomedical applications, demonstrating the excellent capabilities of AFM in addressing biological issues at the single-cell level with unprecedented spatiotemporal resolution. In this article, we review the recent advances in single-cell analysis that has been made with the utilization of AFM, and provide perspectives for future progression.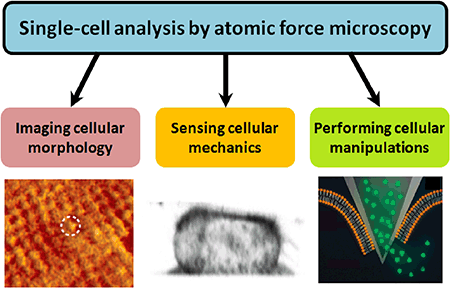 Keywords
atomic force microscopy 
single-cell analysis 
cellular morphology 
cellular mechanics 
cellular manipulation 
Notes
Acknowledgements
This work was supported by the National Natural Science Foundation of China (Nos. 61873258, 61503372, U1613220, and 61433017), the Youth Innovation Promotion Association CAS (No. 2017243), and the CAS FEA International Partnership Program for Creative Research Teams.
Copyright information
© Tsinghua University Press and Springer-Verlag GmbH Germany, part of Springer Nature 2018