Formation mechanism of twin domain boundary in 2D materials: The case for WTe2
Abstract
Our scanning tunneling microscopy (STM) study observes, for the first time, twin domain boundary (TDB) formations on the surface of WTe2 single crystal, which is glued by solidifying indium to Si substrate. In these TDB regions, a large inhomogeneous strain field, especially a critical shear strain of about 7%, is observed by geometric phase analysis. This observation does not obey the old believe that a small mechanical stress is sufficient to drive thermally-induced TDB formations in two-dimensional materials. To resolve the contradiction, we perform density functional theory calculations combined with elasticity theory analysis, which show that TDBs on WTe2 are entirely displacement-induced, for which a critical strain is necessary to overcome the onset barrier.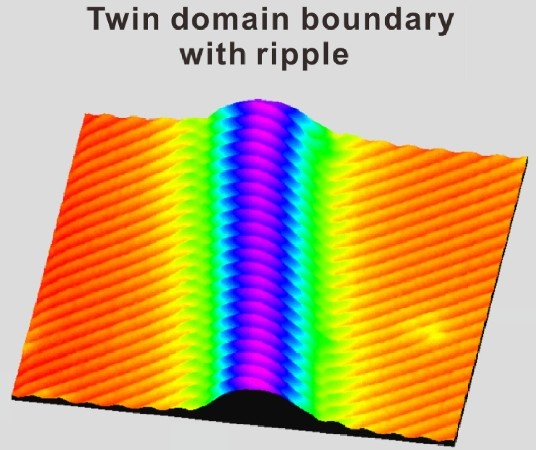 Keywords
twin domain boundary 
scanning tunneling microscopy (STM) 
density functional theory 
strain 
WTe2 
Notes
Acknowledgements
We thank the Ministry of Science and Technology of China (Nos. 2016YFA0301003 and 2016YFA0300403), the National Natural Science Foundation of China (Nos. 11521404, 11634009, U1632102, 11504230, 11674222, 11574202, 11674226, 11574201, 11655002, and U1632272) for partial support. W. Y. X. was supported by the National Science Foundation Award (No. DMR-1305293). S. B. Z. was supported by the US Department of Energy (DOE) (No. DESC0002623). The supercomputer time sponsored by National Energy aesearch Scientific Computing Center (NERSC) under DOE contract (No. DE-AC02-05CH11231) and the Center for Computational Innovations (CCI) at Rensselaer Polytechnic Institute (RPI) are also acknowledged. This project has been supported by a grant from Science and Technology Commission of Shanghai Municipality (No. 16DZ2260200) and the Strategic Priority Research Program of Chinese Academy of Sciences (No. XDB28000000).
G.-Y. W. conducted the STM experiments with the help from D. X., H-Y. M., H. Y. and H.-H. S.. J.-F. J. designed the experiments with the help from L. F. and S.-B. Z.. H. L. and S. J. grew the WTe2 single crystals. W. X. performed the first-principle calculations with the help of S.-B. Z.. G.-Y. W., W. X., S.-B. Z. and J.-F. J. wrote the paper. All authors participated in the discussions.
Copyright information
© Tsinghua University Press and Springer-Verlag GmbH Germany, part of Springer Nature 2018