Plasmon-tunable Au@Ag core-shell spiky nanoparticles for surface-enhanced Raman scattering
Abstract
A facile synthetic approach has been developed to prepare uniform and size-tunable spiky Au@Ag core-shell nanoparticles (NPs) to tailor the localized surface plasmon resonance (LSPR) properties. The gradual assembly of small Au nanocrystals allows the size of spiky Au NPs to be modulated from tens to several hundreds of nanometers by tuning the concentration of initial Au seeds and Au source; and the thickness of the Ag shell can be adjusted with stepwise reduction of Ag(I) ions. The LSPR bands of such spiky Au@Ag core-shell NPs resemble those of pure spiky Au NP cores of similar sizes in near-infrared region, and increasing the Ag shell thickness results in a blue shift and broadening of the LSPR band in the near-infrared region. Additionally, the spiky Au@Ag core-shell NPs exhibit improved surface-enhanced Raman scattering (SERS) activity as compared to the bare spiky Au NPs and spherical Ag@Au NPs. This work has offered a facile route to synthesize plasmonic metal NPs with LSPR band in 650 to 800 nm that show strong enhancement of localized electromagnetic field, which provides an effective SERS substrate for SERS imaging and detection in biological fluids and tissues.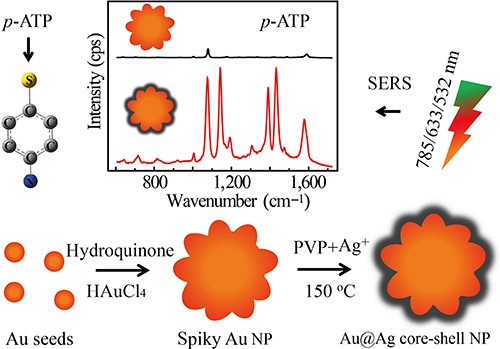 Keywords
localized surface plasmon resonance 
gold 
silver 
surface-enhanced Raman spectroscopy 
Notes
Acknowledgements
This work was financially supported by the National Basic Research Program of China (No. 2013CB934304), Key Research Program of Frontier Sciences, CAS (No. QYZDJ-SSW-SLH046), the CAS/SAFEA International Partnership Program for Creative Research Teams, the Natural Science Foundation of China (Nos. 21673245, 51632009, 51628202, 51472245 and 51671186), Hefei Institutes of Physical Sciences, CAS, and the Youth Innovation Promotion Association of CAS.
Copyright information
© Tsinghua University Press and Springer-Verlag GmbH Germany, part of Springer Nature 2018