Intermetallic PtBi core/ultrathin Pt shell nanoplates for efficient and stable methanol and ethanol electro-oxidization
Abstract
The development of Pt-based core/shell nanoparticles represents an emerging class of electrocatalysts for fuel cells, such as methanol oxidation reaction (MOR) and ethanol oxidation reaction (EOR). Here, we present a one-pot synthesis approach to prepare hexagonal PtBi/Pt core/shell nanostructure composed of an intermetallic Pt
1
Bi
1
core and an ultrathin Pt shell with well-defined shape, size, and composition. The structure and the synergistic effect among different components enhanced their MOR and EOR performance. The optimized Pt
2
Bi nanoplates exhibit excellent mass activities in both MOR (4,820 mA·mgPt
–1
) and EOR (5,950 mA·mgPt
–1
) conducted in alkaline media, which are 6.15 times and 8.63 times higher than those of commercial Pt/C, respectively. Pt
2
Bi nanoplates also show superior operation durability to commercial Pt/C. This work may inspire the rational design and synthesis of Pt-based nanoparticles with improved performance for fuel cells and other applications.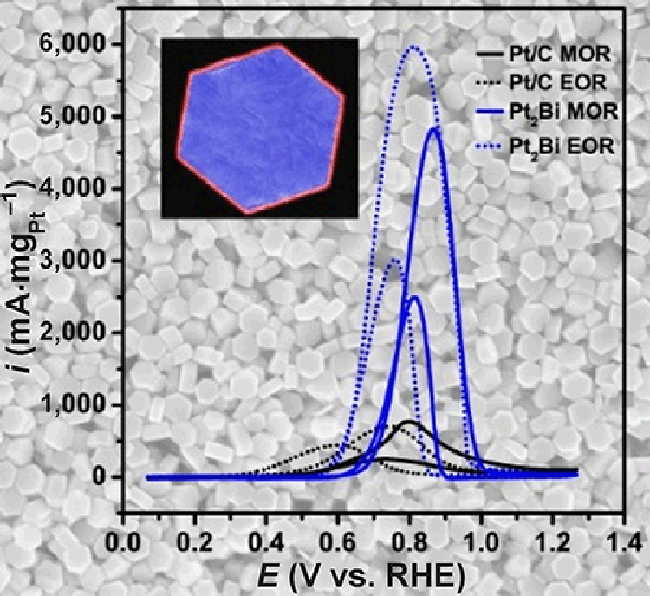 Keywords
intermetallics 
nanoplates 
core–shell structure 
methanol oxidation reaction 
ethanol oxidation reaction 
Notes
Acknowledgements
This work is supported by the Ministry of Science and Technology of the People's Republic of China (No. 2016YFE0129600), the National Natural Science Foundation of China (Nos. 21673150, 21611540336, and 21703146), and the Postdoctoral Science Foundation of China (No. 2016M591909). We acknowledge the financial support from the 111 Project, Collaborative Innovation Center of Suzhou Nano Science and Technology (NANO–CIC), the Priority Academic Program Development of Jiangsu Higher Education Institutions (PAPD), and SWC for Synchrotron Radiation Research.
Copyright information
© Tsinghua University Press and Springer-Verlag GmbH Germany, part of Springer Nature 2018