Facile growth of ultra-small Pd nanoparticles on zeolite-templated mesocellular graphene foam for enhanced alcohol electrooxidation
Abstract
Labor-saving preparation of highly active electrocatalysts for alcohols oxidation, especially for the ethylene glycol and glycerol electrooxidation is of great importance for the development of fuel cells. Herein, mesocellular graphene foam (MGF) constructed by ultrathin nanosheets were prepared using lamellar MCM-22 zeolite as template and then ultra-small Pd NPs were facile grew on it via the stabilizer-free synthesis. Detailed characterizations showed that the obtained Pd/MGF had large surface area, hierarchical porous architecture, semi-graphitic framework and dispersed Pd NPs anchoring. Electrochemical measurements demonstrated that Pd/MGF possessed the higher catalytic activity (1.7–2.9 fold higher) and stability for the different alcohols electrooxidation, especially for the ethylene glycol and glycerol electrooxidation in the alkaline solution, than the commercial Pd/C (10 wt.%) catalyst. Reaction kinetics analysis revealed the expanded diffusion-controlled process of Pd/MGF as compared to Pd/C. These findings promised a potential electrocatalyst for DAFC, especially for the direct ethylene glycol or glycerol fuel cells with high energy density.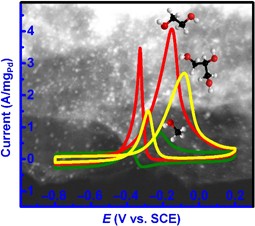 Keywords
mesocellular graphene foam 
ultra-small nanoparticles 
stabilizer-free synthesis 
alcohol electrooxidation 
reaction kinetics 
Notes
Acknowledgements
This study was supported by the National Natural Science Foundation of China (No. 21675032), the Fundamental Research Funds for the Central Universities and DHU Distinguished Young Professor Program.
Copyright information
© Tsinghua University Press and Springer-Verlag GmbH Germany, part of Springer Nature 2018