All VN-graphene architecture derived self-powered wearable sensors for ultrasensitive health monitoring
Abstract
The booming of wearable electronics has nourished the progress on developing multifunctional energy storage systems with versatile flexibility, which enable the continuous and steady power supply even under various deformed states. In this sense, the synergy of flexible energy and electronic devices to construct integrative wearable microsystems is meaningful but remains quite challenging by far. Herein, we devise an innovative supercapacitor/sensor integrative wearable device that is based upon our designed vanadium nitride-graphene (VN-G) architectures. Flexible quasi-solid-state VN-G supercapacitor with ultralight and binder-free features deliver a specific capacitance of ~ 53 F·g
−1
with good cycle stability. On the other hand, VN-G derived pressure sensors fabricated throughout a spray-printing process also manifest favorably high sensitivity (40 kPa
−1
at the range of 2–10 kPa), fast response time (~ 130 ms), perfect skin conformability, and outstanding stability under static and dynamic pressure conditions. In turn, their complementary unity into a self-powered wearable sensor enables the precise detection of physiological motions ranging from pulse rate to phonetic recognition, holding promise for in-practical health monitoring applications.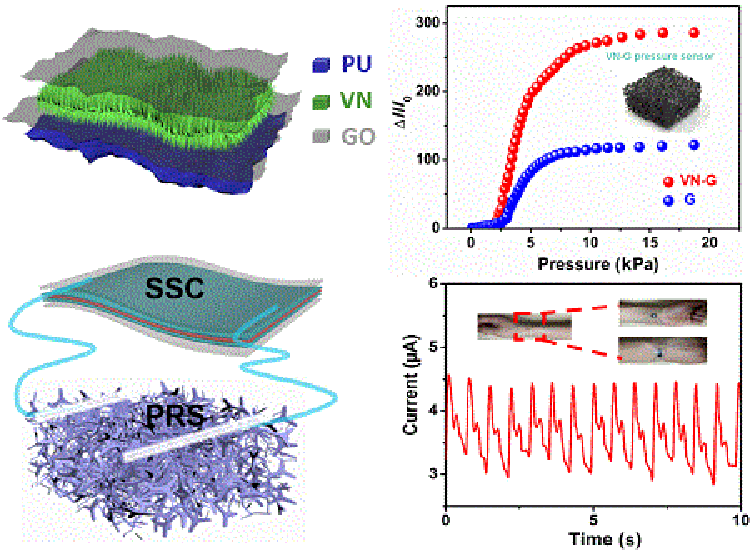 Keywords
VN-graphene architecture 
solid-state supercapacitor 
pressure sensor 
self-powered wearable sensor 
health monitoring 
Notes
Acknowledgements
This work was supported by the National Key Research and Development Program of China (No. 2016YFA0200103), the National Natural Science Foundation of China (Nos. 51702225, 21473119, 51675275, 51520105003, and 51432002), and Jiangsu Youth Science Foundation (BK20170336). L. H. Y., Y. Y. Y., Y. Z. S., Z. X., N. W., Z. N. T., L. Z., Z. F. L., and J. Y. S. acknowledge the support from Suzhou Key Laboratory for Advanced Carbon Materials and Wearable Energy Technologies, Suzhou, China. J. Y. S. acknowledges the support from the Thousand Youth Talents Plan of China.
Copyright information
© Tsinghua University Press and Springer-Verlag GmbH Germany, part of Springer Nature 2018