1-Naphthol induced Pt3Ag nanocorals as bifunctional cathode and anode catalysts of direct formic acid fuel cells
Abstract
Developing highly efficient bifunctional cathode and anode electrocatalysts is very important for the large-scale application of direct formic acid fuel cells. However, the high-cost and poor CO-tolerance ability of the most commonly used Pt greatly block this process. To increase the utilization efficiency and extend bifunctional properties of precious Pt, herein, coral-like Pt
3
Ag nanocrystals are developed as an excellent bifunctional electrocatalyst through a facile one-pot solvothermal method. The formation mechanism of Pt
3
Ag nanocorals has been elaborated well via a series of control experiments. It is proved that 1-naphthol serving as a guiding surfactant plays a key role in the formation of high-quality nanocorals. Thanks to the unique coral-like structure and alloy effects, the developed Pt
3
Ag nanocorals present significantly enhanced electrocatalytic properties (including activity, stability and CO-tolerance ability) towards both the cathodic oxygen reduction and anodic formic acid oxidation, as compared with those of commercial Pt black and Pt-based nanoparticles. The present synthetic method can also be extended to fabricate other bimetallic electrocatalysts with unique morphology and structure.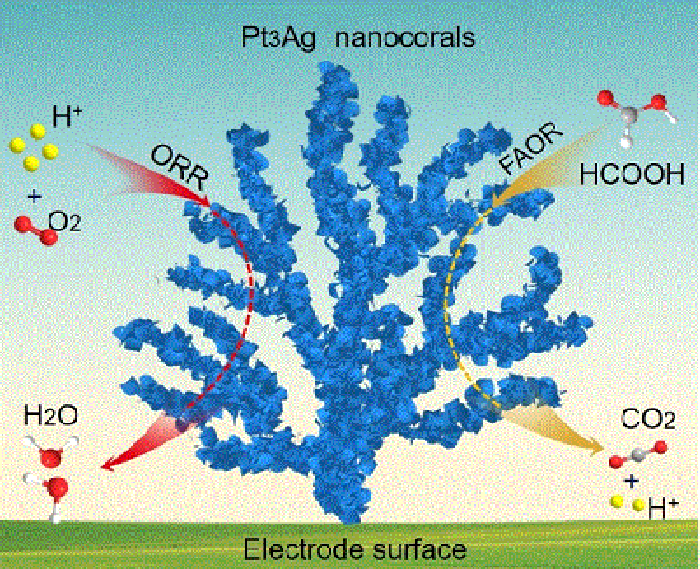 Keywords
Pt3Ag alloy 
nanocorals 
bifunctional electrocatalyst 
oxygen reduction reaction 
formic acid oxidation 
Notes
Acknowledgements
This work was financially supported by the National Natural Science Foundation of China (Nos. 21576139, 21875112, 21576050 and 51602052), Jiangsu Provincial Natural Science Foundation of China (No. BK20150604), National and Local Joint Engineering Research Center of Biomedical Functional Materials, and Priority Academic Program Development of Jiangsu Higher Education Institutions.
Copyright information
© Tsinghua University Press and Springer-Verlag GmbH Germany, part of Springer Nature 2018