Solvent polarity-induced photoluminescence enhancement (SPIPE): A method enables several-fold increase in quantum yield of silicon nanoparticles
Abstract
Fluorescent silicon nanoparticles (SiNPs) bring exciting opportunities for long-awaited silicon-based optical application, while intrinsic indirect band gap of silicon severely limits photoluminescent quantum yield (PLQY) of SiNPs. To address this critical issue, we herein demonstrate a facile and general method, i.e., solvent polarity-induced photoluminescence enhancement (SPIPE), yielding several-fold increase in quantum yield (QY) of SiNPs. Typically, different kinds of 4-substituented-1,8-naphthalic anhydride molecules, i.e., 4-Br-1,8-naphthalic anhydride (BNA), 4-triphenylamino-1,8-naphthalic anhydride (TPNA), and 4-dimethylamino-1,8-naphthalic anhydride (DMNA), are rationally designed and synthesized, which serve as surface ligands for the production of BNA-, TPNA-, and DMNA-capped small-sized (diameter: ~ 3.8–5.8 nm) SiNPs with QY of ~ 8%, ~ 15%, ~ 16%, respectively. Of particular significance, QY of the resultant SiNPs could be greatly enhanced from ~ 10% to ~ 50% through the SPIPE strategy. Taken together with the theoretical calculation and the results of time-correlated single photon counting, we reveal that actived excited-state charge transfer interactions between surface-covered ligand and silicon oxide coating would be responsible for the observed QY enhancement. Moreover, other five kinds of solvents (i.e., methanol, isopropanol, dimethyl sulfoxide, N,N-dimethylformamide, and acetonitrile) are further employed for the SiNPs treatment, and similar improvement of QY values are observed, convincingly demonstrating the universal evidence of SPIPE of the SiNPs.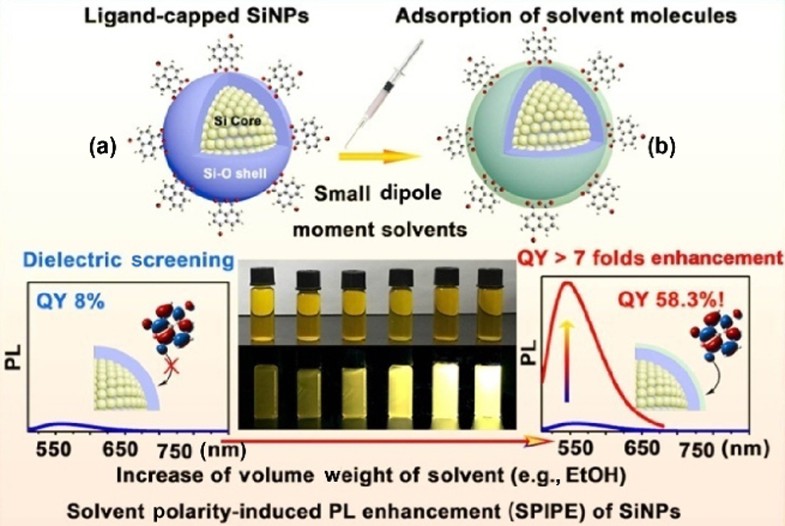 Keywords
silicon nanoparticles 
quantum yield 
fluorescent 
surface ligand 
solvent polarity 
Notes
Acknowledgements
We thank Prof. Shuit-Tong Lee and Youyong Li's general help and valuable suggestion in the computational studies. The authors appreciate financial support from the National Basic Research Program of China (973 Program) (Nos. 2013CB934400 and 2012CB932400), the National Natural Science Foundation of China (NSFC) (Nos. 21672157, 21542015, 21372174, 61361160412, and 31400860), the Ph.D. Programs Foundation of Ministry of Education of China (No. 20133201130004), the Project of Scientific and Technologic Infrastructure of Suzhou (No. SZS201708), and Collaborative Innovation Center of Suzhou Nano Science and Technology (NANO-CIC).
Copyright information
© Tsinghua University Press and Springer-Verlag GmbH Germany, part of Springer Nature 2018