Synthesis of MoX2 (X = Se or S) monolayers with high-concentration 1T′ phase on 4H/fcc-Au nanorods for hydrogen evolution
Abstract
Controlled synthesis of transition metal dichalcogenide (TMD) monolayers with unusual crystal phases has attracted increasing attention due to their promising applications in electrocatalysis. However, the facile and large-scale preparation of TMD monolayers with high-concentration unusual crystal phase still remains a challenge. Herein, we report the synthesis of MoX
2
(X = Se or S) monolayers with high-concentration semimetallic 1T′ phase by using the 4H/face-centered cubic (fcc)-Au nanorod as template to form the 4H/fcc-Au@MoX
2
nanocomposite. The concentrations of 1T′ phase in the prepared MoSe
2
and MoS
2
monolayers are up to 86% and 81%, respectively. As a proof-of-concept application, the obtained Au@MoS
2
nanocomposite is used for the electrocatalytic hydrogen evolution reaction (HER) in acid medium, exhibiting excellent performance with a low overpotential of 178 mV at the current density of 10 mA/cm
2
, a small Tafel slope of 43.3 mV/dec, and excellent HER stability. This work paves a way for direct synthesis of TMD monolayers with high-concentration of unusual crystal phase for the electrocatalytic application.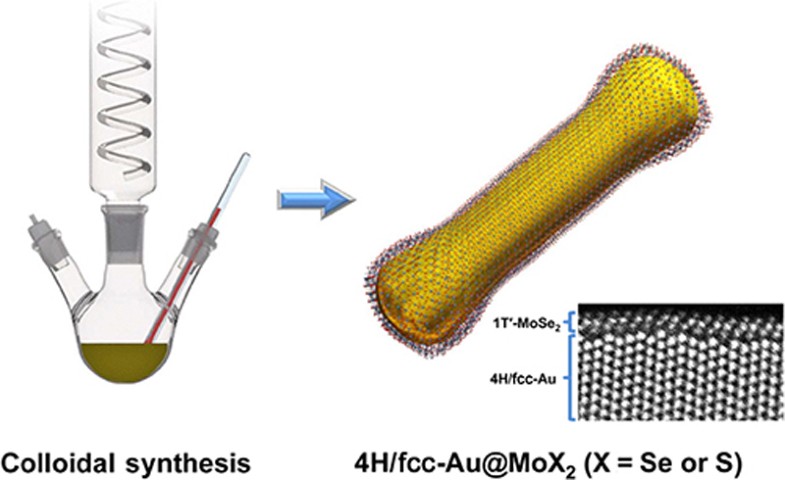 Keywords
MoS2 monolayers 
semimetallic 1T′ phase 
4H/fcc-Au nanorods 
hydrogen evolution 
Notes
Acknowledgements
This work was supported by MOE under AcRF Tier 2 (Nos. MOE2014-T2-2-093, MOE2015-T2-2-057, MOE2016-T2-2-103, and MOE2017-T2-1-162) and AcRF Tier 1 (Nos. 2016-T1-001-147, 2016-T1-002-051, 2017-T1-001-150, and 2017-T1-002-119), and NTU under Start-Up Grant (No. M4081296.070.500000) in Singapore. We would like to acknowledge the Facility for Analysis, Characterization, Testing and Simulation, Nanyang Technological University, Singapore, for use of their electron microscopy (and/or X-ray) facilities.
Copyright information
© Tsinghua University Press and Springer-Verlag GmbH Germany, part of Springer Nature 2018