A theranostic agent for cancer therapy and imaging in the second near-infrared window
Abstract
Theranostic nanoparticles are integrated systems useful for simultaneous diagnosis and imaging guided delivery of therapeutic drugs, with wide ranging potential applications in the clinic. Here we developed a theranostic nanoparticle (~ 24 nm size by dynamic light scattering) p-FE-PTX-FA based on polymeric micelle encapsulating an organic dye (FE) fluorescing in the 1,000–1,700 nm second near-infrared (NIR-II) window and an anti-cancer drug paclitaxel. Folic acid (FA) was conjugated to the nanoparticles to afford specific binding to molecular folate receptors on murine breast cancer 4T1 tumor cells.
In vivo
, the nanoparticles accumulated in 4T1 tumor through both passive and active targeting effect. Under an 808 nm laser excitation, fluorescence detection above 1,300 nm afforded a large Stokes shift, allowing targeted molecular imaging tumor with high signal to background ratios, reaching a high tumor to normal tissue signal ratio (T/NT) of (20.0 ± 2.3). Further, 4T1 tumors on mice were completed eradicated by paclitaxel released from p-FE-PTA-FA within 20 days of the first injection. Pharmacokinetics and histology studies indicated p-FE-PTX-FA had no obvious toxic side effects to major organs. This represented the first NIR-II theranostic agent developed.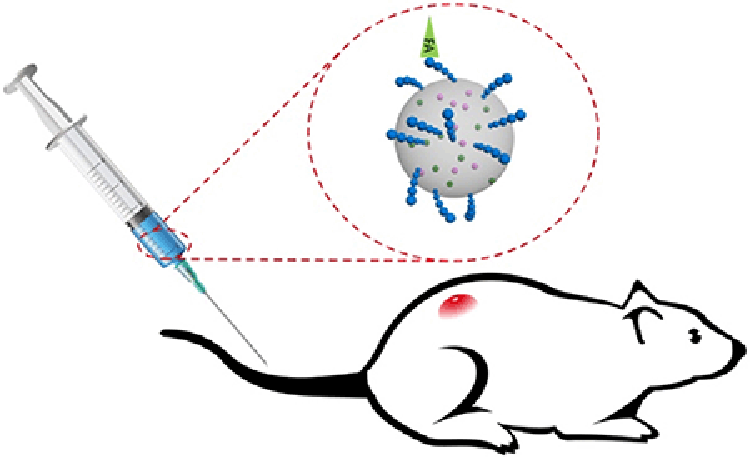 Keywords
theranostic nanoparticles 
second near-infrared window 
fluorescence imaging 
cancer therapy 
Notes
Acknowledgements
This study was supported by National Institutes of Health NIH DP1-NS-105737, the Deng family gift, and the Shenzhen Peacock Program Grant KQTD20140630160825828.
Copyright information
© Tsinghua University Press and Springer-Verlag GmbH Germany, part of Springer Nature 2018