Nanoscopic imaging of oxidized graphene monolayer using tip-enhanced Raman scattering
Abstract
Tip-enhanced Raman scattering (TERS) can be used for the structural and chemical characterization of materials with a nanoscale resolution, and offers numerous advantages compared to other forms of imaging. We use TERS to track the local structural features of a CVD-grown graphene monolayer. Ag nanoparticles were added to AFM probes using ion-beam sputtering in order to make them TERS-active. Such modification provides probes with large factors of enhancement and good reproducibility. TERS measurements on graphene show an emergence of a defect-induced D-Raman band and a strain-induced shoulder of the graphene's G-band. Comparison of TERS results with micro-Raman for oxidized graphene suggests that local oxidation occurs with the introduction of sp
3
defects, under TERS conditions.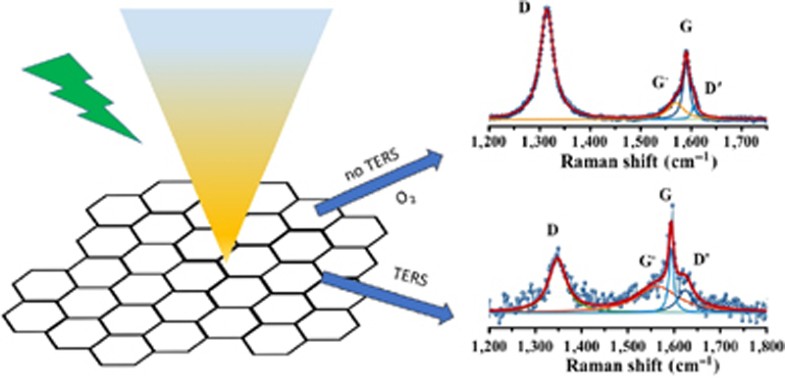 Keywords
graphene 
Raman spectroscopy 
tip-enhanced Raman scattering 
graphene oxidation 
Notes
Acknowledgements
The work was partially supported by the following grants: NIGMS 2P20GM103480-09 to AVK; Funds for Undergraduate Scholarly Experiences from the Office of Research and Creative Activity at UNO to J. S. The authors would like to thank Dr. Yuri L. Lyubchenko, at the Department of Pharmaceutical Sciences, University of Nebraska Medical Center, for supporting initial stages of this study and J. S. during his Summer Undergraduate Research Project (SURP) at UNMC. We acknowledge the contribution of Dr. Ivan Vlassiouk (Oak Ridge National Laboratory) for his help with synthesis of CVD graphene.
Copyright information
© Tsinghua University Press and Springer-Verlag GmbH Germany, part of Springer Nature 2018