Edge-functionalized graphene quantum dots as a thickness-insensitive cathode interlayer for polymer solar cells
Abstract
A thickness-insensitive cathode interlayer (CIL) is necessary for large-area polymer solar cells (PSCs), in which thickness variation is unavoidable. These CIL materials are typically based on n-type conjugated polymer/molecule backbones, which show strong light absorption in the visible/near-infrared (NIR) region. This interferes with the sunlight absorption by the active layer and deteriorates device efficiency. In this study, we developed graphene quantum dots functionalized with ammonium iodide (GQD-NI) at the edge as a thickness-insensitive CIL with high optical transparency. The peripheral ammonium iodide groups of GQD-NI formed the desired interfacial dipole with the cathode to decrease the work function. The graphene basal planes of GQD-NI with a lateral size of ca. 3 nm demonstrated a good conductivity of 3.56 × 10–6 S·cm–1 and high transparency in the visible/NIR region (λmaxabs = 228 nm). Moreover, GQD-NI was readily soluble in polar organic solvents, e.g., methanol, which enabled multilayer device fabrication with orthogonal solvent processing. As a result, the PSC device with GQD-NI as the CIL exhibited a power conversion efficiency (PCE) of 7.49%, which was much higher than that of the device without the CIL (PCE = 5.38%) or with calcium as the CIL (PCE = 6.72%). Moreover, the PSC device performance of GQD-NI was insensitive to the GQD-NI layer thickness in the range of 2–22 nm. These results indicate that GQD-NI is a very promising material for application as a CIL in large-area printed PSCs.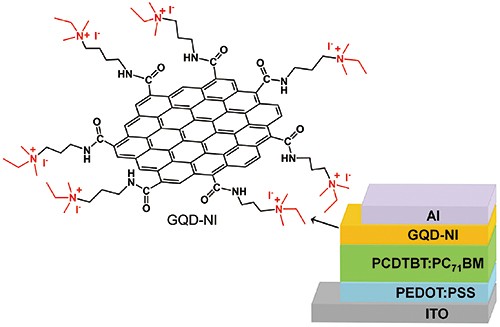 Keywords
graphene quantum dots 
ammonium 
edge-functionalization 
cathode interlayer 
polymer solar cells 
Notes
Acknowledgements
The authors are grateful for the financial supports by the National Basic Research Program of China (No. 2014CB643504), the National Natural Science Foundation of China (Nos. 21625403 and 51503198), the 111 project (No. B13013), Jilin Scientific and Technological Development Program (No. 20170519003JH), Northeast Normal University (No. 130028724), and State Key Laboratory of Luminescence and Applications (No. SKLA-2016-02).
Copyright information
© Tsinghua University Press and Springer-Verlag GmbH Germany, part of Springer Nature 2018