Observation of unconventional anomalous Hall effect in epitaxial CrTe thin films
Abstract
We have studied the magnetic and electrical transport properties of epitaxial NiAs-type CrTe thin films grown on SrTiO3(111) substrates. Unlike rectangle hysteresis loops obtained from magnetic measurements, we have identified intriguing extra bump/dip features from anomalous Hall experiments on the films with thicknesses less than 12 nm. This observed Hall anomaly is phenomenologically consistent with the occurrence of a topological Hall effect(THE) in chiral magnets with a skyrmion phase. Furthermore, the THE contribution can be tuned by the film thickness, showing the key contribution of asymmetric interfaces in stabilizing Néel-type skyrmions. Our work demonstrates that a CrTe thin film on SrTiO3(111) substrates is a good material candidate for studying real-space topological transport.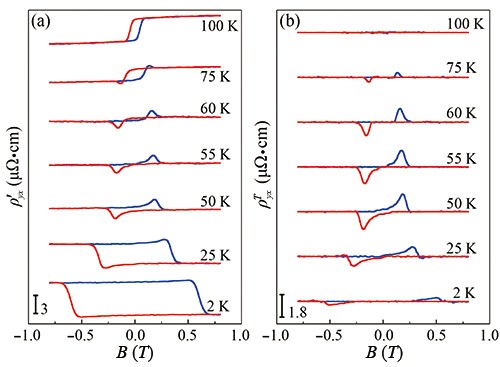 Keywords
topological Hall effect 
CrTe films 
skyrmion phase 
molecular beam epitaxy 
Notes
Acknowledgements
Work performed at Tsinghua was supported by the National Natural Science Foundation of China (Nos. 51561145005 and 11427903), National Key R&D Program of China (Nos. 2017YFA0206200 and 2016YFA0302300), the 1000-Youth talent program of China, the State Key Laboratory of Low-Dimensional Quantum Physics, and the Beijing Advanced Innovation Center for Future Chip (ICFC).
Copyright information
© Tsinghua University Press and Springer-Verlag GmbH Germany, part of Springer Nature 2017