Triboelectrification based on double-layered polyaniline nanofibers for self-powered cathodic protection driven by wind
Abstract
Polyaniline nanofibers (PANI NFs) are introduced to construct a wind-driven triboelectric nanogenerator (TENG) as a new power source for self-powered cathodic protection. PANI NFs serve as a friction layer to generate charges by harvesting wind energy as well as a conducting layer to transfer charges in TENG. A PANI NFs-based TENG exhibits a high output performance with a maximum output voltage of 375 V, short current circuit of 248 μA, and corresponding power of 14.5 mW under a wind speed of 15 m/s. Additionally, a self-powered anticorrosion system is constructed by using a PANI-based TENG as the power source. The immersion experiment and electrochemical measurements demonstrate that carbon steel coupled with the wind-driven TENG is effectively protected with an evident open circuit potential drop and negative shift in the corrosion potential. The smart self-powered device is promising in terms of applications to protect metals from corrosion by utilizing wind energy in ambient conditions.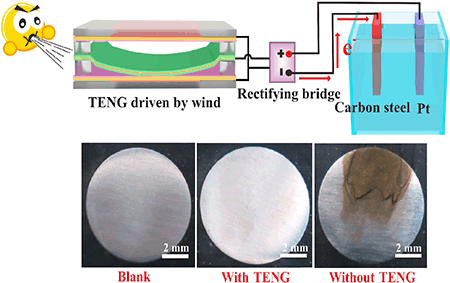 Keywords
polyaniline 
triboelectric nanogenerator 
wind-driven 
self-powered 
cathodic protection 
Notes
Acknowledgements
Thanks for the financial support of the National Natural Science Foundation of China (Nos. 21573259 and 21603242), the outstanding youth fund of Gansu Province (No. 1606RJDA31) and the "Hundred Talents Program" of Chinese Academy of Sciences (D. A. W.).
Supplementary material
Supplementary material, approximately 2.00 MB.
Supplementary material, approximately 3.29 MB.
Copyright information
© Tsinghua University Press and Springer-Verlag GmbH Germany, part of Springer Nature 2018