Abstract
Pulmonary hypertension (PH) is prevalent and carries high morbidity and mortality, mostly due to right ventricular (RV) dysfunction. Postcapillary PH is the most frequent form but there are no large-animal models available. We developed and characterized a porcine model of postcapillary PH by non-restrictive banding of the confluent of both inferior pulmonary veins (n = 10; sham controls n = 3). Right heart catheterization and magnetic resonance were performed before the procedure and monthly during 4 months. All banded animals developed PH. Compared to controls, banded animals presented higher mean pulmonary artery pressure [median (first to third quartile) 30 mmHg (25–37) vs. 20 mmHg (18–23); p = 0.018] and higher pulmonary vascular resistance [5.2 WU (3.8–7.1) vs. 2.3 WU (2.1–3.5); p = 0.028] after 2 months. Differences in indexed RV end-systolic volume [42 mL/m2 (36–53) vs. 24 mL/m2 (24–33); p = 0.028] and RV ejection fraction [59 % (54–63) vs. 66 % (64–68); p = 0.028] were also significant after 2 months. Differences remained significant throughout the study. Histopathology revealed increased lung weight and fibrosis but no increase in average water content. Also, remodeling on pulmonary arteries including increased medial and intimal thickness and fibrosis and RV myocardial disarray and fibrosis was demonstrated. Lung remodeling findings were similar in all pulmonary lobes.
This is a preview of subscription content, log in to check access.
Access options
Buy single article
Instant unlimited access to the full article PDF.
US$ 39.95
Price includes VAT for USA
Subscribe to journal
Immediate online access to all issues from 2019. Subscription will auto renew annually.
US$ 99
This is the net price. Taxes to be calculated in checkout.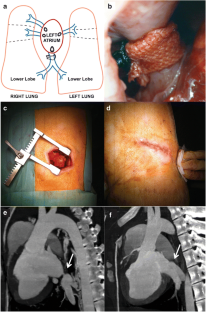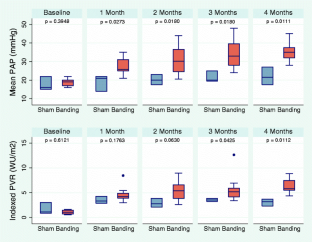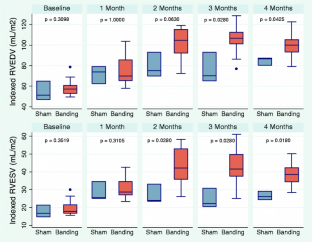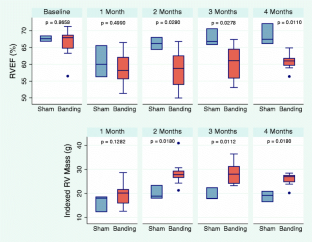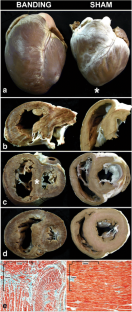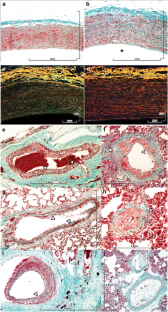 References
1.

Gheorghiade, M., Filippatos, G., De Luca, L., & Burnett, J. (2006). Congestion in acute heart failure syndromes: an essential target of evaluation and treatment. The American Journal of Medicine, 119(12 Suppl 1), S3–S10. doi:10.1016/j.amjmed.2006.09.011.

2.

Lucas, C., Johnson, W., Hamilton, M. A., Fonarow, G. C., Woo, M. A., Flavell, C. M., et al. (2000). Freedom from congestion predicts good survival despite previous class IV symptoms of heart failure. American Heart Journal, 140(6), 840–847. doi:10.1067/mhj.2000.110933.

3.

McLaughlin, V. V., Archer, S. L., Badesch, D. B., Barst, R. J., Farber, H. W., Lindner, J. R., et al. (2009). ACCF/AHA 2009 expert consensus document on pulmonary hypertension a report of the American College of Cardiology Foundation Task Force on Expert Consensus Documents and the American Heart Association developed in collaboration with the American College of Chest Physicians; American Thoracic Society, Inc.; and the Pulmonary Hypertension Association. Journal of the American College of Cardiology, 53(17), 1573–1619. doi:10.1016/j.jacc.2009.01.004.

4.

Guazzi, M., & Arena, R. (2010). Pulmonary hypertension with left-sided heart disease. Nature Reviews. Cardiology, 7(11), 648–659. doi:10.1038/nrcardio.2010.144.

5.

LaBourene, J. I., Coles, J. G., Johnson, D. J., Mehra, A., Keeley, F. W., & Rabinovitch, M. (1990). Alterations in elastin and collagen related to the mechanism of progressive pulmonary venous obstruction in a piglet model. A hemodynamic, ultrastructural, and biochemical study. Circulation Research, 66(2), 438–456.

6.

Greil, G. F., Beerbaum, P., Razavi, R., & Miller, O. (2008). Imaging the right ventricle: non-invasive imaging. Heart, 94(6), 803–808. doi:10.1136/hrt.2005.079111.

7.

Brody, S. (1928). A comparison of growth curves of man and other animals. Science, 67(1724), 43–46. doi:10.1126/science.67.1724.43.

8.

Guazzi, M., & Borlaug, B. A. (2012). Pulmonary hypertension due to left heart disease. Circulation, 126(8), 975–990. doi:10.1161/CIRCULATIONAHA.111.085761.

9.

Endo, M., Yamaki, S., Hata, M., Saiki, Y., & Tabayashi, K. (2002). Pulmonary vascular changes induced by unilateral pulmonary venous obstruction. Pediatric Cardiology, 23(4), 420–425. doi:10.1007/s00246-002-1479-3.

10.

van Nierop, B. J., van Assen, H. C., van Deel, E. D., Niesen, L. B., Duncker, D. J., Strijkers, G. J., et al. (2013). Phenotyping of left and right ventricular function in mouse models of compensated hypertrophy and heart failure with cardiac MRI. PloS One, 8(2), e55424. doi:10.1371/journal.pone.0055424.

11.

Chen, Y., Guo, H., Xu, D., Xu, X., Wang, H., Hu, X., et al. (2012). Left ventricular failure produces profound lung remodeling and pulmonary hypertension in mice: heart failure causes severe lung disease. Hypertension, 59(6), 1170–1178. doi:10.1161/HYPERTENSIONAHA.111.186072.

12.

Lu, Z., Xu, X., Fassett, J., Kwak, D., Liu, X., Hu, X., et al. (2014). Loss of the eukaryotic initiation factor 2alpha kinase general control nonderepressible 2 protects mice from pressure overload-induced congestive heart failure without affecting ventricular hypertrophy. Hypertension, 63(1), 128–135. doi:10.1161/HYPERTENSIONAHA.113.02313.

13.

Garcia-Alvarez, A., Fernandez-Friera, L., Garcia-Ruiz, J. M., Nuno-Ayala, M., Pereda, D., Fernandez-Jimenez, R., et al. (2013). Noninvasive monitoring of serial changes in pulmonary vascular resistance and acute vasodilator testing using cardiac magnetic resonance. Journal of the American College of Cardiology, 62(17), 1621–1631. doi:10.1016/j.jacc.2013.07.037.
Acknowledgments
Gonzalo J. Lopez and Angel Macias were capital for the high-quality CMR examinations. Tamara Córdoba, Oscar Sanz, and the rest of the people working in the animal facilities and CNIC's farm were outstanding in animal care and unconditional support. Antonio de Molina helped us with histological analyses in our pilot studies. We want to thank Iñigo Sanz for his great surgical pictures.
Funding
This work has been partially funded by the competitive grant "CNIC-Translational 01-2009" (to BI) and by the ISCIII grant "Fondo de Investigación Sanitaria" PI13 /02339 (to A G-A). A G-A and JM G-R have been supported by a CNIC-Cardiojoven Fellowship, Madrid, Spain.
Conflict of Interest
None of the authors have conflicts of interest to disclose regarding the manuscript submitted or the possible implications of this research.
Additional information
Editor-in-Chief Jennifer L. Hall oversaw the review of this article.
Electronic Supplementary Material
Below is the link to the electronic supplementary material.
Cine cardiac magnetic resonance imaging. Four-chamber view (upper row) and short-axis view at mid-ventricular level (lower row), from a surgical banding subject (on the left) and a sham control subject (on the right). Note the important right ventricular hypertrophy and dilatation on the banded subject as compared to the sham control. In the former, right ventricular systolic function is reduced and there is deformation of the interventricular septum, which is flattened and shifted towards the left ventricle in systole. Dilatation of the main pulmonary artery on the surgical banding subject can also be seen. (MPG 1244 kb)
Cine cardiac magnetic resonance imaging. Four-chamber view (upper row) and short-axis view at mid-ventricular level (lower row), from a surgical banding subject (on the left) and a sham control subject (on the right). Note the important right ventricular hypertrophy and dilatation on the banded subject as compared to the sham control. In the former, right ventricular systolic function is reduced and there is deformation of the interventricular septum, which is flattened and shifted towards the left ventricle in systole. Dilatation of the main pulmonary artery on the surgical banding subject can also be seen. (MPG 1244 kb)
About this article
Cite this article
Pereda, D., García-Alvarez, A., Sánchez-Quintana, D. et al. Swine Model of Chronic Postcapillary Pulmonary Hypertension with Right Ventricular Remodeling: Long-Term Characterization by Cardiac Catheterization, Magnetic Resonance, and Pathology. J. of Cardiovasc. Trans. Res. 7, 494–506 (2014) doi:10.1007/s12265-014-9564-6
Received:

Accepted:

Published:

Issue Date:
Keywords
Pulmonary hypertension

Right ventricle

Cardiac magnetic resonance

Experimental models