Abstract
Rectal prolapse is a debilitating condition predominant in the elderly female population. Etiological factors include age, multiparity, and anorexia. The diagnosis is clinical but a full assessment of pelvic floor function and the exclusion of organic disease are essential prior to operative intervention. As concomitant urogynecological disorders are present in a third of patients, discussion in a pelvic floor multidisciplinary team forum is mandated. Surgical correction can be performed using a perineal or an abdominal approach. The heterogeneity of trial design in the current literature makes direct comparison of the techniques difficult. Perineal approaches are generally preferred in high-risk, elderly patients as they can often be performed under regional anesthesia. The evidence surrounding the technical aspects of abdominal rectopexy, such as the need to perform a colectomy or the decision to preserve/divide the lateral ligaments, is examined in this review. In abdominal surgery, the use of minimally invasive laparoscopic techniques and enhanced recovery protocols are recommended.
This is a preview of subscription content, log in to check access.
Access options
Buy single article
Instant access to the full article PDF.
US$ 39.95
Price includes VAT for USA
Subscribe to journal
Immediate online access to all issues from 2019. Subscription will auto renew annually.
US$ 99
This is the net price. Taxes to be calculated in checkout.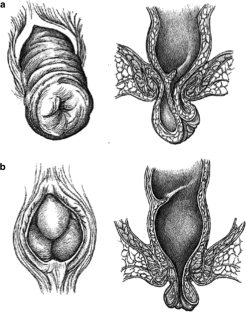 References
1.

Birnbaum EH, S. L. (1996) Pudendal nerve terminal motor latency influences surgical outcome in treatment of rectal prolapse. Dis Colon Rectum 39(11):1215–1221

2.

Bordeianou L, H. C. (2014) Rectal prolapse: an overview of clinical features, diagnosis, and patient-specific management strategies. J Gastrointest Surg 18(5):1059–1069

3.

Gurland B, M. a. (2008) Transrectal ultrasound, manometry, and pudendal nerve terminal latency studies in the evaluation of sphincter injuries. Clin Colon Rectal Surg 21(3):157–166

4.

Christiansen J, Z. B. (1992) Internal rectal intussusception: results of surgical repair. Dis Colon Rectum 35:1026–1029

5.

Constantinos Sialakas MT (1999) Rectal prolapse in pediatrics. Clin Pediatr 38(2):63–72

6.

Consten EC, v. I. (2015) Long-term outcome after laparoscopic ventral mesh rectopexy: an observational study of 919 consecutive patients. Ann Surg 262(5):742–747

7.

Cunin D, S. L. (2013) No surgery for full-thickness rectal prolapse: what happens with continence? World J Surg 37(6):1297–1302

8.

Dariane C, M. D. (2016) Concepts of the rectovaginal septum: implications for function and surgery. Int Urogynecol J 27(6):839–848

9.

Altomare DF, Pucciani F (eds) (2008) Rectal prolapse: diagnosis and clinical management. Springer-Verlag Mailand

10.

Elagili F, G. B. (2015) Comparing perineal repairs for rectal prolapse: Delorme versus Altemeier. Tech Coloproctol 19(9):521–525

11.

Emile SH, Y. M. (2016) Effect of age, patient's sex, and type of trauma on the correlation between size of sphincter defect and anal pressures in posttraumatic fecal incontinence. Surgery 160(5):1318–1325

12.

Weiss EG, M. a. (2008) Functional disorders: rectoanal intussusception. Clin Colon Rectal Surg 21(2):122–128

13.

Felt-Bersma RJ, T. E. (2008) Rectal prolapse, rectal intussusception, rectocele, solitary rectal ulcer syndrome, and enterocele. Gastroenterol Clin N Am 37(3):645–668

14.

Foppa C, M. L. (2014) Ten-year follow up after laparoscopic suture rectopexy for full-thickness rectal prolapse. Color Dis 16(10):809–814

15.

Formijne Jonkers HA, D. W. (2013) Evaluation and surgical treatment of rectal prolapse: an international survey. Color Dis 15(1):115–119

16.

Glasgow SC, B. E. (2006) Preoperative anal manometry predicts continence after perineal proctectomy for rectal prolapse. Dis Colon Rectum 49(7):1052–1058

17.

Jie-Hyun Kim MP (2010) How to interpret conventional anorectal manometry. J Neurogastroenterol Motil 16(4):437–439

18.

John Nicholls RR (1997) Surgery of the colon & rectum. Churchill Livingstone, New York, Edinburgh, London, Madrid, Melbourne, San Francisco, Tokyo

19.

Karas JR, U. S., & Group, R. P (2011) No rectopexy versus rectopexy following rectal mobilization for full-thickness rectal prolapse: a randomized controlled trial. Dis Colon Rectum 54(1):29–34

20.

Kerry Hammond MD (2007) Rectal prolapse: a 10-year experience. Ochsner J 7(1):24–32

21.

Kim AY (2011) How to interpret a functional or motility test - defecography. J Neurogastroenterol Motil 17(4):416–420

22.

Kimmins MH, E. B. (2001) The Altemeier repair: outpatient treatment of rectal prolapse. Dis Colon Rectum 44(4):565–570

23.

Mortele KJ, Fairhurst J (2007) Dynamic MR defecography of the posterior compartment. Eur J Radiol 61(3):462–472

24.

Lieberth M, K. L. (2009) The Delorme repair for full-thickness rectal prolapse: a retrospective review. Am J Surg 197(3):418–423

25.

Kairaluoma MV, I. H. (2005) Epidemiologic aspects of complete rectal prolapse. Scand J Surg 94:207–210

26.

Madiba TE, B. M. (2005) Surgical management of rectal prolapse. Arch Surg 140(1):63–73

27.

Madoff RD, M. A. (1999) One hundred years of rectal prolapse surgery. Dis Colon Rectum 42(4):441–450

28.

Marceau C, P. Y. (2005) Complete rectal prolapse in young patients: psychiatric disease a risk factor of poor outcome. Color Dis 7(4):360–365

29.

Watkins BP, L. J. (2003) Long-term follow-up of the modified Delorme procedure for rectal prolapse. Arch Surg 138(5):498–502

30.

Senapati A, G. R., & Group, P. C (2013) PROSPER: a randomised comparison of surgical treatments for rectal prolapse. Color Dis 15(7):858–868

31.

Mellgren A, B. S. (1994) Defecography. Results of investigations in 2816 patients. Dis Colon Rectum 37(11):1133–1141

32.

Purkayastha S, Tekkis P (2005) A comparison of open vs. laparoscopic abdominal rectopexy for full-thickness rectal prolapse: a meta-analysis. Dis Colon Rectum 48(10):1930–1940

33.

Satish SC, Rao MP (2015) ANMS-ESNM position paper and consensus guidelines on biofeedback therapy for anorectal disorders. Neurogastroenterol Motil 27(5):594–609

34.

Goldstein SD, M. a. (2011) Rectal prolapse. Clin Colon Rectal Surg 24(1):39–45

35.

Shin EJ (2011) Surgical treatment of rectal prolapse. J Korean Soc Coloproctology 27(1):5–12

36.

Skandalakis JE (2004) Skandalakis' surgical anatomy. Paschalidis Medical Publication Ltd., Stockholm

37.

Sokol AS (2008). Clinical anatomy of the vulva, vagina, lower pelvis, and perineum. Retrieved from The global library of women's medicine: https://www.glowm.com/section_view/heading/Clinical%20Anatomy%20of%20the%20Vulva,%20Vagina,%20Lower%20Pelvis,%20and%20Perineum/item/445.

38.

Wexner SD, J. W. (2011) Colon and rectal surgery: abdominal operations. LWW, Philadelphia

39.

Wexner SD, Fleshman JW (eds) (2011) Colon and rectal surgery: anorectal operations. LWW, Philadelphia

40.

Sun WM, R. S. (2001) Manometric assessment of anorectal function. Gastroenterol Clin N Am 30(1):15–32
Additional information
Publisher's Note
Springer Nature remains neutral with regard to jurisdictional claims in published maps and institutional affiliations.
About this article
Cite this article
Soare, C., Lasithiotakis, K., Dearden, H. et al. The Surgical Management of Rectal Prolapse. Indian J Surg (2020). https://doi.org/10.1007/s12262-019-02058-0
Keywords
Rectal prolapse

Delormes' procedure

Altemeier procedure

Ventral rectopexy