Abstract
Gastric teratoma is a rare tumor, accounting for less than 1 % of all teratomas in infants & children. To date, only about 102 cases have been reported in the literature. A 10 month old infant was brought with a history of upper abdominal mass which was otherwise asymptomatic. On evaluation it was diagnosed as gastric teratoma. On laparotomy the mass was found to be originating from lesser curvature of stomach. Mass was excised and histopathologically it was a mature cystic teratoma. No recurrence after 18 months of follow-up.
This is a preview of subscription content, log in to check access.
Access options
Buy single article
Instant unlimited access to the full article PDF.
US$ 39.95
Price includes VAT for USA
Subscribe to journal
Immediate online access to all issues from 2019. Subscription will auto renew annually.
US$ 99
This is the net price. Taxes to be calculated in checkout.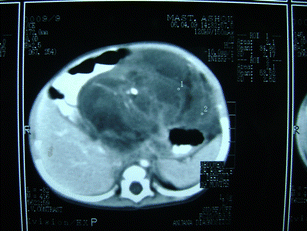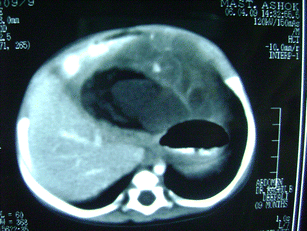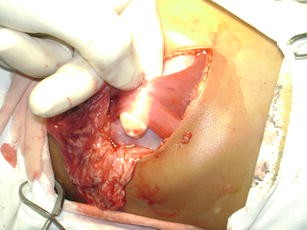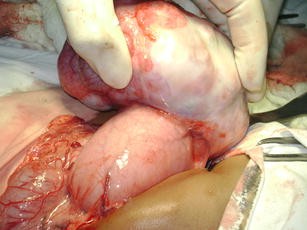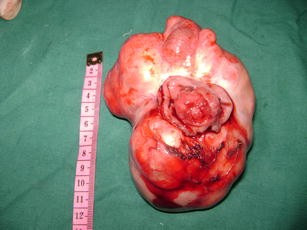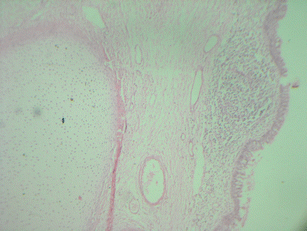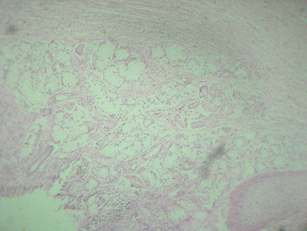 References
1.

Cairo MS, Grosfeld JL, Weetman RM (1981) Gastric teratoma: unusual cause for bleeding of the upper gastrointestinal tract in the newborn. Pediatrics 67:721–724

2.

Herman TE, Siegel MJ (2008) Congenital gastric teratoma. J Perinatol 28(11):786–787

3.

Gupta DK, Srinvas M, Dave S et al (2000) Gastric teratoma in children. Pediatr Surg Int 16:329–332

4.

Matias IC, Huang YC (1973) Gastric teratoma in infancy: a report of a case and review of world literature. Ann Surg 178:631–636

5.

Gamangatti S, Kandpal H (2007) Gastric teratoma. Singap Med J 48(4):e99–e101

6.

Cushing B, Perlman EJ, Marina NM, Castleberry RP (2002) Germ cell tumors. In: Pizzo PA, Poplack DG (eds) Principles and practice of pediatric oncology, 4th edn. Lippincott Williams & Wilkins, Philadelphia, pp 1091–1113

7.

Wakhlu A, Wakhlu AK (2002) Pediatric gastric teratoma. Eur J Pediatr Surg 12:375–378

8.

Bowen B, Ros PR, McCarthy MJ, Olmsted WW, Hjermstad BM (1987) Gastrointestinal teratomas: CT and US appearance with pathologic correlation. Radiology 162:431–433

9.

Outwater EK, Siegelman ES, Hunt JL (2001) Ovarian teratomas: tumor types and imaging characteristics. RadioGraphics 21:475–490

10.

Mais V, Guerriero S, Ajossa S, Angiolucci M, Paoletti AM, Melis GB (1995) Transvaginal ultrasonography in the diagnosis of cystic teratoma. Obstet Gynecol 85:48–52

11.

Hertzberg BS, Kliewer MA (1996) Sonography of benign cystic teratoma of the ovary: pitfalls in diagnosis. AJR Am J Roentgenol 167:1127–1133

12.

Ratan KN, Mathur SK, Marwah N, Purwar P, Rohilla S, Balasubramaniam G (2004) Gastric teratoma. Indian J Pediatr 71(2):171–172

13.

Gupta V, Babu RY, Rana S, Vaiphei K, Rao KL, Bhasin DK (2009) Mature gastric teratoma: recurrence in adulthood. J Pediatr Surg 44(2):e17–e19
Electronic supplementary material
Below is the link to the electronic supplementary material.
Video showing laparotomy and exploration. (AVI 10029 kb)
Video showing laparotomy and exploration. (AVI 10029 kb)
About this article
Cite this article
Yaji, P.R., Joshi, S., Kinhal, V. et al. Gastric Teratoma in an Infant: A Rare Case Report and Discussion. Indian J Surg 75, 152–154 (2013). https://doi.org/10.1007/s12262-012-0568-7
Received:

Accepted:

Published:

Issue Date:
Keywords
Gastric

Teratoma

Stomach

Teratomas

Germ cell tumors