Effects of Cooking Methods on Nutritional Content in Potato Tubers
Abstract
Potato is cultivated worldwide and constitutes a substantial component of the global population's diet. Potato tubers are rich in carbohydrates and certain vitamins, minerals, phenolic acids, flavonoids, anthocyanins, and other bioactive compounds. The cooking process makes potatoes palatable by inducing changes in chemical composition. Nutritional value is enhanced through increased digestion and bioavailability of nutrients. Food safety and sensory qualities including taste, texture, and flavor are improved during cooking. Other chemical constituents in tubers, such as glycoalkaloids, phenolic, and umami compounds, contribute to potato flavor. Cooking methods such as boiling, baking, microwaving, and frying can alter nutritional value and lead to the formation of anti-nutrient compounds, including acrylamide. Recently published articles have shown that there are many ways to decrease undesirable reactions during cooking while enhancing nutrient bioavailability, specifically through the use of relatively low cooking temperatures and shorter cooking times, and cooking under vacuum. This review focuses on the changes during cooking in compounds that contribute to the nutritional content of potatoes.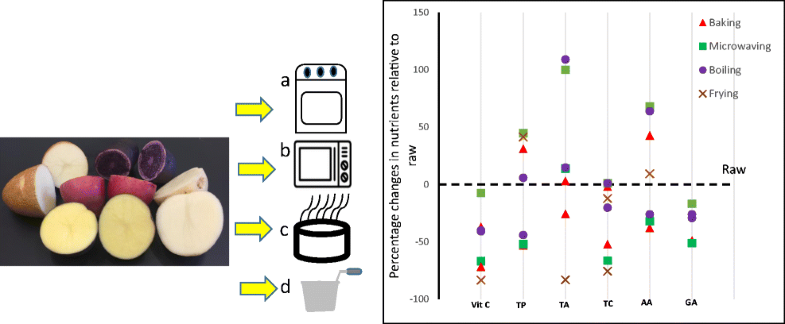 Keywords
Cooking methods 
Nutrition 
Flavor 
Potato 
Tuber 
Resumen
La papa se consume en todo el mundo y constituye un componente substancial de la dieta de la población global. Los tubérculos de papa son ricos en carbohidratos y en ciertas vitaminas, minerales, ácidos fenólicos, flavonoides, antocianinas, y otros compuestos bioactivos. El proceso del cocinado hace de la papa apetecible mediante la inducción de cambios en la composición química. El valor nutricional se incrementa a través del aumento en la digestión y biodisposibilidad de nutrientes. La seguridad alimentaria y las cualidades sensoriales incluyendo el gusto, la textura y el sabor se mejoran durante el cocinado. Otros constituyentes químicos en tubérculos, tales como glicoalcaloides, fenoles y compuestos acentuadores de sabor (umami), contribuyen al sabor de la papa. Los métodos de cocinado, como hervido, horno convencional o de microondas y freído pueden alterar el valor nutritivo y conducir a la formación de compuestos anti-nutrientes, incluyendo acrilamida. Artículos de reciente publicación han mostrado que hay muchas maneras para disminuir reacciones indeseables durante el cocinado mientras que se aumenta la biodisponibilidad de nutrientes, especialmente a través del uso de temperaturas relativamente bajas de cocinado, con tiempos más cortos y cocinando bajo vacío. Esta revisión se enfoca en los cambios durante el cocinado en compuestos que contribuyen al contenido nutricional de las papas.
Notes
Acknowledgments
This work was partially supported by a grant from the Colorado Department of Agriculture through the USDA's Specialty Crop Block Grant Program (award #10991) and Colorado Potato Administrative Committee Area II.
Compliance with Ethical Standards
Copyright information
© The Potato Association of America 2018