Nutritional and Economic Prospects for Expanded Potato Outlets
Abstract
Potato has a great impact on the economic and nutritional status of people worldwide. To capitalize on its potential, continued improvements in the current crop through breeding, production, and management technology are needed. We also need to expand potato use in diverse market outlets. In this review, we provide background on the challenge, examples of innovation in adapting other foods in response to changes in society, and explore several new possibilities for expansion of potato use.
Keywords
Consumption 
Health 
Resumen
La papa tiene un gran impacto en el estado económico y nutricional de la gente en todo el mundo. Para capitalizar este potencial, necesitamos continuar en el mejoramiento del cultivo actual a través de mejoramiento genético, producción y tecnología de manejo. También necesitamos expandir el uso de la papa en diversos mercados de salida. En esta revisión, proporcionamos antecedentes en el reto, ejemplos de innovación en la adaptación de otros alimentos en respuesta a los cambios de la sociedad, y exploramos varias nuevas posibilidades para la expansión del uso de la papa.
Introduction
Potato is the most consumed vegetable worldwide, and among the most versatile and palatable of foods. According to the International Potato Center, potatoes have a water utilization efficiency up to seven times greater than cereal crops, meaning they can produce more food per unit of water than any other major food crop (International Potato Center (CIP) 2018), thus is in a particularly good position to have major nutritional and economic impact on society.
Half of the world's 7.4B people have a nutritional problem, with about 2B hungry or malnourished and 2B overweight (Sharma et al. 2016). Potato improvement can address all of these problems.
Potatoes are over-produced in the USA, prompting supply-adjusting consortia like United Potato Growers of America (Klompein
2017
). To make matters worse, potato consumption in the USA is reportedly declining, particularly by men and boys (Fig. 
1
). So societies like the USA need more potato demand and profitability. One approach is new potato products and other innovations that increase value while requiring little additional input cost, e.g., roasted potato menu items, increased flavor, color, and aroma (Gareau
2018
).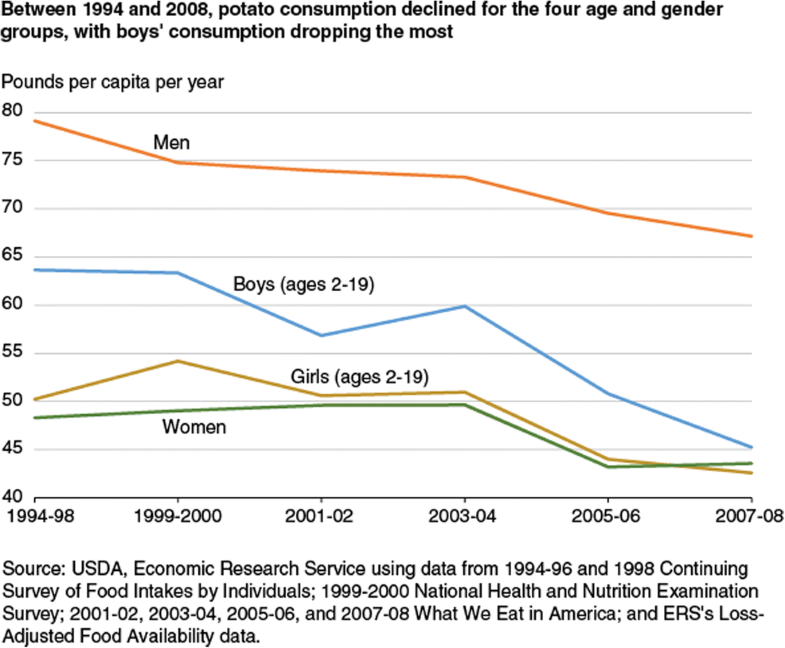 Some obvious approaches to increasing demand are: 1) increase waste post-purchase. 2) increase potato consumption that results in over-all greater food consumption, 3) replace other foods with potato.
Greater Waste
Fresh and processed vegetables are among the most wasted foods (Royte
2016
), and some surveys identify potato as far exceeding other vegetables in avoidable losses (French Brooks
2012
). The implied luxury of immoderate portions appears to be a technique used to enhance purchases of accompanying food packages (Fig. 
2
).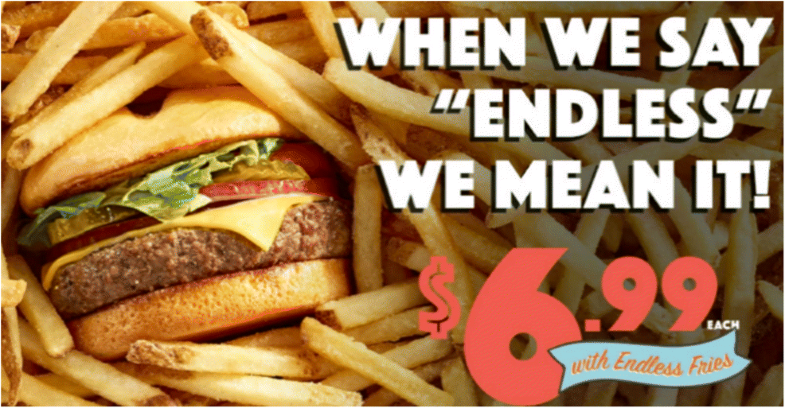 More waste increases demand, but increasing waste is not a desirable strategy because it represents lost nutrition and food dollars for the consumer. On the other hand, a profitable and beneficial way to manage waste would be to reduce it in a way that adds value for the producer. Chicken feet used to be a waste product with a disposal cost until it was realized there is a profitable market for them in China (Hornby 2017). Potato peels are a waste product that might similarly be recovered for fiber or other uses (Schieber and Aranda-Saldana 2009). Very high quality standards are the basis of rejection of up to ¼ of tubers for fresh pack in Poland (Jakub Jazdon, Onix Co., personal communication). These examples provoke the question—are there better ways to maximize the nutritional and economic value of potato "byproducts"?
Greater Food Consumption
Wealthy societies typically do not have robust population growth which would be a driver of increasing demand. Unfortunately, a major type of nutritional problem is "over-fed", often represented as serious obesity epidemics. So increasing potato demand by increased total per capita food consumption in rich societies is also not a desirable strategy, since it is against the interests of national health.
Replace Other Foods with Potato
If increased waste or total per capita consumption of food are not desirable, increased demand for potato must be accomplished by replacing other foods. But are food habits too strong to allow major replacement of foods?— maybe not.
An Example from another Crop—The Pecan Story
Chinese people like hickory nut sweet snacks, but hickory nuts are harder to produce than American pecans, which the Chinese consider to taste similar. When the pecan alternative was discovered ~10 years ago, demand and profit stability increase caused exports and value of pecans to double and spurred a great surge in research in production and management techniques and breeding (Zedan 2015).
Impact of Replacing Other Food Types with Potato
Pecans have a bit less protein and more fiber, but are otherwise similar in nutrients to hickory nuts (Skip the Pie 2017). What might be the impact of potato replacements? Potato replacements may take the form of replacing specialty potatoes for standard cultivars, processed for fresh, or convenience packs for bulk fresh forms. The prospects and impact of such within-potato changes are treated in other chapters of this issue. While nutritional gains might be realized by these within-potato replacements, they have the disadvantage of reducing demand for the replaced potato type. There are myriad examples of products that attract the consumer by suggesting delivery of nutritional qualities of whole grains, fruits and vegetables, while actually replacing those foods with a product that, while perhaps more tasty and convenient, mostly contains sugar, salt, fat and food coloring. So desirable potato replacements should have a real positive nutritional impact.
Replacing grains with potato products could have a positive health impact in several ways in which grains are at a distinct disadvantage.
Social Trends Related to Potato Replacing Other Foods
Prospects for Alternative Outlets
When Taco Bell started selling Doritos as a taco shell on "Doritos Locos" in 2012, more than a million units per day were purchased in the first year and they had to hire about 15,000 additional workers to keep up with demand (Lutz 2014). What similar novel pairings are possible for potato? Delicious, easy-prep potato dishes are reportedly an attractive offering in coffee shops, the fastest growing food industry in Korea (Potatoes USA 2018).
Copyright information
© The Potato Association of America 2019