Collision Behavior of Heterogeneous Liquid Droplets
Part of the following topical collections:
Abstract
Processes involved in the collision of liquid droplets enhance their atomization. If droplets contain more than one component, these processes become especially strong and intense. In this paper, we describe experiments for heterogeneous droplets of water solutions, emulsions, and slurries typical of fuel, firefighting, and heat and mass transfer technologies. We determine the conditions for a stable occurrence of the four droplet collision regimes: bounce, coalescence, separation, and disruption. We go on to establish how droplet dimensions, velocities, impact angles, component concentrations, as well as liquid viscosity, surface tension, and density affect collision parameters. The experimental results are generalized using collision regime maps produced in the coordinate systems controlling for the variations of Weber, Reynolds, Ohnesorge, and capillary numbers, as well as angular and linear interaction parameters. The results are compared with the scarce data by other authors. The Weber number variation range is not the only factor influencing the droplet collision behavior the form of four interaction regimes. Viscosity and surface tension of the liquid have a significant impact as well. An increase in the viscous forces can provide conditions for droplet breakup into a maximum number of small fragments. Coalescence is the dominating mode at low viscosity and high surface tension. Droplet bounce occurrence does not only depend on the Weber number range but also on phase transformations and thermophysical properties of the liquid. Finally, we determine the droplets interaction parameters for group of liquids that can provide intense droplet atomization through collisions.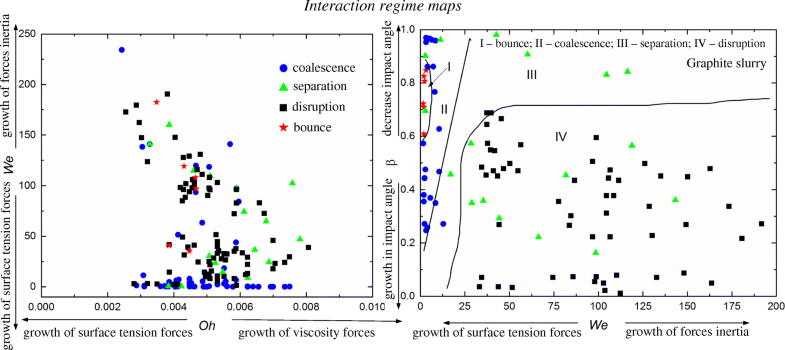 Keywords
Solutions, emulsions, slurries 
Droplets 
Collisions 
Bounce 
Coalescence 
Separation 
Disruption 
Nomenclature and Units
b

Distance between droplets' centers of mass, mm

B

Dimensionless linear interaction parameter

Ca

Capillary number

n

Number of the detected post-collision droplets (child-droplets)

N

Common number of child-droplets

Oh

Ohnesorge number

P1, P2, P3

Relative frequency of occurrence of coalescence, separation and disruption

Rd1, Rd2

Radii of the first and second droplets, mm

Rd

Radii of the distributions of post-collision liquid fragments, mm

Re

Reynolds number

S0

Total area of pre-collision droplets, m2

S1

Total area of post-collision droplets, m2

t

Time, ms

T

Temperature, °C

Ud1, Ud2

Velocities of the first and second droplets, m/s

Ud0

Velocity scale used for dimensionless processing of experimental results, 1 m/s

Ug

Gases velocity, m/s

Urel

Relative velocity of droplets, m/s

V0

Total volume of pre-collision droplets, m3

V1

Total volume of post-collision droplets, m3

We

Weber number
Greek Symbols
αd

Impact angle, °

β

Dimensionless angular interaction parameter

β1

Dimensionless angular interaction parameter, which is calculated by an impact angle according to Krishnan and Loth 2015

γf

A parameter to numerically determine the conditions of droplet entrainment by gases

γ

Impact angle (according to Krishnan and Loth 2015), °

μ

Dynamic viscosity, Pa∙s

ρ

Density, kg/m3

σ

Surface tension, N/m
Notes
Acknowledgments
The research was supported by the Russian Science Foundation (project 18–71–10002). The members of Heat Mass Transfer Simulation Lab (http://hmtslab.tpu.ru) of National Research Tomsk Polytechnic University are grateful to our colleague Professor J.C. Legros for his ideas and contribution to the development of the Lab's research areas.
Copyright information
© Springer Nature B.V. 2019