Abstract
Computed tomography arterial portography (CTAP) is widely used with a fixed scan timing and contrast medium quantity; however, these parameters are not necessarily optimal. In this study, CTAP scan timing was analyzed by different bolus tracking methods to monitor the inflow of the contrast medium in real-time. A total of 249 patients who underwent CTAP were assessed. In 30 patients, the CTAP scanning began 33 s after contrast medium injection started (fixed method). In 74 patients, the regions of interest (ROIs) were established at two places in the inferior vena cava above the hepatic vein (inferior vena cava-ROI method). In 145 patients, the ROI was established at two places in the liver parenchyma (liver parenchyma-ROI method). Scan timing was considered appropriate when the difference in the CT value between the hepatic and portal veins approached 0; this was observed significantly more with the liver parenchyma-ROI method than with the other methods. CTAP scan timing with the liver parenchyma-ROI method was better than that with the fixed and inferior vena cava-ROI methods.
This is a preview of subscription content, log in to check access.
Access options
Buy single article
Instant access to the full article PDF.
US$ 39.95
Price includes VAT for USA
Subscribe to journal
Immediate online access to all issues from 2019. Subscription will auto renew annually.
US$ 99
This is the net price. Taxes to be calculated in checkout.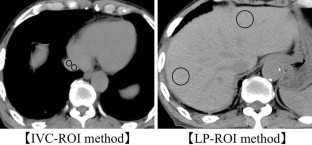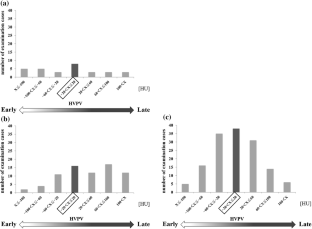 References
1.

Taouli B, Koh DM. Diffusion-weighted MR imaging of the liver. Radiology. 2010;254:47–66.

2.

Ichikawa T, Sano K, Morisaka H. Diagnosis of pathologically early HCC with EOB-MRI: experiences and current consensus. Liver Cancer. 2014;3:97–107.

3.

Testa ML, Chojniak R, Sene LS, Damascena AS, Guimaraes MD, Szklaruk J, Marchiori E. Is DWI/ADC a useful tool in the characterization of focal hepatic lesions suspected of malignancy? PLoS ONE. 2014;9:e101944.

4.

Murakami T, Oi H, Hori M, Kim T, Takahashi S, Tomoda K, Narumi Y, Nakamura H. Helical CT during arterial portography and hepatic arteriography for detecting hypervascular hepatocellular carcinoma. Am J Roentgenol. 1997;169:131–5.

5.

Onaya H, Itai Y, Satake M, Luo T, Saida Y, Haruno M, Hasebe T, Moriyama N. Highly enhanced hepatic masses seen on CT during arterial portography: early hepatocellular carcinoma and adenomatous hyperplasia. Jpn J Clin Oncol. 2000;30:440–5.

6.

Li L, Liu LZ, Xie ZM, Mo YX, Zheng L, Ruan CM, Chen L, Wu PH. Multi-phasic CT arterial portography and CT hepatic arteriography improving the accuracy of liver cancer detection. World J Gastroenterol. 2004;10:3118–211.

7.

Ohnishi H, Sakaguchi K, Nouso K, Kobayashi Y, Nakamura S, Tanaka H, Miyake Y, Shoji B, Iwadou S, Shiratori Y. Outcome of small liver nodules detected by computed tomographic angiography in patients with hepatocellular carcinoma. Hepatol Int. 2010;4:562–8.

8.

Ohki T, Tateishi R, Akahane M, Mikami S, Sato M, Uchino K, Arano T, Enooku K, Kondo Y, Yamashiki N, Goto T, Shiina S, Yoshida H, Matsuyama Y, Omata M, Ohtomo K, Koike K. CT with hepatic arterioportography as a pretreatment examination for hepatocellular carcinoma patients: a randomized controlled trial. Am J Gastroenterol. 2013;108:1305–13.

9.

Shah S, Shukla A, Paunipagar B. Radiological features of hepatocellular carcinoma. J Clin Exp Hepatol. 2014;4:S63–6.

10.

Minami Y, Kudo M. Ultrasound fusion imaging of hepatocellular carcinoma: a review of current evidence. Dig Dis. 2014;32:690–5.

11.

Iimuro Y. ICG clearance test and 99mTc-GSA SPECT/CT fusion images. Visc Med. 2017;33:449–54.

12.

Kondo H, Kanematsu M, Hoshi H, Murakami T, Kim T, Hori M, Matsuo M, Nakamura H. Preoperative detection of malignant hepatic tumors: comparison of combined methods of MR imaging with combined methods of CT. Am J Roentgenol. 2000;174:947–54.

13.

Bagia JS, Chai A, Chou R, Chu C, Rouse J, Sinclair E, Vonthethoff L, Teixeira-Pinto A. Prospective diagnostic test accuracy comparison of computed tomography during arterial portography and primovist magnetic resonance imaging in the pre-operative assessment of colorectal cancer liver metastases. HPB (Oxford). 2015;17:927–35.

14.

Conti CB, Cavalcoli F, Fraquelli M, Conte D, Massironi S. Ultrasound elastographic techniques in focal liver lesions. World J Gastroenterol. 2016;22:2647–56.

15.

Kwee SA, Sato MM, Kuang Y, Franke A, Custer L, Miyazaki K, Wong LL. [(18)F]Fluorocholine PET/CT imaging of liver cancer: radiopathologic correlation with tissue phospholipid profiling. Mol Imaging Biol. 2017;19:446–55.

16.

Fu CJ, Wong YC, Tsang YM, Wang LJ, Chen HW, Ku YK, Wu CH, Chen HW, Kang SC. Computed tomography arterial portography for assessment of portal vein injury after blunt hepatic trauma. Diagn Interv Radiol. 2015;21:361–7.

17.

Sandstede JJ, Tschammler A, Beer M, Vogelsang C, Wittenberg G, Hahn D. Optimization of automatic bolus tracking for timing of the arterial phase of helical liver CT. Eur Radiol. 2001;11:1396–400.

18.

Ozaki K, Matsui O, Kobayashi S, Sanada J, Koda W, Minami T, Kawai K, Gabata T. Selective atrophy of the middle hepatic venous drainage area in hepatitis C-related cirrhotic liver: morphometric study by using multidetector CT. Radiology. 2010;257:705–14.

19.

Yoshikawa S, Okada M, Kondo H, Sou H, Murakami T, Kanematsu M, Ichikawa T, Hayakawa A, Shiosakai K, Awai K, Yoshimitsu K, Yamashita Y. Multicenter trial for optimization of bolus tracking settings and contrast material injection protocol in arterial dominant phase of dynamic computed tomography for diagnosis of hepatocellular carcinoma. Nihon Hoshasen Gijutsu Gakkai Zasshi. 2014;70:805–13.

20.

Couch GG, Johnston KW, Ojha M. An in vitro comparison of the hemodynamics of two inferior vena cava filters. J Vasc Surg. 2000;31:539–49.

21.

Heiken JP, Brink JA, McClennan BL, Sagel SS, Crowe TM, Gaines MV. Dynamic incremental CT: effect of volume and concentration of contrast material and patient weight on hepatic enhancement. Radiology. 1995;195:353–7.

22.

Erturk SM, Ichikawa T, Sou H, Tsukamoto T, Motosugi U, Araki T. Effect of duration of contrast material injection on peak enhancement times and values of the aorta, main portal vein, and liver at dynamic MDCT with the dose of contrast medium tailored to patient weight. Clin Radiol. 2008;63:263–71.

23.

Fleischmann D, Kamaya A. Optimal vascular and parenchymal contrast enhancement: the current state of the art. Radiol Clin N Am. 2009;47:13–26.
Acknowledgements
The author thanks all persons who cooperated in this research. This research was conducted with support from Radiation Technology Research in the fiscal year 2017 at the Hokkaido branch of the Japanese Society of Radiological Technology.
Ethics declarations
Conflict of interest
The authors declare that they have no conflict of interest.
Ethical approval
All procedures performed in studies involving human participants were in accordance with the ethical standards of the Institutional Review Board (IRB) and with the 1964 Helsinki declaration and its later amendments or comparable ethical standards.
Informed consent
Informed consent was obtained from all individual participants included in the study.
Additional information
Publisher's Note
Springer Nature remains neutral with regard to jurisdictional claims in published maps and institutional affiliations.
About this article
Cite this article
Chiba, A., Harada, K., Ohashi, Y. et al. Evaluation of computed tomography arterial portography scan timing using different bolus tracking methods. Radiol Phys Technol 13, 92–97 (2020). https://doi.org/10.1007/s12194-020-00556-5
Received:

Revised:

Accepted:

Published:

Issue Date:
Keywords
Liver

Abdomen

Interventional radiology

CT-angiography

Cancer

Cirrhosis