Abstract
Chronic granulomatous disease (CGD) is a primary immunodeficiency disorder characterized by defective microbial killing in phagocytes. Long-term prognosis for CGD patients is generally poor, highlighting the need to develop minimally toxic, curative therapeutic approaches. We here describe the establishment of a mouse model in which X-linked CGD can be cured by allogeneic bone marrow transplantation. Using a combination of non-myeloablative-dose total body irradiation and a single injection of anti-CD40 ligand monoclonal antibody, transplantation of whole bone marrow cells achieved long-lasting mixed chimerism in X-linked CGD mice in a haploidentical transplantation setting. Stable mixed chimerism was maintained for up to 1 year even at a low range (<20 % donor cells), indicating induction of donor-specific tolerance. The regimen induced mild myelosuppression without severe acute complications. Stable chimerism was therapeutic, as it suppressed cutaneous granuloma formation in an in vivo test suited for evaluation of treatment efficacy in murine CGD models. These results warrant future development of a simplified allogeneic hematopoietic cell transplantation regimen that would benefit CGD patients by allowing the use of haploidentical donor grafts without serious concerns of severe treatment-related toxicity.
This is a preview of subscription content, log in to check access.
Access options
Buy single article
Instant unlimited access to the full article PDF.
US$ 39.95
Price includes VAT for USA
Subscribe to journal
Immediate online access to all issues from 2019. Subscription will auto renew annually.
US$ 99
This is the net price. Taxes to be calculated in checkout.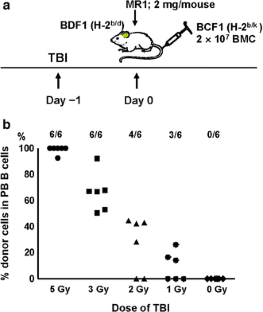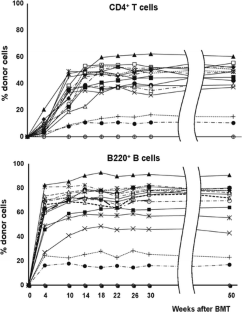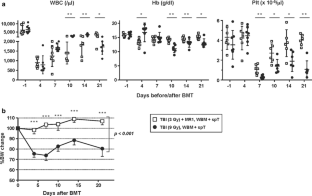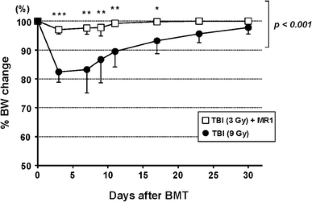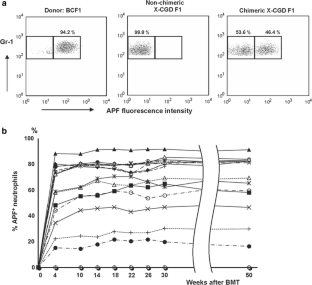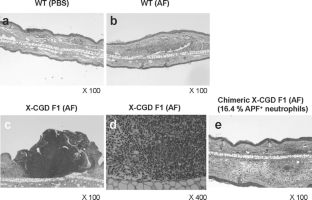 References
1.

Winkelstein JA, Marino MC, Johnston RB Jr, Boyle J, Curnutte J, Gallin JI, et al. Chronic granulomatous disease. Report on a national registry of 368 patients. Medicine. 2000;79(3):155–69.

2.

Holland SM. Chronic granulomatous disease. Clin Rev Allergy Immunol. 2010;38(1):3–10.

3.

Seger RA. Advances in the diagnosis and treatment of chronic granulomatous disease. Curr Opin Hematol. 2011;18(1):36–41.

4.

Kuijpers T, Lutter R. Inflammation and repeated infections in CGD: two sides of a coin. Cell Mol Life Sci. 2012;69(1):7–15.

5.

Lindahl JA, Williams FH, Newman SL. Small bowel obstruction in chronic granulomatous disease. J Pediatr Gastroenterol Nutr. 1984;3(4):637–40.

6.

Morgenstern DE, Gifford MA, Li LL, Doerschuk CM, Dinauer MC. Absence of respiratory burst in X-linked chronic granulomatous disease mice leads to abnormalities in both host defense and inflammatory response to Aspergillus fumigatus. J Exp Med. 1997;185(2):207–18.

7.

Ahlin A, Fugelang J, de Boer M, Ringden O, Fasth A, Winiarski J. Chronic granulomatous disease-haematopoietic stem cell transplantation versus conventional treatment. Acta Paediatr. 2013;102(11):1087–94.

8.

Kang EM, Marciano BE, DeRavin S, Zarember KA, Holland SM, Malech HL. Chronic granulomatous disease: overview and hematopoietic stem cell transplantation. J Allergy Clin Immunol. 2011;127(6):1319–26 (quiz 27–28).

9.

Maeda Y. Pathogenesis of graft-versus-host disease: innate immunity amplifying acute alloimmune responses. Int J Hematol. 2013;98(3):293–9.

10.

Paczesny S, Raiker N, Brooks S, Mumaw C. Graft-versus-host disease biomarkers: omics and personalized medicine. Int J Hematol. 2013;98(3):275–92.

11.

Kikuta A, Ito M, Mochizuki K, Akaihata M, Nemoto K, Sano H, et al. Nonmyeloablative stem cell transplantation for nonmalignant diseases in children with severe organ dysfunction. Bone Marrow Transplant. 2006;38(10):665–9.

12.

Gozdzik J, Pituch-Noworolska A, Skoczen S, Czogala W, Wedrychowicz A, Baran J, et al. Allogeneic haematopoietic stem cell transplantation as therapy for chronic granulomatous disease—single centre experience. J Clin Immunol. 2011;31(3):332–7.

13.

Gungor T, Halter J, Klink A, Junge S, Stumpe KD, Seger R, et al. Successful low toxicity hematopoietic stem cell transplantation for high-risk adult chronic granulomatous disease patients. Transplantation. 2005;79(11):1596–606.

14.

Horwitz ME, Barrett AJ, Brown MR, Carter CS, Childs R, Gallin JI, et al. Treatment of chronic granulomatous disease with nonmyeloablative conditioning and a T-cell-depleted hematopoietic allograft. N Engl J Med. 2001;344(12):881–8.

15.

Hasegawa D, Fukushima M, Hosokawa Y, Takeda H, Kawasaki K, Mizukami T, et al. Successful treatment of chronic granulomatous disease with fludarabine-based reduced-intensity conditioning and unrelated bone marrow transplantation. Int J Hematol. 2008;87(1):88–90.

16.

Takeuchi Y, Ito H, Kurtz J, Wekerle T, Ho L, Sykes M. Earlier low-dose TBI or DST overcomes CD8+ T-cell-mediated alloresistance to allogeneic marrow in recipients of anti-CD40L. Am J Transplant. 2004;4(1):31–40.

17.

Pollock JD, Williams DA, Gifford MA, Li LL, Du X, Fisherman J, et al. Mouse model of X-linked chronic granulomatous disease, an inherited defect in phagocyte superoxide production. Nat Genet. 1995;9(2):202–9.

18.

Setsukinai K, Urano Y, Kakinuma K, Majima HJ, Nagano T. Development of novel fluorescence probes that can reliably detect reactive oxygen species and distinguish specific species. J Biol Chem. 2003;278(5):3170–5.

19.

Tomita Y, Sachs DH, Khan A, Sykes M. Additional monoclonal antibody (mAB) injections can replace thymic irradiation to allow induction of mixed chimerism and tolerance in mice receiving bone marrow transplantation after conditioning with anti-T cell mABs and 3-Gy whole body irradiation. Transplantation. 1996;61(3):469–77.

20.

Petersen JE, Hiran TS, Goebel WS, Johnson C, Murphy RC, Azmi FH, et al. Enhanced cutaneous inflammatory reactions to Aspergillus fumigatus in a murine model of chronic granulomatous disease. J Invest Dermatol. 2002;118(3):424–9.

21.

Durham MM, Bingaman AW, Adams AB, Ha J, Waitze SY, Pearson TC, et al. Cutting edge: administration of anti-CD40 ligand and donor bone marrow leads to hemopoietic chimerism and donor-specific tolerance without cytoreductive conditioning. J Immunol. 2000;165(1):1–4.

22.

Wekerle T, Kurtz J, Ito H, Ronquillo JV, Dong V, Zhao G, et al. Allogeneic bone marrow transplantation with co-stimulatory blockade induces macrochimerism and tolerance without cytoreductive host treatment. Nat Med. 2000;6(4):464–9.

23.

Nikolic B, Takeuchi Y, Leykin I, Fudaba Y, Smith RN, Sykes M. Mixed hematopoietic chimerism allows cure of autoimmune diabetes through allogeneic tolerance and reversal of autoimmunity. Diabetes. 2004;53(2):376–83.

24.

Takeuchi E, Shinohara N, Takeuchi Y. Cognate interaction plays a key role in the surveillance of autoreactive B cells in induced mixed bone marrow chimerism in BXSB lupus mice. Autoimmunity. 2011;44(5):363–72.

25.

Grez M, Reichenbach J, Schwable J, Seger R, Dinauer MC, Thrasher AJ. Gene therapy of chronic granulomatous disease: the engraftment dilemma. Mol Ther. 2011;19(1):28–35.

26.

Hoenig M, Niehues T, Siepermann K, Jacobsen EM, Schutz C, Furlan I, et al. Successful HLA haploidentical hematopoietic SCT in chronic granulomatous disease. Bone Marrow Transplant. 2014;49(10):1337–8.

27.

Seger RA, Gungor T, Belohradsky BH, Blanche S, Bordigoni P, Di Bartolomeo P, et al. Treatment of chronic granulomatous disease with myeloablative conditioning and an unmodified hemopoietic allograft: a survey of the European experience, 1985–2000. Blood. 2002;100(13):4344–50.

28.

Martinez CA, Shah S, Shearer WT, Rosenblatt HM, Paul ME, Chinen J, et al. Excellent survival after sibling or unrelated donor stem cell transplantation for chronic granulomatous disease. J Allergy Clin Immunol. 2012;129(1):176–83.

29.

Soncini E, Slatter MA, Jones LB, Hughes S, Hodges S, Flood TJ, et al. Unrelated donor and HLA-identical sibling haematopoietic stem cell transplantation cure chronic granulomatous disease with good long-term outcome and growth. Br J Haematol. 2009;145(1):73–83.

30.

Schuetz C, Hoenig M, Schulz A, Lee-Kirsch MA, Roesler J, Friedrich W, et al. Successful unrelated bone marrow transplantation in a child with chronic granulomatous disease complicated by pulmonary and cerebral granuloma formation. Eur J Pediatr. 2007;166(8):785–8.

31.

Dinauer MC, Gifford MA, Pech N, Li LL, Emshwiller P. Variable correction of host defense following gene transfer and bone marrow transplantation in murine X-linked chronic granulomatous disease. Blood. 2001;97(12):3738–45.

32.

Sykes M. Mixed chimerism and transplant tolerance. Immunity. 2001;14(4):417–24.

33.

Fehr T, Takeuchi Y, Kurtz J, Wekerle T, Sykes M. Early regulation of CD8 T cell alloreactivity by CD4+ CD25- T cells in recipients of anti-CD154 antibody and allogeneic BMT is followed by rapid peripheral deletion of donor-reactive CD8+ T cells, precluding a role for sustained regulation. Eur J Immunol. 2005;35(9):2679–90.

34.

Kurtz J, Shaffer J, Lie A, Anosova N, Benichou G, Sykes M. Mechanisms of early peripheral CD4 T-cell tolerance induction by anti-CD154 monoclonal antibody and allogeneic bone marrow transplantation: evidence for anergy and deletion but not regulatory cells. Blood. 2004;103(11):4336–43.

35.

Wekerle T, Sayegh MH, Hill J, Zhao Y, Chandraker A, Swenson KG, et al. Extrathymic T cell deletion and allogeneic stem cell engraftment induced with costimulatory blockade is followed by central T cell tolerance. J Exp Med. 1998;187(12):2037–44.

36.

Elgueta R, Benson MJ, de Vries VC, Wasiuk A, Guo Y, Noelle RJ. Molecular mechanism and function of CD40/CD40L engagement in the immune system. Immunol Rev. 2009;229(1):152–72.

37.

Boumpas DT, Furie R, Manzi S, Illei GG, Wallace DJ, Balow JE, et al. A short course of BG9588 (anti-CD40 ligand antibody) improves serologic activity and decreases hematuria in patients with proliferative lupus glomerulonephritis. Arthritis Rheum. 2003;48(3):719–27.

38.

Patel VL, Schwartz J, Bussel JB. The effect of anti-CD40 ligand in immune thrombocytopenic purpura. Br J Haematol. 2008;141(4):545–8.

39.

Kawai T, Andrews D, Colvin RB, Sachs DH, Cosimi AB. Thromboembolic complications after treatment with monoclonal antibody against CD40 ligand. Nat Med. 2000;6(2):114.

40.

Robles-Carrillo L, Meyer T, Hatfield M, Desai H, Davila M, Langer F, et al. Anti-CD40L immune complexes potently activate platelets in vitro and cause thrombosis in FCGR2A transgenic mice. J Immunol. 2010;185(3):1577–83.

41.

Xie JH, Yamniuk AP, Borowski V, Kuhn R, Susulic V, Rex-Rabe S, et al. Engineering of a novel anti-CD40L domain antibody for treatment of autoimmune diseases. J Immunol. 2014;192(9):4083–92.
Acknowledgments
We thank Dr. A. S. Knisely for critical reading of the manuscript, Dr. Michiko Abe for the Aspergillus fumigatus debris suspension, Dr. Yasuteru Urano for fluorescent probes and his technical advice, Dr. Yasunori Ota for histopathological analysis, and Dr. Masanori Nojima for statistical analysis. This work was supported in part of by a JSPS KAKENHI Grant-in-Aid for Yasuo Takeuchi and Makoto Otsu, and by grants from the Ministry of Health, Labor and Welfare and National Center for Child Health and Development (M. Onodera).
Conflict of interest
The authors declare that they have no conflict of interest.
Additional information
This work was performed in the Center for Stem Cell Biology and Regenerative Medicine, Institute of Medical Science, University of Tokyo.
Electronic supplementary material
Below is the link to the electronic supplementary material.
Supplementary material 1 (MOV 1939 kb)
Supplementary material 2 (MOV 1469 kb)
About this article
Cite this article
Takeuchi, Y., Takeuchi, E., Ishida, T. et al. Curative haploidentical BMT in a murine model of X-linked chronic granulomatous disease. Int J Hematol 102, 111–120 (2015) doi:10.1007/s12185-015-1799-8
Received:

Revised:

Accepted:

Published:

Issue Date:
Keywords
Chronic granulomatous disease

Haploidentical hematopoietic cell transplantation

Non-myeloablative conditioning

Anti-CD40 ligand therapy

Tolerance