Abstract
This study evaluated the antioxidant activity and total phenolic content (TPC) of Butia odorata fruit extracted with different solvents, as well as the phenolic composition using UHPLC-MS/MS analysis. In addition, the antitumor potential of B. odorata fruit against various cancer cell lines (Caco-2, HeLa, SiHa, C33a) was evaluated for the first time. The TPC and antioxidant activity (DPPH• and ORAC assays) varied according to the extraction solvents, with the highest values obtained for the methanol:water (80:20, v/v) extracts. Thirteen phenolic compounds were quantified in the ethanol:water (80:20, v/v) extracts of B. odorata fruit by UHPLC-MS/MS, with the main compounds identified as (+)-catechin (259 ± 18 mg kg−1), (−)-epicatechin (211 ± 12 mg kg−1) and rutin (161 ± 2 mg kg−1). Sinapic and ellagic acids, trans-resveratrol, naringenin, and apigenin were reported in B. odarata fruit for the first time. Furthermore, the B. odorata fruit showed antitumor activity against cervical cancer cell lines (SiHa and C33a), providing preliminary evidence for further assessment of its anticancer potential.
This is a preview of subscription content, log in to check access.
Access options
Buy single article
Instant unlimited access to the full article PDF.
US$ 39.95
Price includes VAT for USA
Subscribe to journal
Immediate online access to all issues from 2019. Subscription will auto renew annually.
US$ 99
This is the net price. Taxes to be calculated in checkout.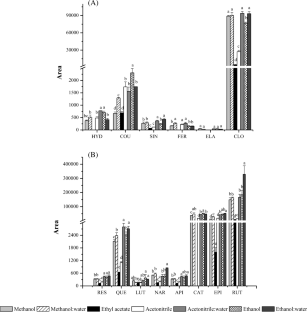 References
Al-Hazzani AA, Alshatwi AA (2011) Catechin hydrate inhibits proliferation and mediates apoptosis of SiHa human cervical cancer cells. Food Chem Toxicol 49:3281–3286

Alonso-Castro AJ, Domínguez F, García-Carrancá A (2013) Rutin exerts antitumor effects on nude mice bearing SW480 tumor. Arch Med Res 44:346–351

Aron PM, Kennedy JA (2008) Flavan-3-ols: nature, occurrence and biological activity. Mol Nutr Food Res 52:79–104

Bataglion GA, Silva FMA, Eberlin MN, Koolen HHF (2015) Determination of the phenolic composition from Brazilian tropical fruits by UHPLC–MS/MS. Food Chem 180:280–287

Beskow GT, Hoffmann JF, Teixeira AM, Fachinello JC, Chaves FC, Rombaldi CV (2015) Bioactive and yield potential of jelly palms (Butia odorata Barb. Rodr.). Food Chem 172:699–704

Costa R, Silva L (2014) Health benefits of nongallated and gallated flavan-3-ols: a prospectus. In: Kinsey AL (ed) Recent advances in gallate research. Nova Science Publishers, New York, pp 1–191

Cruxen CES, Hoffmann JF, Zandoná GP, Fiorentini AM, Rombaldi CV, Chaves FC (2017) Probiotic butiá (Butia odorata) ice cream: development, characterization, stability of bioactive compounds, and viability of Bifidobacterium lactis during storage. LWT – Food Sci Technol 75:379–385

Di Domenico F, Foppoli C, Coccia R, Perluigi M (2012) Antioxidants in cervical cancer: chemopreventive and chemotherapeutic effects of polyphenols. Biochim Biophys Acta (BBA) - Mol Basis Dis 1822:737–747

Ferrão TS, Ferreira DF, Flores DW, Bernardi G, Link D, Barin JS, Wagner R (2013) Evaluation of composition and quality parameters of jelly palm (Butia odorata) fruits from different regions of Southern Brazil. Food Res Int 54:57–62

Ganeshpurkar A, Saluja AK (2016) The pharmacological potential of rutin. Saudi Pharm J 25:149–164

Hoffmann JF, Barbieri RL, Rombaldi CV, Chaves FC (2014) Butia spp. (Arecaceae): An overview. Sci Hortic 179:122–131

Hoffmann JF, Zandoná GP, Santos PS, Dallmann CM, Madruga FB, Rombaldi CV, Chaves FC (2017a) Stability of bioactive compounds in butiá (Butia odorata) fruit pulp and nectar. Food Chem 237:638–644

Hoffmann JF, Carvalho IR, Barbieri RL, Rombaldi CV, Chaves FC (2017b) Butia spp. (Arecaceae) LC-MS-based metabolomics for species and geographical origin discrimination. J Agric Food Chem 65:523–532

Hoffmann JF, Crizel RL, Madruga NA, Barbieri RL, Rombaldi CV, Chaves FC (2018) Flavan-3-ol, flavanone, flavone, flavonol, phenolic acid, and stilbene contents of four Butia species (Arecaceae). Fruits 73:125–137

Kampa M, Hatzoglou A, Notas G, Damianaki A, Bakogeorgou E, Gemetzi C, Castanas E (2000) Wine antioxidant polyphenols inhibit the proliferation of human prostate cancer cell lines. Nutr Cancer 37:223–233

Leinisch F, Mariotti M, Rykaer M, Lopez-Alarcon C, Hägglund P, Davies MJ (2017) Peroxyl radical- and photo-oxidation of glucose 6-phosphate dehydrogenase generates cross-links and functional changes via oxidation of tyrosine and tryptophan residues. Free Radic Biol Med 112:240–252

López-Alarcón C, Denicola A (2013) Evaluating the antioxidant capacity of natural products: A review on chemical and cellular-based assays. Anal Chim Acta 763:1–10

Ma X, Wu H, Liu L, Yao Q, Wang S, Zhan R, Xing S, Zhou Y (2011) Polyphenolic compounds and antioxidant properties in mango fruits. Sci Hortic 129:102–107

Medina S, Collado-González J, Ferreres F, Londoño-Londoño J, Jiménez-Cartagena C, Guy A, Durand T, Galano J, Gil-Izquierdo A (2017) Quantification of phytoprostanes – bioactive oxylipins – and phenolic compounds of Passiflora edulis Sims shell using UHPLC-QqQ-MS/MS and LC-IT-DAD-MS/MS. Food Chem 229:1–8

Meneses NGT, Martins S, Teixeira JA, Mussatto SI (2013) Influence of extraction solvents on the recovery of antioxidant phenolic compounds from brewer's spent grains. Sep Purif Technol 108:152–158

Moga MA, Dimienescu OG, Arvatescu CA, Mironescu A, Dracea L, Ples L (2016) The role of natural polyphenols in the prevention and treatment of cervical cancer–an overview. Molecules 21:1055–1087

Mosmann T (1983) Rapid colorimetric assay for cellular growth and survival: application to proliferation and cytotoxicity assays. J Immunol Methods 65:55–63

Naczk M, Shahidi F (2006) Phenolics in cereals, fruits and vegetable: occurrence, extraction and analysis. J Pharm Biomed Anal 41:1523–1542

Nguyen VT, Bowyer MC, Vuong QV, Altena IAV, Scarlett CJ (2015) Phytochemicals and antioxidant capacity of Xao tam phan (Paramignya trimera) root as affected by various solvents and extraction methods. Ind Crop Prod 67:192–200

Nicácio AE, Rotta EM, Boeing JS, Barizão EO, Kimura E, Visentainer JV, Maldaner L (2017) Antioxidant activity and determination of phenolic compounds from Eugenia involucrata DC. fruits by UHPLC-MS/MS. Food Anal Methods 10:2718–2728

Onivogui G, Letsididi R, Diaby M, Wang L, Song Y (2016) Influence of extraction solvents on antioxidant and antimicrobial activities of the pulp and seed of Anisophyllea laurina R. Br. ex Sabine fruits. Asian Pac J Trop Biomed 6:20–25

Ou B, Hampsch-Woodill M, Prior RL (2001) Development and validation of an improved oxygen radical absorbance capacity assay using fluorescein as the fluorescent probe. J Agric Food Chem 49:4619–4626

Pisoschi AM, Pop A (2015) The role of antioxidants in the chemistry of oxidative stress: a review. Eur J Med Chem 97:55–74

Roleira FMF, Tavares-da-Silva EJ, Varela CL, Costa SC, Silva T, Garrido J, Borges F (2015) Plant derived and dietary phenolic antioxidants: anticancer properties. Food Chem 183:235–258

Rotta EM, Haminiuk CWI, Maldaner L, Visentainer JV (2017) Determination of antioxidant activity and phenolic compounds of Muntingia calabura Linn. peel by HPLC-DAD and UPLC-ESI-MS/MS. Int J Food Sci Technol 52:954–963

Shahidi F, Ambigaipalan P (2015) Phenolics and polyphenolics in foods, beverages and spices: Antioxidant activity and health effects – a review. J Funct Foods 18:820–897

Singleton VL, Rossi JAJr (1965) Colorimetry of total phenolics with phosphomolybdic–phosphotungstic acid reagents. Am J Enol Vitic 16:144–158

Tan JBL, Lim YY (2015) Critical analysis of current methods for assessing the in vitro antioxidant and antibacterial activity of plant extracts. Food Chem 172:814–822

Vinholes J, Lemos G, Barbieri RL, Franzon RC, Vizzotto M (2017) In vitro assessment of the antihyperglycemic and antioxidant properties of araçá, butiá and pitanga. Food Biosci 19:92–100
Acknowledgments
The authors thank MSc. Kelen Pureza Soares and the Herbarium of the State University of Maringá for the identification of the B. odorata plant.
Funding Information
This work received financial support from Coordenação de Aperfeiçoamento de Pessoal de Nível Superior (Capes) and Conselho Nacional de Desenvolvimento Científico e Tecnológico (CNPq).
Ethics declarations
Conflict of Interest
The authors declare that they have no conflicts of interest.
Ethical Approval
This article does not contain any studies with human participants or animals performed by any of the authors.
Informed Consent
Not applicable.
Additional information
Publisher's Note
Springer Nature remains neutral with regard to jurisdictional claims in published maps and institutional affiliations.
Electronic supplementary material
About this article
Cite this article
Boeing, J.S., Barizão, É.O., Rotta, E.M. et al. Phenolic Compounds from Butia odorata (Barb. Rodr.) Noblick Fruit and Its Antioxidant and Antitumor Activities. Food Anal. Methods 13, 61–68 (2020). https://doi.org/10.1007/s12161-019-01515-6
Received:

Accepted:

Published:

Issue Date:
Keywords
Butia odorata fruit

Extraction solvent

UHPLC-MS/MS

Cancer cells

Arecaceae

Phenolic composition