Simultaneous Pretreatment and Biohydrogen Production from Wheat Straw by Newly Isolated Ligninolytic Bacillus Sp. Strains with Two-Stage Batch Fermentation System
Abstract
Biodegradation of agribiomass especially wheat straw to biohydrogen and biomethane is an encouraging approach to the current waste management problem. To do so, the biomass must first be pretreated to break down lignin thereby increasing accessibility of the substrate to fermentative organisms. In the current study, out of 20 isolates from the granular sludge of full-scale anaerobic digester, four ligninolytic Bacillus sp. strains were selected based on their lignin and Azure B degradation. Further, among the four isolates, Brevibacillus agri AN-3 exhibited the highest of 88.4 and 78.1% decrease in COD of lignin and Azure B respectively. These strains were also found to secrete optimum yields of lignin peroxidase (LiP) at pH 3, laccase (Lac) at pH 5, and xylanase and cellulase enzymes at pH 7. The strains demonstrated maximum activity of Lip and Lac at 50 °C and xylanase and cellulase at 60 °C after 72-h growth. Among the four strains, Brevibacillus agri AN-3 showed hydrogen (H2) yield of 1.34 and 2.9 mol-H2/mol from xylose and cellulose respectively. In two-phase wheat straw batch fermentation, Brevibacillus agri AN-3 produced 88.3 and 283.7 mL/gVS cumulative H2 and methane (CH4) respectively. Biotreatment with ligninolytic Bacillus sp. strains perceived that 261.4% more methane yield could be obtained from the wheat straw than using the untreated wheat straw in batch fermentation. This is the first study establishing not only the hydrogen potential of ligninolytic Bacillus sp. strains but also indicates a vital role of these species in developing standard inoculum and a biocatalyst for processing agribiomass.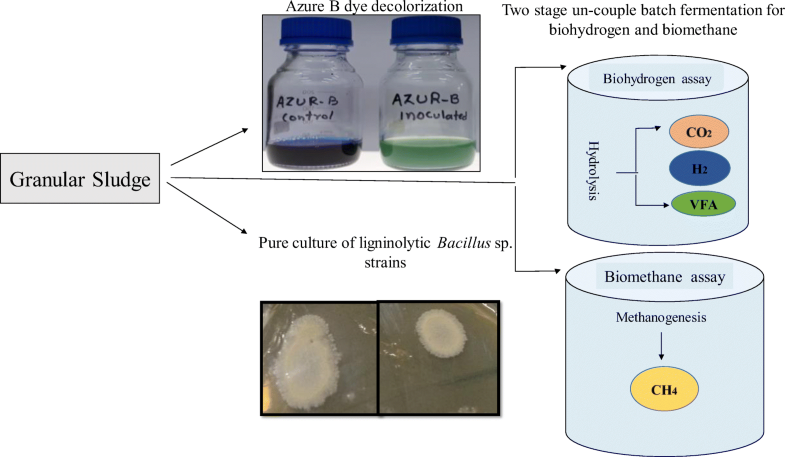 Keywords
Anaerobic ligninolytic 
Fermentation 
Bacillus sp. strains 
Lignocellulosic waste biomass 
Notes
Funding Information
This work is supported by the Pak-US project entitled "Solid waste management for bioenergy production" and International Research Support Initiative Programme (IRSIP), H9 Islamabad, Pakistan.
Compliance with Ethical Standards
Conflict of Interest
The authors declare that they have no conflict of interest.
Ethical Approval
This article does not contain any studies with human participants or animals performed by any of the authors.
Copyright information
© Springer Science+Business Media, LLC, part of Springer Nature 2018