Abstract
Kikuchi–Fujimoto disease (KFD) is a rare cause of lymphadenitis seen mostly in Asian populations (Kikuchi in Nippon Ketsueki Gakkai Zasshi 35:379–80, 1972). First described in 1972, KFD is a benign and self-limiting disease characterised by lymphadenopathy, mild fever, fatigue, and leukopenia (Fujimoto in Naika 30:920–7, 1972; Lin et al. in Otolaryngol Head Neck Surg 128(5): 650–3, 2003). We present a case of a 38-year-old woman with a 6-week history of cervical lymphadenopathy. Her ultrasound scan and fine needle aspiration cytology results were inconclusive. Excisional biopsy of the lymph node confirmed presence of KFD. The aetiology of KFD is unknown; however, there is strong association with systemic lupus erythematosus (SLE). Kucukardali reported 9% of European KFD patients and 28% of East Asian patients had concomitant SLE (Kucukardali et al. in Clin Rheumatol 26(1):50–4, 2007). We describe a follow-up algorithm for newly diagnosed KFD cases, based on the current literature. KFD is a rare cause of cervical lymphadenopathy. It is associated with increased risk of developing SLE, therefore early diagnosis and long-term follow-up are recommended.
This is a preview of subscription content, log in to check access.
Access options
Buy single article
Instant access to the full article PDF.
US$ 39.95
Price includes VAT for USA
Subscribe to journal
Immediate online access to all issues from 2019. Subscription will auto renew annually.
US$ 99
This is the net price. Taxes to be calculated in checkout.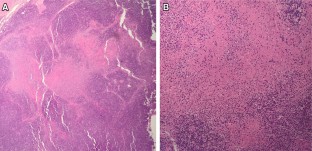 References
1.

Kikuchi M. Lymphadenitis showing focal reticulum cell hyperplasia with nuclear debris and phagocytes: a clinicopathological study. Nippon Ketsueki Gakkai Zasshi. 1972;35:379–80.

2.

Fujimoto Y. Cervical subacute necrotizing lymphadenitis. Naika. 1972;30:920–7.

3.

Lin HC, Su CY, Huang CC, Hwang CF, Chien CY. Kikuchi's disease: a review and analysis of 61 cases. Otolaryngology-Head and Neck Surg. 2003;128(5):650–3.

4.

Kucukardali Y, Solmazgul E, Kunter E, Oncul O, Yildirim S, Kaplan M. Kikuchi–Fujimoto disease: analysis of 244 cases. Clin Rheumatol. 2007;26(1):50–4.

5.

Ruaro B, Sulli A, Alessandri E, Fraternali-Orcioni G, Cutolo M. Kikuchi–Fujimoto's disease associated with systemic lupus erythematous: difficult case report and literature review. Lupus. 2014;23(9):939–44.

6.

Amin MR. Kikuchi–Fujimoto disease—a comprehensive review. Bangladesh J Med. 2014;24(2):70–7.

7.

O'Malley DP, Grimm KE. Reactive lymphadenopathies that mimic lymphoma: entities of unknown aetiology. Semin Diagn Pathol. 2013;30(2):137–45.

8.

Sopena B, Rivera A, Chamorro A, Freire M, Alende V, Seco E, Gonzalez-Quintela A. Clinical association between Kikuchi's disease and systemic lupus erythematosus: a systematic literature review. Semin Arthritis Rheum. 2017;47(1):46–52.

9.

Dumas G, Prendki V, Haroche J, et al. Kikuchi–Fujimoto disease: retrospective study of 91 cases and review of the literature. Medicine (Baltimore). 2014;93(24):372–82.

10.

Perry AM, Choi SM. Kikuchi–Fujimoto disease. Rev Arch Pathol Lab Med. 2018;142(11):1341–6.

11.

Yilmaz M, Camci C, Sari I, Okan V, Sevinc A, Onat AM, Buyukhatipoglu H. Histiocytic necrotizing lymphadenitis (Kikuchi–Fujimoto's disease) mimicking systemic lupus erythematosus: a review of two cases. Lupus. 2006;15(6):384–7.

12.

Menasce LP, Banerjee SS, Edmondson D, Harris M. Histiocytic necrotizing lymphadenitis (Kikuchi–Fujimoto disease): continuing diagnostic difficulties. Histopathology. 1998;33(3):248–54.

13.

Marunaka H, Orita Y, Tachibana T, Miki K, Makino T, Gion Y, Nishizaki K, Yoshino T, Sato Y. Kikuchi–Fujimoto disease: evaluation of prognostic factors and analysis of pathologic findings. Acta Oto-Laryngol. 2016;136(9):944–7.

14.

Bezek S, Tucci V, Kalra S, Fisher A. State of the globe: time to revisit Kikuchi Fujimoto disease. J Glob Infect Dis. 2014;6(4):139.

15.

Honda F, Tsuboi H, Toko H, Ohyama A, Takahashi H, Abe S, Yokosawa M, Asashima H, Hagiwara S, Hirota T, Kondo Y. Recurrent Kikuchi–Fujimoto disease successfully treated by the concomitant use of hydroxychloroquine and corticosteroids. Intern Med. 2017;56(24):3373–7.

16.

Castro DC, Bellido DP. Kikuchi disease: evolution during outbreaks and its response to antimalarial treatment. Revista espanola de patologia: publicacion oficial de la Sociedad Espanola de Anatomia Patologica y de la Sociedad. Espanola de Citologia. 2018;51(1):34–6.

17.

Rezai K, Kuchipudi S, Chundi V, Ariga R, Loew J, Sha BE. Kikuchi–Fujimoto disease: hydroxychloroquine as a treatment. Clin Infect Dis. 2004;15(12):e124-6.
Additional information
Publisher's Note
Springer Nature remains neutral with regard to jurisdictional claims in published maps and institutional affiliations.
About this article
Cite this article
Salamat, S., Chan, J., Jolly, K. et al. Kikuchi–Fujimoto Disease and Prognostic Implications. Head and Neck Pathol 14, 272–275 (2020). https://doi.org/10.1007/s12105-019-01026-0
Received:

Accepted:

Published:

Issue Date:
Keywords
Kikuchi–Fujimoto disease

Histiocytic necrotising lymphadenitis

Lymph node

Lymphadenopathy