Abstract
Reticular oral lichen planus is a common clinical finding, often found incidentally on routine oral examination. Patients rarely complain of symptoms and the condition does not require treatment, as a result, biopsies and ancillary laboratory evaluation are seldom performed. We present a case of reticular oral lichen planus with a classic clinical presentation and characteristic histologic findings.
This is a preview of subscription content, log in to check access.
Access options
Buy single article
Instant access to the full article PDF.
US$ 39.95
Price includes VAT for USA
Subscribe to journal
Immediate online access to all issues from 2019. Subscription will auto renew annually.
US$ 99
This is the net price. Taxes to be calculated in checkout.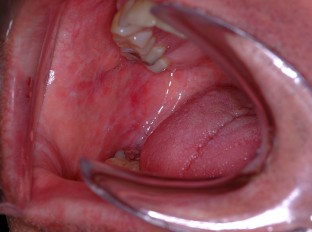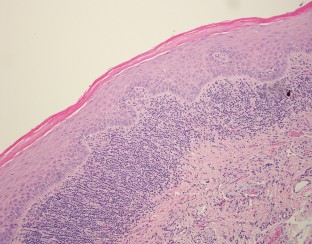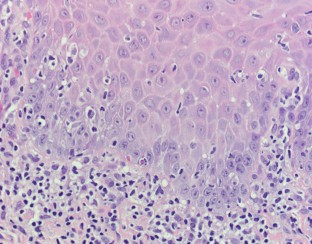 References
1.

Alrashdan MS, Cirillo N, McCullough M. Oral lichen planus: a literature review and update. Arch Dermatol Res. 2016;308(8):539–51. https://doi.org/10.1007/s00403-016-1667-2.

2.

Carrozzo M. How common is oral lichen planus? Evid Based Dent. 2008;9(4):112–3. https://doi.org/10.1038/sj.ebd.6400614.

3.

Au J, Patel D, Campbell JH. Oral lichen planus. Oral Maxillofac Surg Clin North Am. 2013;25(1):93–100. https://doi.org/10.1016/j.coms.2012.11.007.

4.

Gorouhi F, Davari P, Fazel N. Cutaneous and mucosal lichen planus: a comprehensive review of clinical subtypes, risk factors, diagnosis, and prognosis. Sci World J. 2014;2014:742826. https://doi.org/10.1155/2014/742826.

5.

Usatine RP, Tinitigan M. Diagnosis and treatment of lichen planus. Am Fam Physician. 2011;84(1):53–60.

6.

Cheng YS, Gould A, Kurago Z, et al. Diagnosis of oral lichen planus: a position paper of the American Academy of Oral and Maxillofacial Pathology. Oral Surg Oral Med Oral Pathol Oral Radiol. 2016;122(3):332–54. https://doi.org/10.1016/j.oooo.2016.05.004.

7.

Muller S. Oral lichenoid lesions: distinguishing the benign from the deadly. Mod Pathol. 2017;30:54–67. https://doi.org/10.1038/modpathol.2016.121.

8.

Visser OJ, Kara S, Leidekker M, et al. Isolated oral lichen planus as manifestation of chronic GvHD predicts improved survival after reduced intensity allogeneic stem cell transplantation. Blood. 2006;108(11):5283.
Funding
This study has no funding.
Ethics declarations
Conflict of interest
All the authors declared that they have no conflict of interest.
Ethical Approval
This article does not contain any studies with human participants or animals performed by any of the authors.
About this article
Cite this article
Cox, T., Woodhead, J. & Nelson, B.L. Reticular Oral Lichen Planus. Head and Neck Pathol 14, 192–194 (2020). https://doi.org/10.1007/s12105-018-0983-6
Received:

Accepted:

Published:

Issue Date:
Keywords
Oral lichen planus

Reticular

Lichenoid mucositis

Mucous membrane pemphigoid

Pemphigus vulgaris

Wickham striae