Abstract
Though a decline has been seen in child mortality and morbidity over the last decades, sepsis in neonates and infants remains a major cause of death. Optimal use of antibiotics in sepsis management is a key factor which can further reduce the number of poor clinical outcomes. Selecting the right antibiotic to which the offending bacteria is susceptible and administrating the antibiotic within the first hour can save many lives. However, the pharmacokinetic profile of an antibiotic is affected by developmental changes such as capacity of drug metabolizing enzymes and maturation of organ function. This can affect antibiotic exposure and response in neonates and infants. While suspecting sepsis, the primary focus of empiric treatment during the initial phase is to assure efficacy and it must be broad based to cover all suspected pathogens. Once the bacterial etiology is confirmed as a cause of sepsis and the in vitro antibiotic susceptibility is established, targeted treatment can be started which ensures optimal balance between efficacy and safety.
This is a preview of subscription content, log in to check access.
Access options
Buy single article
Instant unlimited access to the full article PDF.
US$ 39.95
Price includes VAT for USA
Subscribe to journal
Immediate online access to all issues from 2019. Subscription will auto renew annually.
US$ 99
This is the net price. Taxes to be calculated in checkout.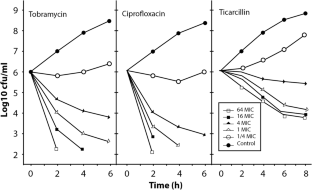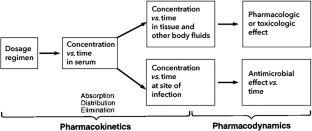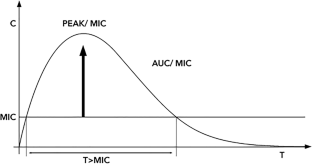 References
1.

Craig WA. Pharmacokinetic/pharmacodynamic parameters: rationale for antibacterial dosing of mice and men. Clin Infect Dis. 1998;26:1–10.

2.

McDonald PJ, Craig WA, Kunin CM. Persistent effect of antibiotics on Staphylococcus aureus after exposure for limited periods of time. J Infect Dis. 1977;135:217–23.

3.

Odenholt-Tornqvist I, Löwdin E, Cars O. Postantibiotic sub-MIC effects of vancomycin, roxithromycin, sparfloxacin and amikacin. Antimicrob Agents Chemother. 1992;36:1852–8.

4.

Vogelman B, Craig WA. Kinetics of antimicrobial activity. J Pediatr. 1986;108:835–40.

5.

Craig WA, Ebert SC. Killing and regrowth of bacteria in vitro: a review. Scand J Infect Dis Suppl. 1990;74:63–70.

6.

Shah PM, Junghanns W, Stille W. Dosis-Wirkungs-Beziehung der Bakterizidie bei E. coli, K. pneumoniae und Staphylococcus aureus. Dtsch Med Wochenschr. 1976;101:325–8.

7.

Craig WA. Postantibiotic effects and the dosing of macrolides, azalides, and streptogramins. In: Zinner SH, Young LS, Acar JF, Neu HC, editors. Expanding Indications for the New Macrolides, Azalides, and Streptogramins. New York: Marcel Dekker; 1997. p. 27–38.

8.

Onufrak NJ, Forrest A, Gonzalez D. Pharmacokinetic and pharmacodynamic principles of anti-infective dosing. Clin Ther. 2016;38:1930–47.

9.

Barger A, Fuhst C, Wiedemann B. Pharmacological indices in antibiotic therapy. J Antimicrob Chemother. 2003;52:893–8.

10.

Le J, Bradley JS. Optimizing antibiotic drug therapy in pediatrics: current state and future needs. J Clin Pharmacol. 2018;58:S108–22.

11.

Downes KJ, Hahn A, Wiles J, Courter JD, Vinks AA. Dose optimisation of antibiotics in children: application of pharmacokinetics/pharmacodynamics in paediatrics. Int J Antimicrob Agents. 2014;43:223–30.

12.

Bradley JS, Garonzik SM, Forrest A, Bhavnani SM. Pharmacokinetics, pharmacodynamics, and Monte Carlo simulation: selecting the best antimicrobial dose to treat an infection. Pediatr Infect Dis J. 2010;29:1043–6.

13.

Anderson BJ, Holford NH. Understanding dosing: children are small adults, neonates are immature children. Arch Dis Child. 2013;98:737–44.

14.

Anderson BJ, Holford NH. Mechanism-based concepts of size and maturity in pharmacokinetics. Annu Rev Pharmacol Toxicol. 2008;48:303–32.

15.

Mahmood I. Prediction of drug clearance in children: impact of allometric exponents, body weight, and age. Ther Drug Monit. 2007;29:271–8.

16.

Pai VB, Nahata MC. Dosing in pediatric patients. In: Murphy JE, editor. Clinical Pharmacokinetics, 6th ed. Bethesda: American Society of Health-System Pharmacists; 2017. p. 65–76.

17.

Nielsen EI, Sandstrom M, Honore PH, Ewald U, Friberg LE. Developmental pharmacokinetics of gentamicin in preterm and term neonates: population modelling of a prospective study. Clin Pharmacokinet. 2009;48:253–63.

18.

Kearns GL, Abdel-Rahman SM, Alander SW, Blowey DL, Leeder JS, Kauffman RE. Developmental pharmacology–drug disposition, action, and therapy in infants and children. N Engl J Med. 2003;349:1157–67.

19.

van den Anker JN, Schwab M, Kearns GL. Developmental pharmacokinetics. Handb Exp Pharmacol. 2011;205:51–75.

20.

Rhodin MM, Anderson BJ, Peters AM, et al. Human renal function maturation: a quantitative description using weight and postmenstrual age. Pediatr Nephrol. 2009;24:67–76.

21.

Vinita BP, Nahata MC. Drug dosing in pediatric patients. In: Murphy JE, editor. Clinical Pharmacokinetics, 5th ed. Bethesda: American Society of Health-System Pharmacists; 2012.

22.

van Donge T, Bielicki JA, van den Anker J, Pfister M. Key components for antibiotic dose optimization of sepsis in neonates and infants. Front Pediatr. 2018;6:325.

23.

van Donge T, Pfister M, Bielicki J, et al. Quantitative analysis of gentamicin exposure in neonates and infants calls into question its current dosing recommendations. Antimicrob Agents Chemother. 2018;62:02004–17.

24.

Sinkeler FS, de Haan TR, Hodiamont CJ, Bijleveld YA, Pajkrt D, Mathôt RAA. Inadequate vancomycin therapy in term and preterm neonates: a retrospective analysis of trough serum concentrations in relation to minimal inhibitory concentrations. BMC Pediatr. 2014;14:193.

25.

Kawasaki T. Update on pediatric sepsis: a review. J Intensive Care. 2017;5:47.

26.

Barker CIS, Standing JF, Kelly LE, et al. Pharmacokinetic studies in children: recommendations for practice and research. Arch Dis Child. 2018;103:695–702.
Ethics declarations
Conflict of Interest
None.
Additional information
Publisher's Note
Springer Nature remains neutral with regard to jurisdictional claims in published maps and institutional affiliations.
About this article
Cite this article
Agrawal, M., Rattan, A. How to Treat Sepsis in the Background of Resistance?: Role of Pharmacodynamics / Pharmacokinetics in Treating Sepsis. Indian J Pediatr 87, 111–116 (2020) doi:10.1007/s12098-019-03153-6
Received:

Accepted:

Published:

Issue Date:
Keywords
Concentration dependent killing

Minimum inhibitory concentration

Pediatric sepsis

Pharmacodynamic

Pharmacokinetic

Time dependent killing